The nubile young bodies writhing on our television screens and the sultry voices emanating from our radio speakers would lead most of us to believe that Americans are having great sex … and a lot of it. But is that really the case, particularly among married couples?
Newsweek says no. The June 30 cover story declared: "No Sex, Please, We're Married: Are Stress, Kids and Work Killing Romance?" An estimated 15 percent to 20 percent of couples are categorized as sexless—having sexual relations no more than 10 times a year. That definition sounds pretty drastic, but it seems that still more couples aren't romping between the sheets as often as we might think. This phenomenon even has its own catchy acronym: DINS—Dual Income, No Sex.
I've personally witnessed happily married, 30-something women at work, book club meetings or baby showers discussing the rather dismal state of their sex lives. Being too tired ranked at the top of the list of reasons to just kiss and say good night. Not surprising to me, often husbands were the ones proclaiming, "Not tonight, baby." Or both spouses simply hop into bed, pull the covers high and hope the other won't broach the subject of sex.
I wonder if this is really a new phenomenon or if we are finally voicing our longstanding anxieties. We may simply be more vocal about our sex lives than our grandparents' and parents' generations. (Sorry for that visual of your nana in the throes of passion!) The '60s and '70s brought us Erica Jong's "Fear of Flying" and Judith Rossner's "Looking for Mr. Goodbar," testaments that young women weren't satisfied with their sex lives. Those and other novels-turned-sex manuals, however, didn't really address the typical landscape of the marriage bed and didn't take into consideration that their men were equally exasperated. Most of us would agree that it can be easier to feel sexy when you don't share a mortgage or insurance payments. And we won't even mention the impact kids can have on intimacy. Even today, married folks don't have strong sexual role models on television or elsewhere. HBO's "Sex and the City"? Definitely not. ABC's "My Wife and Kids"? Maybe, but too many jokes can spoil the mood. So who does have the answers? Looks like we're on our own.
Before we give up, consider this: Over the last two or three decades, priorities have shifted and our focus is now external (work, school) rather than internal (home, family). The emotional well-being of our spouses and ourselves has taken a backburner to every other aspect of life. Late afternoon meetings and kiddie carpools have overshadowed the importance of actively patrolling our marital relationships, including sex. Honestly, folks, we're not that busy or tired all the time. When we really want it, most of us find the energy. Sexual intimacy is one of the greatest expressions of love and affection between husband and wife. Good sex is relaxing and a great stress release, too. It's also one of the first items to be ditched when schedules run short and frustrations run high.
Sexual intimacy in marriage is a manifestation of our emotional intimacy. That ability to connect—or reconnect—is the very lifeblood of marriages. The issue here isn't really sex at all; it's about putting your spouse first and maintaining a strong emotional connection despite life's crazy pace and uncertainties. Then sex becomes the icing on the cake, not some elusive soufflé we dare not consider.
My fellow red-blooded Americans, stop whining about who's getting it and who's not. Besides, we're not alone. According to the Toronto Star, our neighbors to the north are just as undersexed. Just imagine what must be going on in Japan. So reset your priorities and show your mate some love. Maybe all that stress won't seem so overwhelming after all.
Now, pardon me, while I wake my husband.
Jennifer Spann is a regular columnist for the JFP.
More like this story
More stories by this author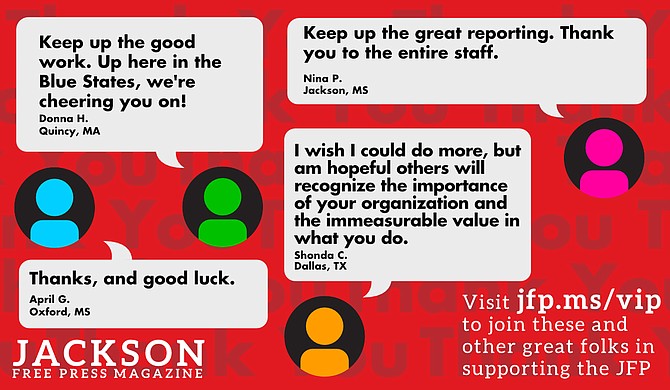 Thanks to all our new JFP VIPs!
COVID-19 has closed down the main sources of the JFP's revenue -- concerts, festivals, fundraisers, restaurants and bars. If everyone reading this article gives $5 or more, we should be able to continue publishing through the crisis. Please pay what you can to keep us reporting and publishing.