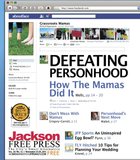 Cover
'This is How We Do It!'
Lori Gregory-Garrott opened her front door suddenly and looked at her sleepy Fondren neighborhood with anticipation. It was just before 10 p.m. Nov. 8, Election Day.
Personhood
Lysistrata had a plan to end the 20-year Peloponnesian War between Athens and Sparta. In the year 411 B.C., she gathered women in the warring region together for an important ...
Jackblog
Within the last couple of hours, Sen. Joey Fillingane introduced a resolution to amend the state constitution "to protect the life of every unborn child from conception to birth."
[]
Create search alert for "personhood"