The four playable characters available in the base game for "Who Goes There?"—a survival board game that is based on the novella of the same name by John W. Campbell. From left: McReady, Kinner, Dr. Cooper and Commander Garry. Photo courtesy Certifiable Studios.
Stories this photo appears in: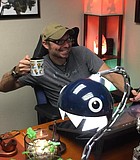 Art
Certifiable Studios, a gaming and creative studio founded five years ago by Jesse Labbé and Rick Moore, has produced a number of board games that have been purchased from fans ...