Mississippi Attorney General Jim Hood, the Democratic nominee for governor, watches while an aid plays an education ad from Republican opponent Tate Reeves that Hood calls "fraudulent." Photo by Ashton Pittman.
Stories this photo appears in: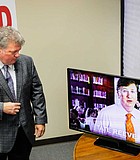 City & County
There's never a slow news week in Jackson, Miss., and last week was no exception. Here are the local stories JFP reporters brought you in case you missed them.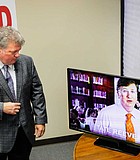 Education
"It's time to get the money changers out of the temple," Democratic nominee for governor Jim Hood said on Wednesday, standing inside the Italian-white marble walls of the Mississippi Capitol ...