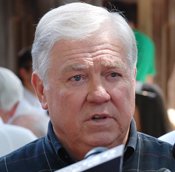 Among the bills headed to Gov. Haley Barbour for his signature is the Uniform Abduction Prevention Act.
Stories this photo appears in:
A 2008 case where a Yalobusha County woman attempted to sell her granddaughter for $2,000 and a car prompted legislators to enact a law making selling children in Mississippi a ...
Capitol
The Mississippi Senate shelved a bill designed to make public records more accessible to the public, according to The Greenwood Commonwealth,
January 14, 2009 - Gov. Haley Barbour today ordered more state budget cuts, including $76.6 million from the Mississippi Adequate Education Program, a 3.49% cut to that program. Barbour released ...
The Mississippi House of Representatives struck a combative pose Thursday, restoring $17.2 million to higher education that Gov. Haley Barbour had ordered cut in November. By a vote of 87-34 ...
The Associated Press is reporting that Haley Barbour and five other governors—of Alabama, Michigan, Missouri, Rhode Island and Montana—received letters containing powder today; tests have found so far that the ...