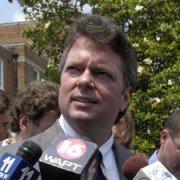 Attorney General Jim Hood is hot on Entergy's trail.
Stories this photo appears in:
Politics
Mississippi Attorney General Jim Hood and power industry watchdogs suspect power companies shut down a state regulating agency expressly to remove a new means of regulation from the table.
Hurricane
Attorney General Jim Hood offered no guess as to what media outlets are looking for in a sealed February 2008 settlement between his office and State Farm and Fire and ...
Crime
Yesterday, legislators sent Senate Bill 2978 to Gov. Haley Barbour for his signature, which will increase by $1 fines for certain misdemeanors and felonies by $1 to help fund the ...
Read Adam Lynch's earlier story about Entergy's rate controversy here.
[Verbatim from AG Jim Hood] Jackson, MS - After months of denials, Entergy Mississippi has now admitted to overcharging Mississippi ratepayers for power, and to engaging in part of the ...
Business
[Verbatim, December 23, 2008] Jackson, MS--Attorney General Jim Hood announced today that the Louisiana Public Service Commission (LPSC) has found an Entergy affiliate guilty of the same illegal conduct that ...
Politics
[Verbatim from Attorney General Jim Hood] Jackson, MS-Gov. Haley Barbour's ill-conceived attempt to gain a partisan political advantage for his party and violate state law is an embarrassment for both ...