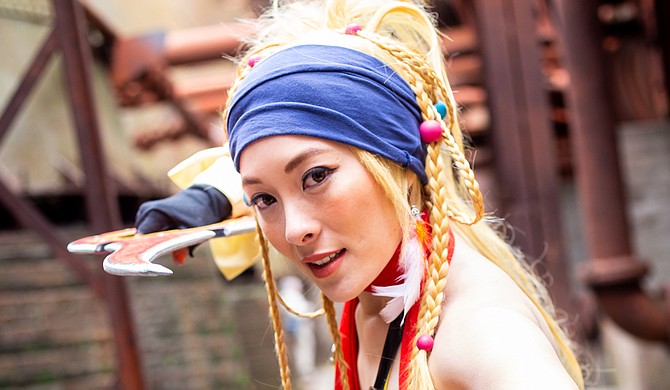 Rae Nelsen has not yet turned her love of cartoons, comic books and almost every aspect of nerd culture into a career, but it has become an "intense hobby," she says.
She spent her youth in Cypress, Texas, near Houston, and says that she had to grow up fast at age 11 to help take care of two of her three younger siblings, Liam and Lauren, while her mother, Julieanna, was deployed to Iraq with the Army for two years. Her family moved Madison, Miss., the summer before her senior year of high school.
These days, Nelsen, 23, expresses her various fandoms through freelance voice acting, as well as her cosplay business, RaeBae Cosplay. While she has been doing cosplay, creating costumes to dress as her favorite characters from small and big screens, for around seven years, Nelsen says that she began taking it seriously about three years ago.
"It all started with my Supergirl cosplay because it's my favorite version of Supergirl from '(Superman): The Animated Series' and 'Justice League Unlimited,'" she says. "But nobody made the costume. I was like, 'Well, I can probably make it. My mom just got me a sewing 
machine. I'll do this.'"
After that, Nelsen says that she fell in love with the crafting aspect of cosplay and thus far has made about 10 costumes, which she showcases at comic conventions across the country. In the past few months alone, she has attended events in Dallas, Memphis, Tenn., New Orleans and Atlanta.
With the number of different TV shows, films and games she is interested in, selecting costumes to work on is a challenge. She says that it is important for her to show special attention to characters with Asian heritage since they have less representation.
"I'm Chinese and Korean, and it makes me really happy when I can bring to life maybe a lesser-known character because they're Asian," she says. "I've actually had a couple fan interactions, where they're so happy to see someone who looks like them being a superhero. ... I was in New Orleans, and there was a little girl who was there with her family, and she was like, 'You look just like me! You're the only one who looks like me,' and I was like, 'Oh, that's so cute.'"
When not at her day job as a United Airlines customer service representative at the Jackson-Medgar Wiley Evers International Airport, she enjoys doing freelance modeling work, traveling for conventions and spending time with husband Evan Nelsen, whom she married in December 2017.
More stories by this author
Support our reporting -- Follow the MFP.