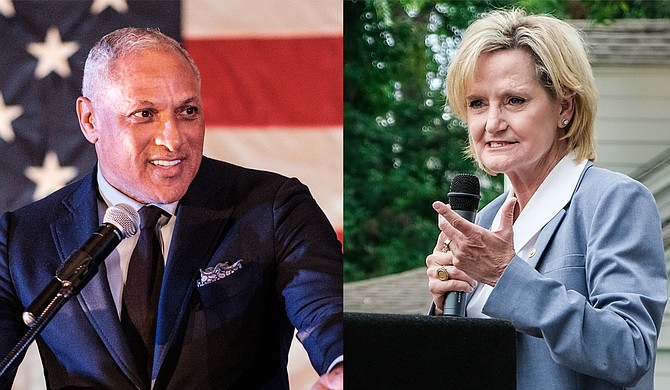 JACKSON — In a historic contest, Democrat Mike Espy will face incumbent Republican U.S. Sen. Cindy Hyde-Smith in a runoff on Nov. 27 after the two candidates snagged the top two positions in Tuesday's election.
If she wins, Hyde-Smith, whom Gov. Phil Bryant appointed to the seat in April after former Sen. Thad Cochran stepped down, would be the first woman from Mississippi duly elected to the position. If he wins, Espy would be the first black U.S. senator from Mississippi since the post-Civil War Reconstruction era.
With 97 percent of the vote in, Espy and Hyde-Smith each had about 41 percent, with Hyde-Smith slightly ahead. As of Wednesday afternoon, Forrest and Stone counties had yet to report results.
"I want to see a red wave coming down there like no one has ever seen," Hyde-Smith, who served as agriculture commissioner prior to her appointment, told voters at her joint election-night watch party with fellow incumbent Republican Sen. Roger Wicker. "And we can make it happen. But we need you."
But as his opponents press on in hopes of setting new precedents, Mississippi Sen. Chris McDaniel faced another loss Tuesday night. In 2014, he lost a Republican primary challenge against Cochran and refused to concede, claiming there were voting irregularities. McDaniel then challenged the results in court, but failed to overturn the outcome. This time, though, he accepted defeat.
"They won this one fair and square—it's not like it was in '14," McDaniel told supporters Tuesday night in Laurel, Miss. "When President Trump endorsed Cindy Hyde-Smith, we knew we had a full plate."
Now, McDaniel will lick his wounds, as he put it, wishing he had been a better candidate. But he will get behind Hyde-Smith and, by extension, President Donald Trump.
"We now have to unite," McDaniel said. "Mr. Espy cannot be allowed to win this seat. President Trump wants us to unite. We will unite, and we will back Cindy Hyde-Smith. Now, I don't agree with her. I don't believe she is the conservative for this state, but I can tell you unequivocally that Mr. Espy has no business being anywhere near the United States Senate."
'A Strong Voice and Not Some Weak Echo'
At the Jackson Hilton, a crowd of supporters celebrated as Espy took the stage around 9:30 p.m. He called for an end to "division," "cynicism" and "mean-spirited tweets."
"Everyone deserves a chance in Mississippi, irrespective of age or race or sexual orientation or party," Espy said.
He promised his supporters that, if elected, he will be the best U.S. senator Mississippi has ever seen. "I will be a strong voice for Mississippi and not some weak echo," Espy said.
He was implicitly criticizing Hyde-Smith, whom he has accused of being too subservient to Trump. She has spent much of the campaign focusing on assuring Republican voters of her allegiance to the president. Often, she points to an analysis from FiveThirtyEight, which finds that she has voted for Trump's preferred legislative outcomes 100 percent of the time since she has been in the Senate.
As senator, Espy said, he would focus on improving health care, ensuring protections remain to safeguard people with pre-existing conditions, lowering prescription drug prices, making college more affordable and helping millennials weighed down by student debt.
In exit polls Tuesday, voters listed health care as their top priority.
"I just want to make sure that Mississippi can continue to rise," Espy said.
Espy then joined the crowd in celebrating, swaying and dancing to "Love Train" by the O'Jays.
He served as the first African American U.S. secretary of agriculture under President Bill Clinton. In 1986, he became the first African American congressman elected from Mississippi since the Civil War era. If his current campaign is successful, he would be just the 11th African American U.S. senator in history.
'I've Got to Get Back Up There'
Hyde-Smith said she felt like her last six months or so in office went by so fast, while Election Day went a lot slower. She said she had expected a runoff and promised to "fight like nobody's business to get it done."
Trump has a lot to do with Hyde-Smith's campaign strategy. He endorsed her in August and came to Mississippi in October to stump for her.
"When he says a vote for Cindy is a vote for me, let me tell you, he means it because I will be right there every step of the way," Hyde-Smith said at the Westin.
During the confirmation hearings ahead of Justice Brett Kavanaugh's ultimate swearing into the highest court of the land, Hyde-Smith said it was her "duty" to defend him against accusations of sexual assault and to support the president's nominee.
"It takes compassion. It takes the want-to. It takes the getting on that airplane and going to Washington, D.C., to know we're going to fight that fight," she said at the Westin. "Even if anything comes up, such as Judge Kavanaugh, you know who is going to be right there? You're looking at her."
At the Westin, Hyde-Smith talked only briefly about her platform with a nod to the economy and emphasis on a secure southern border with Mexico before pivoting back to the president.
"I've got to get back up there," she said. "I have to help President Donald J. Trump."
Gov. Phil Bryant did the same.
'Under Trump's Umbrella'
The governor introduced Hyde-Smith just before 10 p.m. He stood onstage at the Westin in downtown Jackson and told the room of supporters hoisting Hyde-Smith signs about his long day. Bryant said he had been up since around 4:30 a.m. after his wife, Deborah, woke him up because their daughter was in the hospital about to give birth to a baby boy.
"Philip came in at 7:30 this morning," the governor told the room. "Philip, on Election Day—I think that was an omen."
Bryant said that as he held his new grandson, he thought about Republicans' shared belief in the right to life for every child. He said Republicans stick together when it comes down to what they believe in, like strong borders, Second Amendment rights or party leaders.
"We believe the president of the United States is leading this nation like never before," he continued. "We believe Cindy Hyde-Smith is going to be the next U.S. senator for the state of Mississippi."
Earlier in the day, Bryant tweeted a similar message that he said "lit some folks up."
"Go vote for Cindy this morning," he tweeted. "President Trump would if he could." He stamped the tweet with two yellow-toned thumbs-up emojis.
Bryant said he got a call the morning of Election Day from the president.
"He wanted to know how Cindy was doing, that's what he asked," Bryant said. "He said, 'Do I need to come back down there?' I said, 'Of course you do. He will be back."
After promising to get further into talking about Democrats later on, Bryant thanked McDaniel, whose concessionary remarks the governor said he had seen via social media.
"We don't agree on everything, but neither (do) me and Deborah," Bryant said, inciting giggles in the room. "But what we do agree on is that he said Mike Espy doesn't need to get within 100 miles of the United States capitol. It's not going to happen. This ain't Alabama. We're not going to let that happen here in Mississippi. We're going to elect a conservative Republican in Cindy Hyde-Smith."
Hyde-Smith asked for anyone who supported another candidate to join her team, confident that God-fearing Mississippians with conservative values are going to get behind her and get through the tape at the finish line.
"We cannot give up this conservative fight," she said. "We've got to unite, because if we don't unite, we will certainly divide, and we we will certainly fail, but that's not going to happen."
McDaniel encouraged his supporters to unite under a president that did not endorse his campaign.
"Everything that we do, we unite now under Trump's umbrella," McDaniel said. "We unite now to fight for his party, and we have to win this battle for the sake of our country."
Espy and Hyde-Smith far outraised McDaniel. In the third fundraising quarter, Espy raised $1.2 million, Hyde-Smith raised $1 million, and McDaniel raised just over $200,000. However, McDaniel received a last-minute boost from billionaire GOP mega-donor Robert Mercer.
Around 900,000 Mississippians voted in Tuesday's elections—a midterm turnout record.
Mississippi voters will choose between Espy and Hyde-Smith in a Nov. 27 runoff. Anyone who registered to vote by Oct. 29 will be eligible to vote in the runoff, even if they could not vote in the Nov. 6 election. Polls are open in Mississippi from 7 a.m. to 7 p.m.
Ko Bragg covers the City of Jackson, policing and courts for the Jackson Free Press. Follow her on Twitter @keaux_ or email her at [email protected].
Ashton Pittman covers politics and elections for the Jackson Free Press. Follow him on Twitter at @ashtonpittman. Email him at [email protected]. Read more 2018 campaign coverage at jfp.ms/2018elections.
Support our reporting -- Follow the MFP.