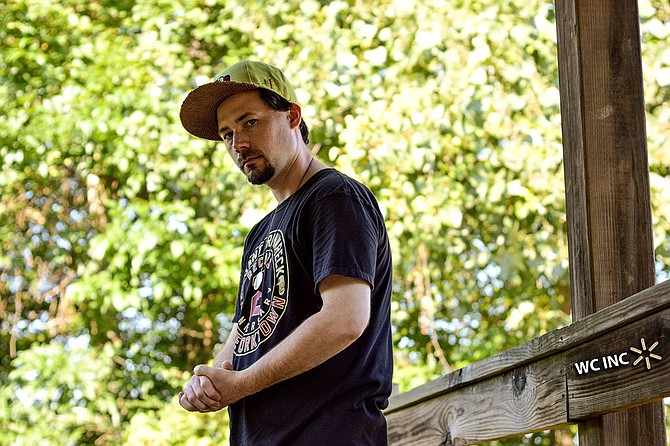 Hang on just one second," Michael Norris says as he steps outside on break from one of two day jobs.
It's 12:10 p.m. on a Monday in late April, and he has agreed to a phone interview to talk about his other job as Mississippi rapper and producer Mr. Fluid. While he would rather be on a stage or in the studio, his past work experiences are part of the inspiration behind his third album, "When Conformity Is Not Comfortable," also stylized as "WC INC."
He began developing the project shortly after completing his 2015 album, "The Sowing," and although "Conformity" continues the combination of drum-and-bass and hip-hop sounds from that release, Norris says that he had another direction that he wanted to go conceptually.
Local artist Kira Cummings helped bring that idea into the visual realm on the album cover, which features Norris surrounded by a group of gangrenous ghouls clad in the familiar blue vests of a certain big-box store.
"The concept of the zombies and everything, being in a makeshift, satire Wal-Mart world, that just kind of came to me," he says. "I started conceptualizing the album around that idea of, 'OK, we're the faceless masses,' so to speak, you know? The working man."
While Norris says that some songs on the album veer off a bit to address whatever he was feeling at the time, many others, including "Shop Til U Drop" and "I Want U," deal directly with themes of individuality and oppression.
However, he also placed importance on the sonic quality of each song rather than being entirely tied to a premise.
"I don't think I strayed from it very much, but I wanted this to be a concept album and also something that you could enjoy just hearing a song or two off of it," Norris says.
In most cases, a rapper will work with a variety of producers, but as a producer himself, Norris handled nearly all the tracking and mixing for "Conformity." He recorded the album in his home studio, which underwent a transition as he moved from an apartment in Richland to a trailer park in Pearl. He plans to move back to Jackson this summer.
Although the album is not heavy on featured artists, Norris brought in local musicians such as rappers Snuff and MC Inveigh, singer Michelle Brassfield and deejay 360 Degrees.
"I'd put the song together and kind of hear who I needed to get on there, so I worked that way," Norris says.
"I didn't do it politically or try to get my buddies on it, but at the same time, I would hear the song and say, 'Oh yeah. I know who's right for this.'"
With "Conformity" being entirely from the mind of Mr. Fluid, from the visual concepts to the sounds and lyrics, recording it was a different experience than many hip-hop albums, he says.
"If I were just an emcee getting beats, I would spit on different beats, and you know, if it didn't work, I'd move on or whatever," he says. "But me being the producer, I kind of have to make it work. If a song isn't right, then I may scrap it and start fresh, but it's me from the beginning to the end."
For more information, find Mr. Fluid on Facebook.
More stories by this author
Support our reporting -- Follow the MFP.