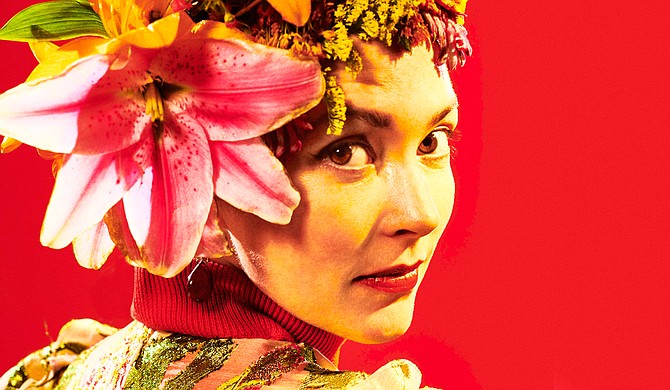 Amanda Shires' fifth album, "To the Sunset," probably features a few more effects and synthesizers than fans anticipated—mostly because they likely were not expecting any.
For the Texas-native Americana artist, however, it is easy to draw a line between the alternative-country tunes of her past releases, such as 2013's "Down Fell the Doves" and 2016's "My Piece of Land," and her latest record, which hits shelves on Aug. 3. Instead, one of the biggest differences was how she created the music.
In the past, Shires says she would write in her study or living room. Now, she has a 2-and-a-half-year-old daughter who always wants to "practice with me, or help in some way," she says. In order to get in the right headspace for working on new songs, she moved her journals, instruments and a paper shredder into a clothes closet.
"It kind of just all grew and developed in that space," she says. "Being in there, I think, I'm locked up in there, and that's my spot. That's where I had to be. It just really made me look at each word over and over and over, almost to the point of obsession.
"That's how I did it, and then I'd get done, tape it to my wall and come back the next day. Then, you look at it again, and it's just constant editing."
Although not the most glamorous locale for writing music, Shires says it had a big impact on "To the Sunset." The smaller space allowed for an extreme focus and a different perspective on the sounds she heard for the record. The album also finds her in a different place personally, 
compared to her last record.
"When I was writing 'My Piece of Land,' I was very pregnant, and you know, I only have one child so that was the first time I ever experienced being a pregnant person," she says.
Throughout the writing process for that album, Shires says she had to work through the physical changes from her pregnancy, as well as issues of self-doubt, wondering if she would still have a career at the end of that road.
"I think, after I recorded that and was working on this one, I had a little more self-acceptance, and I just kind of pushed that further," she says. "I started trying not to be a pansy, just putting my words up, leaving them taped up in their infant stages, letting them live on the walls where my husband walks around and might comment.
"You know, it turned out to be easier. Sometimes, the fear thing is all in your mind, and it's learning to trust and accept yourself, and we both have different writing styles, but they're both great."
"To the Sunset" is her second collaboration with Nashville, Tenn., producer Dave Cobb, who is best known for his work with acts such as Chris Stapleton, Sturgill Simpson and Zac Brown Band. Cobb has also produced Grammy Award-winning records with Shires' husband, singer-songwriter Jason Isbell.
Shires says Cobb helped her translate the sound ideas into a clear sonic direction for the album. "To the Sunset" features a few synthetic effects, including on her signature violin-playing for tracks such as the single, "Leave It Alone." Shires, who has been playing violin since age 10, says she was curious to hear the instrument through effects pedals, and she ended up liking it.
"Sometimes, just putting yourself in a different situation with your instrument kind of jostles stuff free," Shires says. "It made it more interesting and made me want to experiment more, and I think anytime you can keep learning or keep interested and wanting to play, that's what you have to do.
"Not many violin players run through pedals, but why not? You only live once. It's fun for me, and I'm the one who has to play the songs," she says with a laugh.
Amanda Shires performs Sunday, June 24, at 7:30 p.m., at Duling Hall (622 
Duling Ave.). Early James and the Latest also perform. Tickets are $20 in advance and $25 at the door. Visit amandashiresmusic.com.
More stories by this author
Support our reporting -- Follow the MFP.