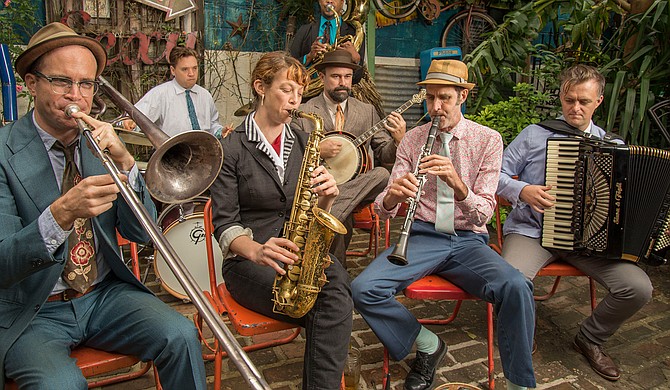 As a child, Ben Schenck stood outside his home in Annapolis, Md., as a parade came down the block, a drum line and bugle corps leading the charge. Even then, there was something in the music that struck him.
"Just that sound, it just really got in my body and lifted me up," Schenck says. "And I think, on some level, there was a decision that little boy made at 6 years old: 'I want to be a part of this.'"
Although Schenck always loved music and sang in choir during high school, it wasn't until he attended Bennington College in Vermont that he became dedicated to it. While studying modern dance, he began to think more about the accompanying music and decided to learn the clarinet.
In 1984, he took his first trip to New Orleans, where he heard jazz in streets and clubs, often with clarinet. Shortly after, a friend played him a record from the Preservation Hall Jazz Band out of New Orleans, pushing Schenck further into the realm of big-band music.
"This was the New Wave period in popular music, and I was starting to feel kind of alienated by electronic music that, to me, just felt like a sound without a body, if that makes sense," Schenck says.
"I was really getting thirsty for music that was played by people with instruments, so my consciousness started going in the opposite direction like, 'OK, what if there were no electric instruments at all?'"
In 1986, he graduated with a bachelor's degree in music composition and moved back to the Washington, D.C., area. All the while, Schenck continued making trips to the Crescent City, and then, at the 1988 New Orleans Jazz Heritage Festival, someone asked him to house-sit for them.
"I went back to D.C., got all my stuff and moved back here with a clarinet, a bicycle and 100 bucks," he says.
Schenck made good on his plan to start an all-acoustic act around 1995, forming Panorama Jazz Band. Today, Panorama is also known for performing folk music from around the world, with traditional tunes from Martinique, Latin America and the Balkans, to name a few.
Other than its regular gigs and occasional out-of-town dates, one of the band's biggest ongoing projects is its subscription club, "Panoramaland," which has released a new song every month since May 2014.
"It's very challenging," he says. "We have to keep coming up with new material, which is a great problem to have."
Schenck says that the band is working to grow the club's membership in order to expand and offer more online content.
The Panorama Jazz Band will perform for a "Thacker Mountain Radio Hour" live event on Saturday, June 16, at 6 p.m. at Clinton High School (401 Arrow Drive, Clinton). For this performance, the lineup will also feature alto saxophonist Aurora Nealand, drummer Paul Thibodeaux, trombonist Alejo Majcherski, banjo-player Gary Washington, tuba-player Mark Rubin and accordion-player Matt Schreiber.
Other guests include Mr. Sipp, winner of the 2014 International Blues Challenge, and Michael Farris Smith, the award-winning author of "Desperation Road" and "The Fighter." Following the show, Panorama will perform for an after-party on the Brick Streets from 7:30 p.m. to 9:30 p.m.
Tickets are $15 at artscouncilofclinton.org. For more information about the event, visit thackermountain.com.
Update: Gary Washington will now be playing banjo for Panorama Jazz Band's "Thacker Mountain" performance instead of Patrick Mackey.
More stories by this author
Support our reporting -- Follow the MFP.