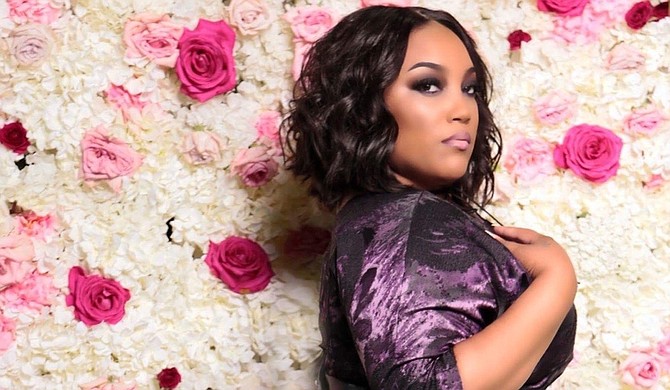 Footsteps shuffle past a wall of framed records outside the office of Darrell Luster. It's an afternoon in late June, and Luster is at his desk for just a moment between tasks as one of the directors for the Malaco Music Group gospel division.
"We don't really go into titles, though. I'll go back over there and pack some boxes in a little bit," he says with a laugh, pointing toward the warehouse. "You know, it's not like 'Mr. Executive.'"
Luster, a native of Durham, N.C., has held his current position at Malaco for about six years, but his connection to the Jackson record label began with him as a fan.
"They started recording a lot of my favorite artists in the '70s, '75 and whatever, and I was like, 'Oh my God, what is going on at Malaco in Jackson, Mississippi?'" he says. "I've been an avid reader of the back of albums, you know, to find out, 'Well, who in the world is Wolf Stephenson? Who is Tommy Couch?'"
After nearly a decade following Malaco's work, Luster had the opportunity to visit the studio in 1984, playing guitar for the Sensational Nightingales, a North Carolina quartet. That first trip to Jackson opened the door for Luster to produce music at Malaco for the Nightingales, as well as acts such as the Angelic Gospel Singers, the Pilgrim Jubilees, the Soul Stirrers, The Highway Q.C.'s, and Slim and the Supreme Angels.
That legendary lineage of artists is at the center of Luster's latest endeavor at the label, the Malaco 50 Year Gospel Celebration, a concert marking the label's 50th anniversary.
The event will feature hosts Bobby Jones and Dorinda Clark Cole, and award-winning singers such as Fred Hammond, Tasha Page Lockhart, Tina Campbell, Bishop Paul Morton, Earnest Pugh, Byron Cage, LaShun Pace, Luther Barnes, Paul Porter, the Mississippi Mass Choir and Ann Nesby, among many others.
Rather than their own hits, the artists will perform renditions of the Malaco music that influenced them. Luster says fans may be surprised to learn how many of their favorite gospel tracks can trace their roots to Jackson.
Still, for some of the people who have continued to shape Malaco since the early days, he says reaching half a century as a label is just another day at the office.
"They don't really see it like (me). I'm still a fan. I'm still saying, 'Oh my god, it's 50 years! We've got to do something,' and they're saying, 'Why?'" Luster says with a laugh. "It's a milestone, you know? You've touched the lives of the likes of Dorothy Moore with 'Misty Blue,' King Floyd and all of these huge artists—Johnny Taylor, Denise LaSalle, the Mississippi Mass Choir, the Canton Spirituals, the Williams Brothers.
"A lot of these artists, nobody knew who they were until Malaco put their thumbprint on them. So it's kind of the right thing to do, for us to say, 'Thank God that we've been here for 50 years, and we've touched the lives of not only artists, but people who have listened to music for 50 years.'"
The Malaco 50 Year Gospel Celebration is at 7 p.m., Thursday, July 12, at Thalia Mara Hall (255 E. Pascagoula St.). The doors open at 6 p.m. Ticket prices range from $39 to $89. For more information, visit malaco.com/gospelcelebration.
More stories by this author
Support our reporting -- Follow the MFP.