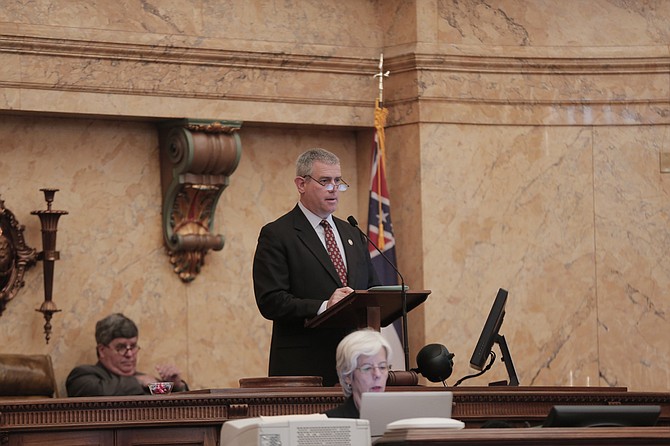 JACKSON, Miss. (AP) — The $53 million needed to pay for the first year of a proposed new Mississippi public school funding formula could come from other money currently going to education.
That raises the question of whether schools would actually get any more money in the new formula proposed by House Speaker Philip Gunn. The Clinton Republican's plan, in a bill filed Thursday, outlines a $107 million increase in spending over five years.
House Education Committee Chairman Richard Bennett said Thursday that House leaders may sweep other money now flowing to schools into the new formula. Bennett, a Long Beach Republican, said one possible source is $97 million Mississippi spends on vocational and technical education. That money now flows to high schools and community colleges, to pay career-technical teachers, develop courses and buy equipment. Additional career-technical funding for K-12 schools is inside the current formula, called the Mississippi Adequate Education Program.
Republican lawmakers had previously discussed rolling some non-formula spending on education into a new formula.
"There are things outside the formula that are going to education," Bennett said. "It's not like the school is going to lose that money."
House Bill 957 , the Mississippi Uniform Per Student Funding Formula Act, is Gunn's vision for the formula. It would provide a base student cost of $4,800, allocated to educate a student with no special requirements. It would then add extra per-student amounts for special education students, gifted students, high school students and those learning English. Extremely rural districts also get an extra bump.
Two House committees are scheduled to discuss the plan Monday. Bennett said he expects the House Appropriations Committee to vote on the bill Tuesday, which would send it to the full House.
Not counting charter schools and agricultural high schools, the formula would spend $109 million more than lawmakers allotted this year. That's a 5 percent increase, or $232 per student. But because some money could come from existing programs, districts might get less. Implementation would stretch to seven years in Gunn's bill, with every district guaranteed no losses through 2020 and then gains or losses of up to 3 percent through 2025.
Although the proposal would boost funding inside the formula, it would be $157 million less than the Mississippi Adequate Education Program legally mandates for next year. The Legislature has fully funded the adequate education program only twice in 20 years. Lawmakers have spent $2.1 billion less than mandated levels since 2009.
Sen. Hob Bryan said the proper comparison is to the amount demanded by the current formula. The Amory Democrat wondered why GOP leaders haven't moved the money they've found into the current formula "to help alleviate the illegal funding situation we've got now."
"They're trying to take off the books an objective funding formula and replace it with a funding formula that is whatever Philip Gunn says it is," Bryan said. "The speaker's goal is to reduce funding for public education below what's on the books."
One key question has been whether the plan would mandate future adjustments, as the current formula does. Gunn's bill instructs the state Department of Education, beginning in 2023, and then every two years thereafter, to recommend changes based on the "actual costs of education in the state of Mississippi," research in education finance and public comment. The Legislature is required to "review and revise" the formula in 2023, 2025 and then every four years thereafter. But the bill doesn't require lawmakers to adopt or vote on the department's recommendations. Adjustments in the current formula are automatic.
The bill also requires state Auditor Stacey Pickering to audit enrollment reports in as many districts as he can, requiring the state to financially penalize districts that Pickering finds have reported inflated numbers. The state Department of Education must create a financial rating system for each district, including whether spending is producing academic results, with penalties for low-performers including a state takeover.
Copyright Associated Press. All rights reserved. This material may not be published, broadcast, rewritten, or redistributed.
Support our reporting -- Follow the MFP.