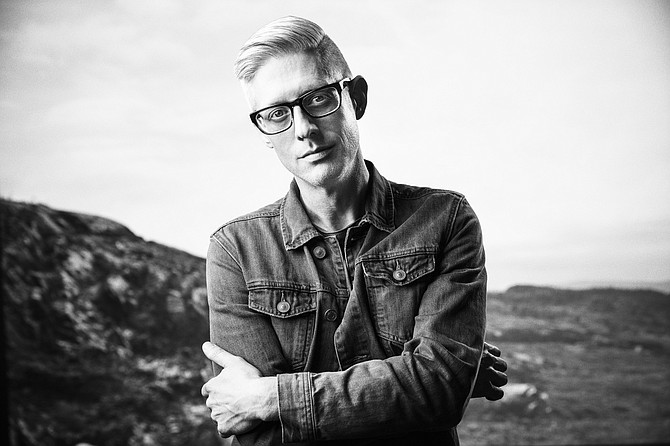 Singer-songwriter Matt Maher has been a significant presence in the world of contemporary Christian music since the early 2000s, but before he was introduced to religion, he says that he was running away, at least at some level.
Having grown up in Newfoundland, Canada, Maher decided to move to Arizona at age 20 when his parents went through a divorce. While in the U.S., he enrolled at Arizona State University to study jazz piano performance. However, the move ended up being a first step toward his faith, as well.
"I had a cousin invite me to church, and I went one time, and it was just sort of apparent that, 'Oh. I think this is why I'm here,'" he says. "I moved to the States because I thought I was going to do film scoring. That's what I really wanted to pursue, and you know, God had different designs I guess."
Despite his background as a composer and musician, Maher says that he was involved in a local Roman Catholic church for about seven years before writing Christian music. During that time, he was finishing up his graduate degree and accepted a job with the church.
"I kind of got suckered into that by getting offered health insurance, which is a great thing to offer a musician," he says with a laugh. "But I really did fall in love with playing music at church."
On some weeknights, he would get together with friends that he made in the local music scene, and they would swap stories about various bar gigs. Maher's experiences, on the other hand, often ended with churchgoers thanking him for songs that he'd written that were helping them through difficult situations.
"I sort of saw the very human side of what I think all music does, but particularly more spiritually focused music," he says. "It just deeply ministers to people's hearts, and I think that was a big draw for me as to why I kept doing it."
Writing worship music for churches was not always a smooth process for Maher, though. There was a period of time about 14 years ago during which he focused on writing liturgical music (music for Catholic mass), he says. He would often find himself between people with different views on the nature of music in church, and what is appropriate and what is not appropriate.
"There are all these camps," he says. "It's like, 'I want drums,' or 'I think drums are terrible; they should never be in church.' I was just like, 'OK. You people are driving me nuts, because there are so many huge issues that our society is facing, and the fact that you're devoting so much emotional energy toward this is crazy.'"
Maher decided to step away from that world in order to write songs that help people reconnect with God, meditate and be still, something that he says is harder to do in a time of constant disruption. Although he still has a passion for music in church and tries to be intentional about having some of his songs fit within that context, he says, "It's one of those things where you've got to pick and choose the banners that you're going to carry in life. ... I was like, 'Is this the thing I think God's given me my talents and gifts for, is to focus on this?' At the end of the day, it was just, 'You know what? This is not the burden that's on my heart.'"
Since then, Maher's music has gone on to reach audiences around the world and earned a variety of accolades, including nine Grammy Award nominations, the most recent being for his ninth studio album, 2017's "Echoes." The album has been a commercial hit, peaking at No. 5 on the U.S. Christian album charts and spawning two top-50 singles, but "Echoes" deals with heavier subject matter than one might usually find on Christian radio.
When preparing for the record, Maher says that he had written about 40 songs dealing with the divisions in modern society and how people can stand for what they believe in while still reaching out and reconciling their differences with others. Then, his father died.
"It really shifted the focus for me," Maher says. "I realized that, maybe before addressing some of those things—which I probably will at some point on a record—I needed to grieve. More than that, I realized that the fundamental human problem that Jesus addresses first and foremost is suffering, and I mean, it's death, really. That's the great injustice, you know?
"... But Jesus chose to destroy death not by warring against death but by embracing it. You know, he chose to embrace suffering, and I think that especially so many great leaders within the Catholic church and the legacy of Catholicism have talked about the need for mankind to not run from suffering but find redemption in it because Jesus redeemed it. So I realized that before I write about all these great injustices we find ourselves facing, I really need to focus on the greatest injustice."
At the same time, Maher chose to approach the record with a sense of joy and energy that one might not anticipate from an album dealing in part with the difficulties of death and suffering. The simplest answer behind that, he says, is that he has kids.
"I've got a 6-year-old, a 4-year-old and a 2-year-old in my life, ... and their optimism and their joy and their hope and their laughter has become in my life such a way of—that's how you fight back darkness," Maher says. "Like (Martin Luther King Jr.) said, 'Darkness can't drive out darkness.' Only light can drive out darkness. So one of the ways that Christians can respond to all the negativity and all the yelling in the world is to respond in joy.
"Some of the nature of that means that there's this temptation where Christianity becomes a form of escapism, and I don't think it's that. I do think it's important that we learn to identify with people's suffering, and that as a Christian, you learn to see people where they are and don't ignore anybody. Because Jesus became the saving victim, anybody who feels victimized has the ear of God. God doesn't turn a deaf ear to anybody who's experiencing objectification or marginalization or any of those things. God has a heart for those people, so we need to, as well, as Christians."
Matt Maher performs for Chris Tomlin's "Worship Night in America" at 7 p.m., Saturday, April 28, at the Mississippi Coliseum (1207 Mississippi St.). Other performers include Kim Walker-Smith, Christine D'Clario, Tauren Wells and Pat Barrett. Ticket prices range from $12 to $46.75 at ticketmaster.com. For more information, visit mattmahermusic.com.
More stories by this author
Support our reporting -- Follow the MFP.