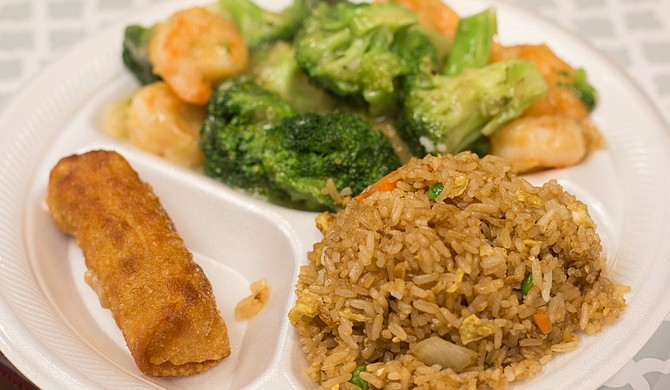 At Ty Bowls in Clinton, cooks prepare broths and noodles, and chop and prep other toppings for the restaurants' noodle bowls and other dishes. The business, which is in the former China Express space, has recently re-opened its doors under shared management and ownership with Mr. Chen's Authentic Chinese Restaurant.
Owner Fisher Yu says he saw the new location as an opportunity to expand Mr. Chen's clientele and try working with a new set of dishes.
"We don't carry the noodle bowls at Mr. Chen's, but it seemed like it would a good addition to what we had already been serving, it also made up for the reduced seafood selections," he says. "We won't have as many seafood dishes because the new location isn't connected to the market and its fresh fish and shellfish."
The new menu at Ty Bowl's is an amalgamation of Mr. Chen's most popular dishes that head chef Limin Tong created, along with the renowned noodle bowls at Ty Bowls.
"We had a significant amount of customers coming into Mr. Chen's from Clinton that would say they wished they could get to us quicker and easier," says Mr. Chen's and Ty Bowls Manager Fisher Yu. "They said the drive could be a little much to do on a regular basis, so we brought it to them."
Yu says the new Ty Bowls menu includes popular Mr. Chen's dishes such as crazy spicy chicken, along with noodle bowls such as spicy-beef noodle soup, Taiwanese wonton noodle soup, and hot-and-spicy potato-starch soup with sliced beef.
In addition to Chinese food and soups, Ty Bowls also has an expansive selection of drinks that people may not find in many other metro area Asian restaurants, including bubble tea, flavored milk bubble tea, slushes and even smoothies.
"Bubble tea is a Taiwanese drink that is made using different flavors of tea and adding in tapioca or jelly balls the bottom to be eaten once the drink is gone," Yu says.
Ty Bowls (103 Highway 80 E., Suite A, Clinton) is open Monday through Thursday from 11 a.m. to 9:30 p.m., Friday and Saturday from 11 a.m. to 10 p.m., and the restaurant is closed on Sundays. For more information, call 601-488-4194.
Email food story ideas to [email protected].
More stories by this author
Support our reporting -- Follow the MFP.