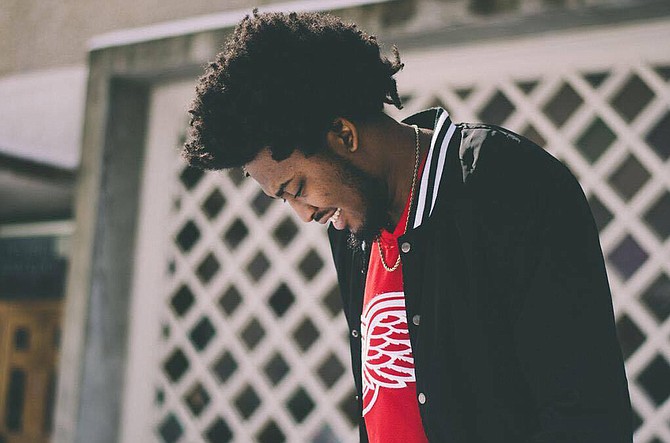 A trio of keyboard notes kicks in. It is distant and muffled, like the music is pumping through a swimming pool. As the chords emerge from the water, the song begins changing key, subtly rising higher and higher until a booming synth bass, tight hi-hat and 808-style snare send the song into sudden yet smooth motion.
The track, "ctrlaltdelete.", is just the latest of many that Jackson producer Darrin Givens, known to fans as Flywalker, has put out on online music communities such as SoundCloud. It is primed for an up-and-coming rapper to record over it, and that's kind of the idea.
Over the past several years, Givens has made a name for himself in the local hip-hop scene and beyond because of his skill at composing instrumentals. He then sells the beats to other performers, including popular acts such as Curren$y, Young Roddy and Nesby Phips.
Givens says he was always interested in music, active in his elementary school choir and band. However, he started developing that passion more seriously around age 12 when he began making beats with a demo of Fruity Loops recording software.
"They were bad—all of them," he says of his first attempts. "I would say there is a lot of growth in the newer stuff, but at that time, it was very experimental. I didn't have a sound so everything was everywhere."
In the midst of that, Givens, who grew up in Memphis, Tenn., and Cape Girardeau, Mo., was in the process of moving to Jackson with his mother to be closer to family. He liked Jackson, he says, but he always planned to return to Memphis.
However, he soon connected with a group of older friends who lived across the street from him in Jackson and were hip-hop artists themselves. They brought him into the studio to watch them record and to study the work that goes into making music and arranging beats.
"You know, they did music for real, and you had a producer/engineer guy, then you had a couple rappers and different things like that," he says. "They kind of took me under their wing to where they knew I had something, and they kind of liked what I was doing, and they wanted to help me learn more."
Once Givens got to the point where he was satisfied with his instrumentals, he put them up on social media platforms such as MySpace and Vevo, and soon gained a following, despite the fact that he wasn't yet active in the local music scene.
"Pretty much as far as Jackson goes, I didn't really know who any of the artists were when I started doing it," Givens says. "I had a SoundClick account, and one of the beats that I posted on my SoundClick was number one on the site, and a Soulja Boy song was number two. Soulja Boy was super popping back then, so people were like, 'Ah,' and started inquiring about purchasing stuff, so I started selling beats."
Those who follow Givens' work as Flywalker might be surprised to learn that he is also a rapper, even if it is not exactly a secret. On several occasions, friends and fellow performers have handed him the microphone at shows and parties to freestyle, he says, but he's never released music as an artist. It's still part of the plan, but for now, Givens says that he is working to get his name and sound out as a producer, building a platform for the future.
"The hardest thing is just to get people to listen for the first time, especially if you're going out and guerilla marketing," he says. "Like, 'Hey, this is my CD. Check it out.' ... People (can be) aholes, and they're like, 'Who are you, and what have you done?' I can say, 'Well, I'm Flywalker, and I've produced for all these people. This is just something I want people to listen to.'"
Visit soundcloud.com/flywalker.
More like this story
More stories by this author
Like independent media outlets around the world, the Jackson Free Press works hard to produce important content on a limited budget. We'd love your help! Become a JFP VIP member today and/or donate to our journalism fund. Thanks for considering a JFP VIP membership or one-time support.