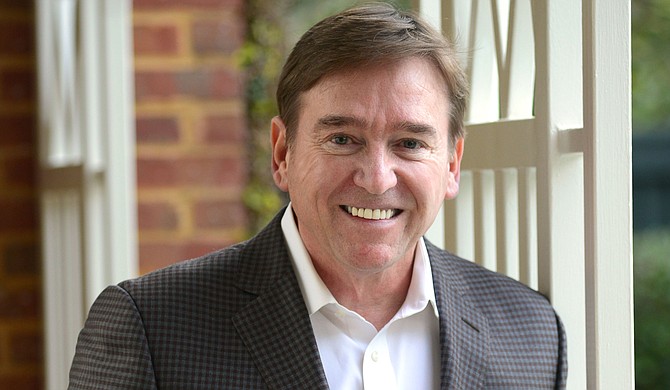 Jackson author Darden North was at a literary conference when the phrase "five manners of death," in reference to natural causes, accident, suicide, undetermined and homicide, truly stuck with him.
"I'd just really never thought of that, not being a medical examiner," he says. "You know, I'm an OB-GYN by trade, as far as my medical career, and most of what we do is very happy. So I don't think about death in a lot of ways."
He says he found the concept intriguing, as people don't often think about the way we classify death. It's that classification that inspired North to write his fifth novel, "The Five Manners of Death" (Wordcrafts, 2017, $32.99), which comes out today, Thursday, June 15.
The book centers on Dr. Diana Bratton, a character that North's fans will remember from his previous novel, 2013's "Wiggle Room." Whereas in that story Bratton played partner and love interest to protagonist Major Brad Cummins, "Five Manners" delves deeper into the character, from her demanding work life to her struggles as a single mother.
However, "Five Manners" is about more than day-in-the-life drama. Bratton's world is thrown into chaos when police tie her aunt to a string of deaths dating back to the 1960s. Readers follow the surgeon as she works to uncover the truth behind the connections and discovers how far she'll go to protect family.
"Her Aunt Phoebe is basically the only living relative she has besides her daughter, so she feels a closeness there that she'd like to hang onto," North says. "But if (Phoebe is) a criminal, she knows she may lose her. She's sort of torn between how much she should push what she thinks and what she knows about these deaths, and what she could let the police figure out on their own."
One way in which "Five Manners" differentiates itself from other crime thrillers is that its protagonist is a novice. While North says Bratton is resourceful, she's a surgeon rather than a veteran crime-fighter, and as a result, her investigation isn't without error.
"I think if you have your protagonist, your main character who knows all about everything, then that's not as interesting as someone who's flawed," he says. "It's easy for that character to get foiled, and to mess up and do the wrong thing. Maybe they're dabbling in something that they have no business dabbling in."
Despite the current story's close ties to "Wiggle Room," North says that he didn't initially intend to have "Five Manners" continue that story. For a while, the novel revolved around a meta-narrative in which an author was writing a book on the five manners of death while unintentionally causing others to die.
"I thought that was kind of interesting, but then, I had a couple characters come into my mind who I had trouble working into that plot," he says. "And I still had someone writing that book in (my novel) for a while but decided that made it too much, and I found a much more interesting plot and made it more of a thriller in the different way."
North says that he ultimately decided to return to the character of Dr. Diana Bratton because he wanted to tell a story with a strong female lead, something that he says both men and women would like to see in novels more frequently. In "Wiggle Room," he says that readers saw Bratton had a genuine desire to get to the truth, even in the face of opposition, and that's something he wanted to tap into and develop.
"You see her grow through that novel until the end, so I thought it was a natural follow-up for her to be the main character in this book," he says. "You know, I wouldn't say that the two books are a series. ... It may be a companion story and not really sequel. But I think the people who read 'Wiggle Room' will look forward to reading about those two characters again in 'The Five Manners of Death,' and hopefully, if you haven't read 'Wiggle Room,' you'll want to go back."
For more information, visit dardennorth.com.
More stories by this author
Support our reporting -- Follow the MFP.