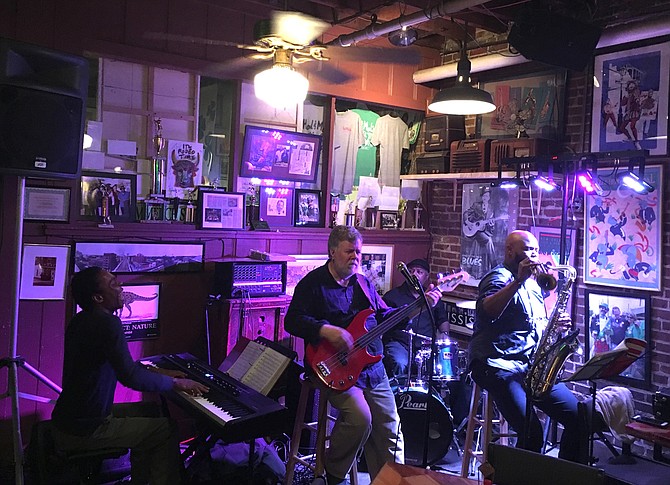 There's a corner in the dining room at Hal & Mal's that local live-music lovers know well. On weekdays, the downtown-Jackson restaurant usually hosts acoustic performances there. The atmosphere was a bit different on one particular Tuesday evening, though, and not because of the purple-tinted LED lights or the small colorful rug in the center of the "stage" area.
"You know, it's a pretty relaxed atmosphere on jazz night here," Jackson musician Raphael Semmes told the Jackson Free Press as patrons entered, patting him on shoulder or shaking his hand as they walked to their seats.
"We have audiences that actually sit and listen and applaud, like a jazz-club type atmosphere. ... Some of the people that are parents and even grandparents now that don't go out a whole lot, they've been showing up and going, 'Wow, this kind of feels familiar.' That's a nice aspect to it, too. But seeing students come in is great. It's this diverse crowd."
Semmes and the management at Hal & Mal's launched their weekly jazz offering, "Dinner, Drinks & Jazz with Raphael Semmes," in May and planned to keep it running each Tuesday of that month. When it proved successful and crowds kept coming out, they made it an ongoing event.
"I don't do a lot of club things, but I wanted to come back to Hal & Mal's," Semmes said. "This is kind of home for me. I wanted to play jazz, and I was also thinking, 'You know, it would be great to get people downtown.'"
In a way, the event started half an hour before the musicians played a note. After Semmes and his band mates for the night—keyboardist Bill Perry, saxophone player Tiger Rogers and drummer Quinous Johnson—finished setting up, they hovered around a table talking shop. Several spectators chimed in, as well.
It was an open conversation that continued during the band's breaks, as audience members chatted with the players and requested songs from jazz legends such as Duke Ellington and John Coltrane. Semmes said the passion for the music is due in part to the fact that so many musicians are in the audience.
"(We have) young people, say from Jackson State University and some of the other colleges up here, who are into jazz," he said. "That's what I was doing when I was that age—playing and going and listening. It's good to see. That gives it an energy that I think is vital."
That extends to players in every genre, he said. Part of Semmes' reasoning for scheduling "Dinner, Drinks & Jazz" on Tuesday nights was that more musicians are off that night, and people tend to have fewer social commitments then. He said that he hoped it would make for a perfect storm that would draw musicians and music lovers to one place and better establish community.
"To have a scene, you've got to be seen," he said.
One other thing that keeps the energy up with each installment is the diversity in sound, Semmes said. While the 2017 Best of Jackson award-winning jazz bassist is front and center each week, the rest of the lineup changes to showcase other players from the capital city and beyond.
Perry, for instance, is based in north Mississippi and decided to hop on for an evening after hearing how crowds were responding to Hal & Mal's weekly event. It also ties into a personal mission of aligning himself with other jazz players throughout the state, he said.
"I'm from Oxford, and there's a handful of us there, but just kind of throughout the state, there's a handful of us here, just pockets of us," Perry said. "So Raphael has been real good about expanding on the jazz players in the state—having the podcast show with Fusion Coffeehouse, and he's involved with (the Township Jazz Festival), so he's a big proponent of it."
Perry said that having a regular event like "Dinner, Drinks & Jazz" strengthens the whole state's jazz community, and provides a foundation and legitimacy for the genre in Mississippi and the rest of the nation.
"It (helps) to keep a face on jazz because blues is the prominent voice in our state, which is fine—that's a given! And if you're not from New Orleans or St. Louis or New York or something like that, it's really kind of hard to get in on the jazz deal. But there are options to figure out a way, and this is one of them—just making something consistent and keeping a face on jazz in the state."
Dinner, Drinks & Jazz with Raphael Semmes continues today, June 13, from 6 p.m. to 9 p.m. at Hal & Mal's (200 Commerce St., 601-948-0888). Admission is free. For more information, visit halandmals.com.
More like this story
More stories by this author
Like independent media outlets around the world, the Jackson Free Press works hard to produce important content on a limited budget. We'd love your help! Become a JFP VIP member today and/or donate to our journalism fund. Thanks for considering a JFP VIP membership or one-time support.