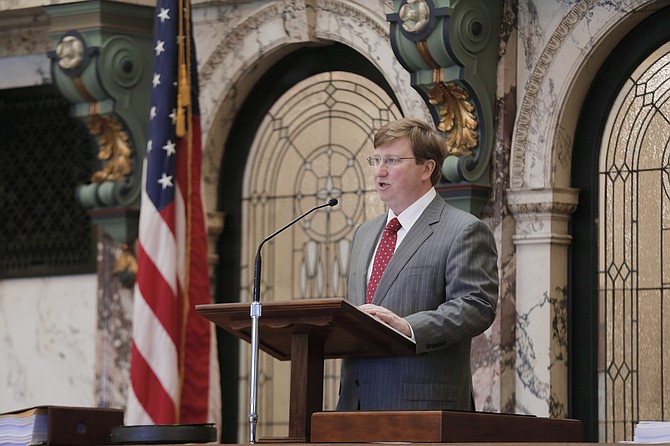 JACKSON, Miss. (AP) — Lt. Gov. Tate Reeves says the Mississippi Senate will kill House legislation that would enforce taxation on internet sales and earmark the money for road and bridge work.
Reeves told reporters Monday that House Bill 480 will die in committee Tuesday, at the deadline for committees to act on bills originating in the opposite chamber.
A Republican, Reeves says he opposes the bill because it defies decades of U.S. Supreme Court precedent saying states can't tax sales from companies without an in-state presence. He also says the measure would divert $40 million in existing taxes already collected in Mississippi.
That doesn't mean Mississippi will cease trying to tax all internet sales. Revenue Commissioner Herb Frierson proposes requiring all large sellers to collect taxes, after getting Amazon.com to start collecting voluntarily.
In a press statement Reeves said the bill was unconstitutional.
"Because the Supreme Court made it clear 25 years ago that states do not have the authority to tax Internet sales, this bill is unconstitutional and any promised new revenue is simply fake money," Lt. Gov. Reeves said in a press release.
Reeves is referring to a 1992 U.S. Supreme Court decision in Quill Corp v. North Dakota that established sales and use taxes for companies with a physical brick-and-mortar presence in the state.
"While this bill is well intentioned, it does not accomplish what it sets out to fix," Sen. Joey Fillingane, R-Sumrall, said in the press release. "Also, the Senate Finance Committee generally looks for ways to lower taxes and grow our economy, not raise taxes."
This story has been updated to include press statements from the lieutenant governor's office.
Copyright Associated Press. All rights reserved. This material may not be published, broadcast, rewritten, or redistributed.
Support our reporting -- Follow the MFP.