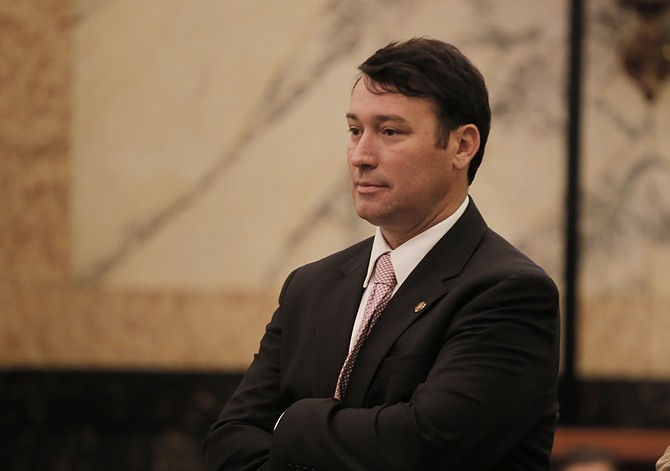 JACKSON, Miss. (AP) — The Mississippi Senate voted 32-16 Thursday to approve a bill saying local governments and public colleges can't stop their employees from asking whether a person has entered the U.S. illegally, and can't try to grant any special status to those who've entered illegally.
Senate Bill 2710 now moves to the House for further debate. It adds Mississippi's voice to a debate over so-called sanctuary cities. Since President Donald Trump signed an executive order last month to strip funding from sanctuary cities, states across the country have taken action, with some moving to limit such communities and others adding protections for immigrants.
The Mississippi measure is aimed at an ordinance adopted by Jackson, the state's largest city, which prohibits police officers from routinely asking about a person's immigration status.
Sen. Sean Tindell, R-Gulfport, said the bill would override Jackson's ordinance, although it wouldn't require agencies to make immigration checks. The University of Mississippi's student government briefly considered a call to designate the campus as a sanctuary in November, but withdrew the resolution, with Chancellor Jeffery Vitter saying Ole Miss would follow the law.
The idea is to ensure local governments can't hamper efforts to remove people who have entered illegally.
"We want to see our local law enforcement and local officials cooperate with the federal law enforcement on this issue," Tindell said.
The Pew Research Center estimated that in 2014, Mississippi had about 25,000 immigrants who had entered the country without permission. Mississippi's overall foreign-born population, as a share of total population, is among the smallest in the nation.
Jackson adopted an ordinance in 2010 that was meant to ban racial profiling by police officers. It says police can't ask about immigration status unless an officer is assisting a federal agency, the question is relevant to the crime being investigated, or when processing an arrested person.
Jackson Police Chief Lee Vance said his department's position "is to provide police service to those who request it and identifying a person's immigration status is not our primary responsibility."
Bill Chandler, executive director of the Mississippi Immigrants Rights Alliance, said he's not sure if the bill would void Jackson's ordinance. But his group opposes the bill, in part fearing it might become more severe as it moves through the Legislature.
"The anti-immigrant sentiment has grown tremendously and it's associated with racism in the state," Chandler said.
Copyright Associated Press. All rights reserved. This material may not be published, broadcast, rewritten, or redistributed.
Support our reporting -- Follow the MFP.