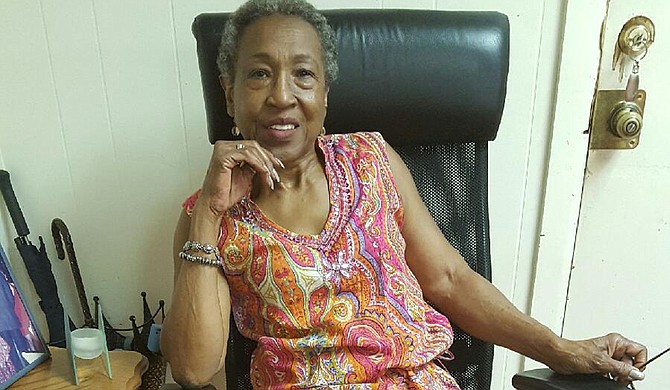 As October marks the 50th anniversary of the Black Panther Party for Self-Defense, Jacksonians are celebrating one of their own, former Veterans of the Mississippi Civil Rights Movement Chairperson Frankye "Malika" Adams-Johnson, who served with the party in New York City, helping to educate and feed young people, and make a difference in the areas of human and civil rights.
The Chokwe Lumumba Center for Economic Democracy and Development (939 W. Capitol St.) will host a commemoration ceremony today, Oct. 20, at 6 p.m. honoring Adams-Johnson. Participants will also watch and discuss segments from the documentary series "What We Want, What We Believe: The Black Panther Party Library."
Even as a young girl, Adams-Johnson's experiences painted her understanding of the world and a need for change. She was born in the small town of Pocahontas, Miss., where her parents were sharecroppers. There were days when she wasn't allowed to go to school because she had to work in the fields to help her family.
She moved with her mother and siblings to Jackson in high school, which opened her eyes to further inequalities. Even shopping downtown, she couldn't enter some stores, and some restaurants wouldn't allow her to sit at the counter.
"Those kinds of motivations were enough to inspire me to take a (stand), and just in terms of my nature, I seemed to have, as a very young person, a longing for this very foreign word to my vocabulary—freedom—and just a longing to know what that was, and just as an individual, wanting to know what that felt like," Adams-Johnson says.
Her first involvement in the Civil Rights Movement came during a student walkout that students of the three African American high schools in Jackson conducted, including Brinkley High School, which Adams-Johnson attended. The walkout, which was in protest of the beating of Tougaloo students who attempted to integrate the Woolworth's lunch counter, helped Adams-Johnson get more engaged in the movement locally, connecting her with the National Association for the Advancement of Colored People. She soon became involved with the NAACP's Jackson Youth Movement and became the youth secretary for the NAACP.
After graduating from Brinkley, she enrolled at Tougaloo College in 1964. Having dedicated much of the previous year to civil-rights activism, she continued that work at Tougaloo, focusing her attention on voter registration and worked with members of the Student Nonviolent Coordinating Committee. However, in 1967, shortly after Adams-Johnson's junior year, her mother was concerned for her and sent her to live with her sister in White Plains, N.Y., after she had been beaten during a protest.
"I was not, I guess, the student that she had sent me to college to be because the movement had become my life," she says. "Out of that concern for my life, she sent me to New York to live with my older sister."
The move curbed her activism for a time, as her location on the outskirts of New York City made it difficult for her to connect with the activism community. At the same time, living in White Plains introduced her to a new injustice—gentrification, the revival of urban areas due to an influx of more affluent people and new developments, which often displaces poorer residents. It was something she experienced firsthand, as her sister's house was torn down to make room for new tenements.
"That was my first observation of the injustice as it related to African Americans in the big city, which I had thought of as being the land of the free," she says. "That was my first observation and my first realization that racism and discrimination was not just a southern thing, that it did exist in the big city."
She soon began attending meetings in the city for cultural nationalists, a group that centered on the idea of promoting traditional African culture. Unfortunately, these cultural-nationalist meetings often seemed to focus on talk rather than actively helping the struggling community outside, she says. Then, one day, she saw the Black Panther Party for the first time.
"For one of those meetings, going from the suburbs to the city, on the streets of Harlem, 125th Street and 7th Avenue, I met these people who were dressed in black regalia, the black beret and black leather, and that got my attention," she says. "Their rhetoric, I guess, got my attention more, because they were talking about black power, and educating and empowering people of color."
Excited at finding an organization that shared her desire to have a direct effect on human-rights issues, she inquired about how she could join, and immediately, she was given copies of the Black Panther newspaper to sell.
While she wasn't able to relocate to the city at the time, she and her sister met with an officer from the Panthers' main office and agreed to start their own branch of the party in White Plains. They began recruiting members and setting up the party's Liberation School and its seminal survival program, Free Breakfast for School Children.
After heading up the White Plains branch, the party asked Adams-Johnson to move to Brooklyn in 1969 and work full-time as a Panther officer of the day, communications secretary for the Brooklyn Branch and head of the Liberation School, an afterschool program that fought miseducation in schools and helped African American children understand their heritage.
Adams-Johnson says those initial experiences with the Black Panther Party were some of the most enriching and influential moments of her life, showing her just how difficult life could be for African Americans in poverty.
"Being black and poor in Mississippi, there was segregation, and there were many injustices through education, but when it came to our community, as poor as we were, we never went hungry. We never went clothes-less," she says. "Even with medical care, our parents and community found a way to make sure that we were healthy. It was quite contrary to what I experienced in terms of being black and poor in the ghettos of New York."
Despite the many necessary programs that the Black Panther Party provided for youth and for families across the nation, Adams-Johnson says many people recall it in a negative light. This stems in part from the national attention the party received after members armed themselves and took to the steps of the California State Capitol in May 1967, asserting their right to bear arms and their right to self-defense.
For Adams-Johnson, though, guns had very little to do with the Black Panthers' contributions to the minority communities in New York. They never met and plotted to hurt others, and they weren't a gang, she says. The party even had a 10-point program to address issues that black people faced, such as imprisonment issues and education issues.
"Most of my experience with the Black Panther Party was just as passionate to me as my work with the NAACP, my work with SNCC; all of it was one and the same," she says. "My work ... had more to do with addressing human-rights issues. We went beyond just civil rights, and I liked that. Just as an individual, I grew up with a sense of the right to protect yourself. I grew up with people with guns. I grew up with my uncles, who were hunters, so guns were not new to me, and I grew up with a mother who would shoot someone if she had to do that to defend herself. So the right to self-defense, I believe that, and I still believe that today."
After the Black Panthers began to dissolve in the early 1970s, FBI Director J. Edgar Hoover used the controversial Counter Intelligence Program, or COINTELPRO, to target party members, many of whom found themselves on the run due to their connections or others spreading lies about them. For a while, Adams-Johnson says she was displaced.
That changed when she decided to return to the City University of New York to earn her bachelor's degree and then her master's degree in fine arts. After receiving her degree, she stayed on at CUNY as a professor, launching her career as an educator while also working with various community organizations on issues such as fair housing.
In 1999, Adams-Johnson moved back to Jackson and began teaching as an adjunct professor at Jackson State University about three years later. She became a full-time professor for JSU in 2003 and maintained that role for 11 years before retiring, though she still teaches courses there two days a week. She also donated papers from her time in the Black Panther Party to JSU, which are on display in the Margaret Walker Center.
While she says she often wonders what lasting change there has been, seeing that so many students enter higher education without the basic tools they need to succeed, she is nonetheless grateful for the principals and the broader understanding of political systems and capitalism that the Black Panther Party granted her.
More stories by this author