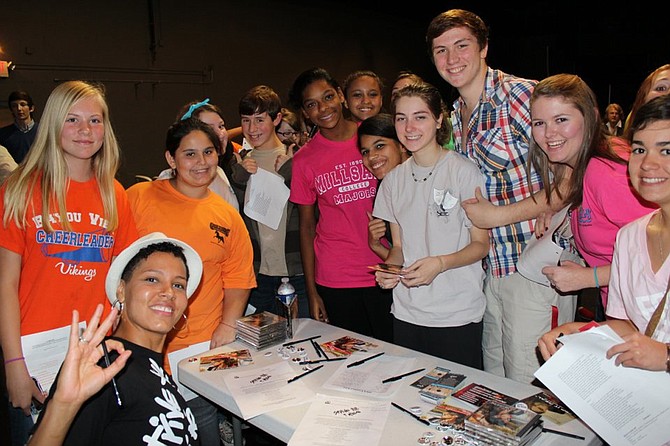 Much of Mississippi's arts community is banding together to combat recent discriminatory legislation, and the fight isn't limited to those still in the state. Hip-hop artist Genesis Be, a Biloxi native, recently made national news for donning a rebel flag and noose in protest of Gov. Phil Bryant's proclamation of Confederate Heritage Month at a performance at New York nightclub SOB's on April 26. However, the musician and activist says she wants her audience to understand that the problem is with Mississippi politics, not necessarily those living here.
"There are freethinking, progressive people in Mississippi," she says. "The power structure and the politics and the policies that are being passed, although representative of the people, they don't necessarily reflect the largest population of people. And it's really hard to stand up for Mississippi when we're having these laws and these declarations made by our leaders that are not of unity, not of tolerance and not of compassion. But I try my best to represent my state well because I love it."
That love of her state was one of the motivations for Be's 2011 multi-state youth-enrichment campaign, Strive Till I Rise. The project evolved from her work on an educational hip-hop album, which was her thesis for the Catherine B. Reynolds Program for Social Entrepreneurship, a highly coveted scholarship that helped pay for Be's tuition at New York University.
"I produced a series of tracks, ranging from HIV and AIDS awareness, bullying, LGBTQ tolerance, teen pregnancy, and I just had these different topics," she says. "So that was before Strive Till I Rise came about; I was already playing with the idea of using hip-hop as an educational tool for children because that's what a lot of kids are listening to."
After graduating from NYU with bachelor's degrees in political science and recording music in 2011, Be returned to the coast and began meeting with youth to research which issues Strive Till I Rise should tackle. Writing in New York, she had to consider the issues that she grew up with, but by submerging herself in Mississippi's modern youth culture, she was able to tailor workshops to meet the needs of young people.
While the workshops dealt with many of the themes from Be's thesis tracks, she also discovered a need for education on topics such as media literacy—teaching students that what they see on TV or hear on the radio doesn't reflect reality or need to be imitated—and the voting process. Many of the groups she met with didn't know anything about the policy makers who affected their cities, counties, state or region.
"I was like, 'How come I can throw up a picture of Lil Wayne and all of you know who he is, but then I throw up a picture of the current governor, and two kids know who he is?' There's a problem with that," she says.
Before returning to New York City, where she continued Strive Till I Rise for another year, Be conducted nine months of workshops at locations across Mississippi, including the Mississippi Gay Straight Alliance in Jackson, the Boys & Girls Club and the Lynn Meadows Discovery Center in Gulfport, and the University of Southern Mississippi in Hattiesburg, as well as plenty of youth centers and community colleges along the way. At the same time, she did face push back from several organizations that wouldn't allow Strive Till I Rise to present workshops.
"Some of the older generations in Mississippi have such a negative stigma toward hip-hop because they only hear what's being played on the radio," she says. "They don't care to dig deeper. They don't care that it's what the youth is listening to. They don't see it as a way to connect with the youth, and they're really missing out on an opportunity to elevate our youth."
In recent years, Be has focused on making music, such as her upcoming album, "Gulf Coast Queens," which she plans to release in June, but says she hopes to one day see Strive Till I Rise partner with a larger organization against mass incarceration and other violations of human rights and take the campaign to an international audience.
For more information on Genesis Be's music, visit genesisbe.com.
More like this story
More stories by this author