With the sheer number of events set for Fondren's Zippity Doo Dah Weekend, which takes place Friday, April 1, and Saturday, April 2, this year, it's tough to commit it all to memory. Here's a forecast of upcoming ZDD activities to make sure you don't miss out on the fun.
FRIDAY, APRIL 1
Sweet Potato Queens Big Hat Brunch
The annual buffet-style brunch kicks off the festivities Friday at 11 a.m. at Sal & Mookie's New York Pizza & Ice Cream Joint (565 Taylor St.). The Zippity Doo Dah website says the event offers "people-watching at its best," and it's hard not to agree. The brunch offers awards for the Best Hat Group and Best Hat individually, so it's certain to be a spectacle. Tickets are $21 in advance or $26 at the door. For more information, email [email protected] or call 601-368-1919.
The World-Famous Budweiser Clydesdales
For the fourth time in six years, Zippity Doo Dah Weekend welcomes the gawked-at gallopers that are the Budweiser Clydesdales. Before you watch them in the parade on Saturday, you can follow their signature hitch on a Fondren restaurant hop, which starts on Duling Avenue at 6 p.m.
The Molly Ringwalds
The self-proclaimed "ultimate '80s experience" returns to Jackson. Sheffield, England-natives The Molly Ringwalds will take the stage at 9 p.m. the Hilton Inn (1001 E. County Line Road). For anyone who hasn't caught the raucous cover band in their previous performances in the capital city, you can expect covers of everything from Madonna to Duran Duran—though strictly the '80s hits, of course. Tickets are $20 in advance or $25 at the door. For more information, visit ardenland.net.
SATURDAY, APRIL 2
Fondren Flea
The Fondren area has plenty of shopping options on any given Saturday, but on April 2, the entire neighborhood will be a mega flea market for Zippity Doo Dah visitors to peruse. Fondren residents will start the morning's garage, yard and tent sales at 7:30 a.m., and the business district will open up shop at 9 a.m. For a map of participating sale locations, visit fondren.org/fondrenflea.
Sal & Mookie's Street Carnival
Once you've filled up on yard-sale swag, you can swing by Sal & Mookie's for its annual street carnival from 10 a.m. to 2 p.m. The event, which takes place on the State Street green space behind the restaurant, offers a variety of activities for families to enjoy, with everything from prizes and jump zones to pizza and ice-cream eating contests. There's even a dunking booth where you can make your favorite cooks and waiters take a dive. The entry armband charge is $2.
Patty Peck Doo Dah Day Blue Car Giveaway
It's a game of chance, cool cars and treasure chests—and no, we're not pitching our idea for a James Bond sequel. Patty Peck Honda will be giving away a 2016 Honda Fit LX CVT as part of the sixth Doo Dah Day Blue Car Giveaway. The finalist drawings started Feb. 26, but it's not too late to purchase a $10 raffle ticket online or in person before we find out which of the 10 finalists can open the treasure chest and walk away with the Aegean-blue beauty on April 2 at 6 p.m. Bass Pro Shop (100 Bass Pro Drive, Pearl) will host the car and sell raffle tickets Wednesday, March 30, from 4 to 7 p.m. For more information, visit foch.org.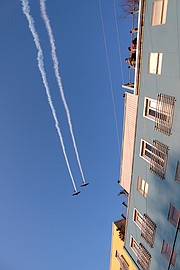 Fondren's Zippity Doo Dah Parade
We know—Jackson just rounded the corner from St. Patrick's Day. But we can't get enough spectacular parade goodness, and thankfully, Zippity Doo Dah weekend closes out with just that. Visitors can set up on any sidewalk in the Fondren area and enjoy the festive trail of floats, antique cars and music from the Murrah High School Band and Jackson State University's Sonic Boom of the South. The parade, which honors first responders this year, is free and begins at dusk (about 6:45 p.m.).
For more information, visit zddparade.com.
More stories by this author
Support our reporting -- Follow the MFP.