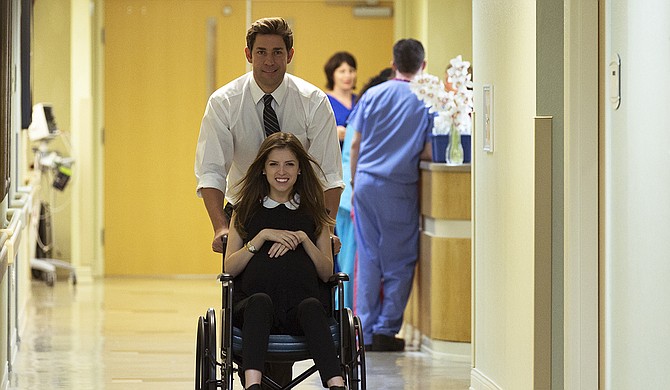 Crossroads Film Festival celebrates 17 years this year. The 2016 festival features films from filmmakers right here at home and all the way to Japan and beyond. Crossroads begins on Thursday, March 31, with a Mississippi premier of "The Hollars" at 6 p.m. Tickets for that event are $20. On Friday, April 1, Crossroads will have a double feature starting at 6 p.m. that includes a screening of "The Sound and the Fury" and a music-video showcase. That night's after party is at Offbeat in midtown at 10 p.m., and the cover charge is $5. Crossroads begins at 9 a.m. on Saturday, April 2, with workshops and continues until after the last film block at 7:50 p.m. The Filmmaker Awards Bunch is at Cathead Distillery and includes a screening of "The Magic Train." For more information and to see ticket and pass prices, visit crossroadsfilmfestival.com.
A Place to Belong
by Amber Helsel
The idea of belonging is put to the test in Japanese director Ken Ochiai's entry in this year's Crossroads Film Festival, "Sumo Road: The Musical." In the film, a college soccer team bullies an exchange student from Taiwan named Ryuji Kure (Taiwanese singer Lin Yu-chun, who was on "America's Got Talent" in 2010, plays him) after he causes them to lose a game. As the team members shove marshmallows in his mouth, and insult his weight, the sumo-wrestling team comes to his rescue and tells him, "There is a place for everyone." Kure joins the sumo team, but to secure his spot, he must stand up to the leader and defeat him in a match.
Despite a few particularly gross moments, I enjoyed the film because it speaks on the universal idea of finding one's place. The film is proof that everyone, no matter their personal attributes and abilities, has a place where they fit in. Though Kure is resistant to sumo at first after losing a match, he realizes that he loves the sport, although he is caught between the idea of trying to get healthy and being on the team.
Besides its themes, the greatest part of the film, to me, was the fact that it was a musical. If you ever wondered if sumo wrestling would make a good musical (because I'm sure we all have at some point), this film shows that it truly does. Some of my favorite lines include, "I am too heavy to fly away," and, "Fat people can do more than just roll."
"Sumo Road: The Musical" plays on Screen A in the "Comedy Central (Mississippi)" film block, which starts at 3:15 p.m., Saturday, April 2, at Malco Grandview Cinema (221 Grandview Blvd., Madison, 601-898-7819).
A Vinyl So Divine
by Amber Helsel
Greek mythology has permeated culture in more ways than one, from comic books to TV and everything in between. Now, the gods and goddesses are headed for this year's Crossroads Film Festival in the form of Jackson filmmaker Astin Sullivan's "Vocabulary of the Mysteries."
The film centers on Hephaestus, a young god who is cast down from Olympus to Earth. Instead of trying to return home, he builds a heaven-themed dance club, although his past keeps coming back to haunt him. He constructs Ladybot to keep himself company in his time with the mortals.
The film, which uses black and white with highly contrasted tones, fuses Greek mythology and Afrofuturism seamlessly. The characters wear hoodies, metal-lined cloaks, sneakers and other variations on the classic togas and sandals you'd expect in myths. Leaf crowns are made of faded silver, and almost everyone wears sunglasses and geometric jewelry.
The only time color is used in the film is a subtle hint of red when displaying blood, an effect that you wouldn't catch if you weren't looking closely.
Music is as at the heart of the story. When Hephaestus is first cast down to Earth, he steals a record, "a vinyl so divine, laced with beats so glorious," as one of the three Fates at the beginning of the film refers to it. The film celebrates hip-hop culture in a fun and vibrant fashion, and at points, you might even wish you were partying on Mount Olympus, too.
"Vocabulary of the Mysteries" plays on Screen B in the "Mississippi Showcase" film block, which starts at 3:40 p.m., Saturday, April 2, at Malco Grandview Cinema (221 Grandview Blvd., Madison, 601-898-7819).
Struggling With Choices
by Mike McDonald
We face choices every day, often when we least expect them, and many of those choices can influence our lives forever. That fact is at the forefront of Canadian director Geordie Sabbagh's feature-narrative entry, "A Sunday Kind of Love."
The lead character, Adam, is a humble, insecure man who is a struggling to be a writer. Two of his books have been published and did not sell well, but he believes that the third one, which is nearing completion, will be his salvation.
One day at a coffee shop, Adam meets Emma, who also goes by the name Death. She initiates conversation by stating facts about his life, both past and present. More curious rather than suspicious, Adam continues the conversation until she exposes truths about him that he would prefer to ignore. He begins to fall in love with love and starts to question if he is destined for a life in the present or after death. Their lives begin to connect, and we see Adam's choices become the directional motif of the film.
One issue with the film is that some of the characters' decisions seem out of sync with their personalities. For instance, while we're repeatedly told that Adam loves his girlfriend, he still asks a cashier for her phone number. Although it's a fun film that is certainly worth watching, the main theme behind—decisions—is one area where "A Sunday Kind of Love" could have used more consideration.
The film plays on Screen A in the "A Sunday Kind of Love" block, which starts at 7:40 p.m., Saturday, April 2, at Malco Grandview Cinema (221 Grandview Blvd., Madison, 601-898-7819).
Culture Gets Animated
by Genevieve Legacy
Feature-length film "The Magic Train" is a charming ride through the animated landscape of Chinese art, history and culture. The film centers on Lin Lin, a young Chinese American woman who's visiting China for the first time. Feeling out of place as she gathers material for a research project, she boards an animated train. After she decides to see things differently, her mind opens, and the adventure begins. As she travels through the night, she meets a series of characters and is transported via imagination into each character's animated story.
With a 126-minute runtime, the film is comprised of 10 animated shorts that are linked together like individual train cars to form the whole.
Many sequences are themed around different art forms such as dance, painting, calligraphy and opera.
With almost no dialogue, the film is a purely visual experience set to a soundtrack of traditional Chinese music.
One animated sequence centers on the erhu, a traditional bowed instrument with two strings and a long, thin neck—an immediately recognizable sound that is featured in Eastern orchestral music.
Filled with vibrant color and evocative storytelling, "The Magic Train" is a truly collaborative endeavor. Haiyi Xu, the only live-action actor in the film, plays the role of Lin Lin. The rest of the characters spring from the minds of Joe Chang, the film's executive director, and the nine animators, writers and directors who created and contributed their own magical sequence.
"The Magic Train" screens at 10 a.m., Sunday, April 3, at Cathead Distillery (422 S. Farish St., 601-667-3038).
The Face of a Refugee
by Richard Coupe
On a vast plain, the wind blows and not a blade of grass or tree is in sight. Small aluminum buildings covered with tarps and even some tents dot the area. Everyone looks thirsty. Little girls carry large containers of water in the sandy-colored avenues. Khaldiya, 17, is a Syrian refugee from Daraa, now living in the Zaatari Refugee Camp in Jordan. She was participating in a media workshop in the camp on documenting their lives and made a short film titled "Another Kind of Girl," which is subtitled into English from its original language.
The film is rather amateurish and does not follow a coherent storyline, but really, that is its charm. Through scenes in the camp, Khaldiya describes how her life changed after her arrival. One gets the sense that she is much happier now than she was in Syria. She does not mention why she is in the camp, nor is there any overt political overtone.
Khaldiya speaks of how fearful she was in Syria and names herself now a "courageous girl." She talks of the joy of having friends and continuing her education after having to stop in the eighth grade in Syria.
"Another Kind of Girl" is particularly appropriate now as the world discusses the Syrian crisis and what to do with the refugees streaming out of Syria. This film puts a human face to the term "refugee."
"Another Kind of Girl" plays on Screen A in the "So You Want to Be in Pictures?" film block, which starts at 11 a.m., Saturday, April 2, at Malco Grandview Cinema (221 Grandview Blvd., Madison, 601-898-7819).
Fighting for History
by Richard Coupe
From the Whiskey Rebellion in 1794 to the recent occupation of the Malheur National Wildlife Refuge in Oregon, Americans have always been inclined to take matters into their own hands and defy authorities.
"Delta Justice: The Islenos Trappers War," which David DuBos directed and produced, concerns a little-known incident where the Islenos community in St. Bernard and Plaquemine parishes in southern Louisiana rebelled against perceived injustice. The Islenos, descendants of Spanish immigrants from the Canary Islands, came to the New Orleans when Spain owned Louisiana in the late 1700s. During much of their history, they were an isolated and poor Spanish-speaking community, adhering to their traditional customs.
The core of the documentary chronicles the Islenos Trappers War, an incident in 1926 that saw the Islenos defending their land and their way of life from opportunists. The film also features interviews with sources such as political commentator James Carville and John Barry, the author of "Rising Tide."
The central story is one that will likely resonate with many Americans. To the Islenos, the courts, politicians and the law had all failed them. Technically, they did not own the land upon which they had lived for more than a hundred years, and when it became valuable, others made a legal claim on it, but the Islenos viewed it as unjust and violently took matters into their own hands. See the documentary and decide for yourself if what they did was right.
"Delta Justice: The Islenos Trappers War" plays on Screen B in the "Point of View" film block, which starts at 1:30 p.m., Saturday, April 2, at Malco Grandview Cinema (221 Grandview Blvd., Madison, 601-898-7819).
Mississippi's Atomic History
by Amber Helsel
There's a lot of history that Mississippians may not know. Besides a metaphorically explosive history, Mississippi has a real atomic past that took place only a couple of hours from Jackson in Lamar County.
One entry in this year's Crossroads Film Festival, "Atomic MS: 50 Years Later," which students in the Meek School of Journalism and New Media at the University of Mississippi created, explores the nuclear testing and its effects on the surrounding community.
In the 1960s, the U.S. government created Project Dribble as part of the Vela Uniform program, which aimed to assess remote nuclear-detonation capabilities. Dribble itself was used to determine if it was possible to do nuclear testing underground to fool seismographs. The U.S. Atomic Energy Commission and the U.S. Department of Defense detonated a 5.3-kiloton device at a depth of 2,700 feet in the Tatum Salt Dome outside of Hattiesburg, and only two years later, they detonated a 380-ton device in the same area.
More than the history of the site, "Atomic MS" explores what happened after, from the governments' reassurance that residents were fine to rising rates of cancer in the area to how the radioactive isotopes affected the wildlife in the area. Thought it's a student film (and at certain points, that's glaringly obvious), it still tells an intriguing and little-known story and asks the necessary questions to do so.
"Atomic MS: 50 Years Later" plays on Screen B in the "Mississippi Showcase" film block, which starts at 3:40 p.m., Saturday, April 2, at Malco Grandview Cinema (221 Grandview Blvd., Madison, 601-898-7819).
Making the Most of Tough Circumstances
by Genevieve Legacy
During times of conflict in war-torn countries, we may not know what daily life is like.
"I Am Sami" is a narrative short film set in a war-torn town in the Middle East that U. S. military forces occupied. Family and friends surround Sami, the precocious boy at the heart of the story who is making the most of a tough life. When his family's circumstances change for the worse, he's confronted with a difficult decision.
Kurdish filmmaker Kae Bahar wrote and directed the short, which takes place in an unnamed village that could be located in any number of countries where life goes on in the midst of extended conflict. Throughout the short film, the viewer bears witness to a day in Sami's life, and as events unfold, the gamut of emotions the 10-year-old boy experiences. Filmed on location in Maxmur, Kurdistan, all the actors are Kurds starring in their first English-Language film, with the exception of Nick Court ("300: Rise of an Empire," "Jack Ryan: Shadow Recruit") who plays the role of Oscar, a U.S. soldier. Bawar Landon, the young actor who brings the title character to life, is the genuine article—a child who has grown-up in a worn torn country. Conveying much more than the words he carefully speaks, Landon's eyes and facial expressions tell a real and much larger story.
"I Am Sami" plays in the "Tearjerkers" film block, which starts at 11:05 a.m., Saturday, April 2, at Malco Grandview Cinema (221 Grandview Blvd., Madison, 601-898-7819).
Guilty Until Proven Innocent
by Mike McDonald
Issues surrounding the mistreatment of African Americans in the justice system, political process, education and law-enforcement procedures have gained renewed focus over the last few years, and several entries at this year's Crossroads Film Festival present these problems in interesting ways.
One of these is fictional short film, "Driving While Black," which takes aim at the relationship between a young African American man, Dimitri, and various police officers he encounters throughout the course of a couple days. He is stopped multiple times for different reasons, yet not all encounters are negative.
He has preconceptions about the police, and the police officers have preconceptions about him, all of which are based on past experiences. Stereotypes come from both camps and, depending on the circumstance, are often incorrect.
Dimitri and those around him know how to navigate a system that may often presume that African Americans are guilty until proven innocent, often leading to humiliating questions and biting accusations.
In one instance, the juxtaposition of Dimitri's life and what police officers assume his life to be like come to a head as he is accused of sexual assault. We gain a glimpse of what African American people endure every day in cities and towns around the country but also a glimpse at how mistrust between the police and residents can affect our community.
"Driving While Black" plays on Screen C in the "The Burden of Color" film block, which starts at 7:20 p.m., Saturday, April 2, at Malco Grandview Cinema (221 Grandview Blvd., Madison, 601-898-7819).
Elements in Reverse
by Micah Smith
In German filmmaker Maria Reinhardt-Szyba's Crossroads Film Festival entry, "Fire Water Earth Air and Time," camera trickery takes top billing. As the title suggests, each element factors into the film, though time is the operative one.
The film begins with sole actor, Falk Szyba, playing two roles—a man in a dark suit and a young boy in a green-and-white striped shirt and shorts—both sitting on opposite sides of an outdoor patio. As the boy plays with toys on the ground, the man begins to complete tasks in reverse, pulling the water from a doused fire and affixing the petals pulled from a flower back onto its stem. The former is perhaps the best use of the visual effect, with a black metal trashcan erupting in plumes of white smoke that actually appear more destructive than the small, tame fire left standing.
With the amount of reliance on the reversed-footage effect, it ultimately feels a bit overused by the end of the film, but Reinhardt-Szyba manages to imbue the piece with an impressively eerie, surreal tone to keep the audience engaged in what's happening onscreen. Even beyond the characters' backward actions, features such as cut-less editing, enigmatic imagery and an almost total absence of dialog make for an interesting viewing experience.
"Fire Water Earth Air and Time" plays on Screen A in the "Eccentricities" film block, which starts at 1 p.m., Saturday, April 2, at Malco Grandview Cinema (221 Grandview Blvd., Madison, 601-898-7819)
More stories by this author
Support our reporting -- Become a JFP VIP.
The news business has changed dramatically in the past year, and we need your help more than ever to keep bringing you important stories about Jackson and the Metro. Become a JFP VIP with an annual membership or you can Sign up as a monthly supporter. Thanks for anything you can do to empower our journalism!