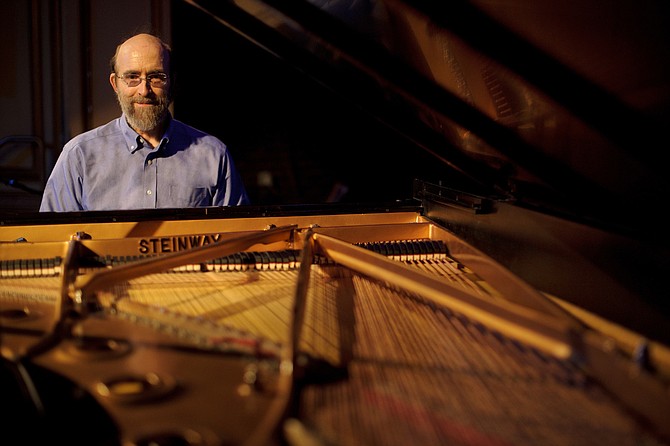 As renowned pianist George Winston plays alone on a stage, his hands move independently from one another, left floating from key to key to create the bass line and right providing the bouncing melody. After nearly four decades of committed practice and performance as a solo musician, he's come to realize that that path lines up directly with the way he naturally hears music.
"There are disadvantages," he says. "You don't have a singer, so it's more abstract and indirect because it's all solo and instrumental. It's not quite as communicative directly as even a soloist singing. But that's kind of just what it is. When I work on a song, I say, 'Left hand does this part, and the right hand does that. Also, throw this in.' It's just how I think about it without thinking about it."
Playing solo has also allowed Winston to develop his live performances to give audiences something new each time they see him while also letting him present his current artistic interests. Even within his two performance structures—the summer show and the winter show—he says about two-thirds of the season's show will be different material each time.
Winston also makes sure that his fans hear their favorite tracks from his various studio releases, including his Grammy Award-winning 1994 album, "Forest," as well as 1996's "Linus and Lucy: The Music of Vince Guaraldi" and 2000's "Love Will Come: The Music of Vince Guaraldi, Vol. 2," which feature arrangements from the composer best known for his "Peanuts" TV-specials music. Winston recently completed a third volume of Guaraldi's pieces, which he plans to release later this year.
"With a record, I'm very often trying to stay in one mood or a couple moods, but with a concert, it's a different medium," he says. "I'm thinking about the situation I'm in, who I'm playing for and where I'm coming from musically."
Seasons and landscapes have influenced Winston throughout his career, evident from album titles such as 1980's "Autumn," his two-volume "Gulf Coast Blues & Impressions" series and his upcoming full-length, "Spring Carousel," which does not currently have a set release date. He attributes that way of hearing music in part to the distinct seasons of Montana, where he grew up before his family moved to Jackson from 1961 to 1964.
Winston also applies that philosophy to his other musical pursuits, harmonica and guitar, both of which are elements of his concerts. He has played all three instruments for nearly the same amount of time, and he says that he approaches them in a similar manner, splitting each instrument into a "left and right side." Winston says he takes inspiration from musicians who captured their regions' sound, such as harmonica player Sam Hinton, blues guitarist Robert Johnson and Hawaiian slack-key guitarist Keola Beamer.
"The earth influence will seep out into what everybody's playing," he says. "If you go to Cajun country, it sounds just like the terrain, and if you go to New York, the jazz and bebop sounds just like Manhattan—to me, anyway. To listen to the songs and to go there, it's just like, 'Oh, yeah, of course it was that way!'"
George Winston performs at 8 p.m., Saturday, Feb. 27, at Duling Hall (622 Duling Ave., 601-292-7121). Tickets are $40 at the door or $35 in advance at ardenland.net. For more information, visit georgewinston.com.
More like this story
More stories by this author