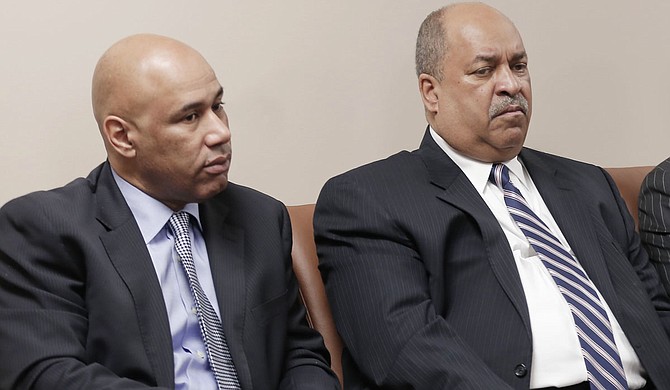 A businessman is pointing to his experience redeveloping what he called a "ghetto" in his home city of Denver to assure Jackson officials that he can jumpstart Farish Street, the city's former thriving black business district. To help make the long-delayed upgrade happen, Leroy C. Smith says he has assembled a team of investors, architects, and contractors from Jackson and around the country, all in hopes of jumpstarting Farish Street redevelopment.
As part of a court order in an ongoing dispute over the Farish Street Entertainment District, Leroy C. Smith made a presentation at the monthly meeting of the Jackson Redevelopment Authority on Jan. 27.
Smith said he has more than three decades of residential and commercial development experience, which included working on the redevelopment of Denver's historic Five Points neighborhood, once known as the "Harlem of the West" because it was a strong business and entertainment district for African Americans, where the likes of Duke Ellington and Billie Holliday performed, before it fell into decay from the late 1950s to the early 1990s.
In November, Hinds County Chancellor Dewayne Thomas, who has been handling a series of lawsuits between JRA and the Farish Street Group, which had the master lease for the historic district until late 2013, ordered JRA to listen to a presentation from Smith as a possible solution to ending the litigation.
David Watkins, a developer and lead partner in the Farish Street Group, brokered the presentation. From 2010 to fall 2013, FSG had a deal with JRA to restore Farish Street to its former days an entertainment hub. After JRA took the lease from the investment group, Watkins placed liens on the property; JRA counter-sued, and it's been tied up in litigation ever since. Smith, whose father was born in Hazelhurst but relocated to Fort Smith, Ark., before heading west to Colorado, titled his presentation, "Farish Street: The Gateway to the New Jackson, Mississippi."
"Denver was like Jackson 40 years ago," he told JRA. "I can bring a lot of talent here."
Some of that talent flanked Smith in JRA's overcrowded board room. This included Harvey Freelon, an attorney who owns a popular nightclub and restaurant on Mill Street. Freelon was law partners with late Mayor Chokwe Lumumba and owns property in the Farish Street Historic District. Another investor Smith named was former Circuit Court Judge Robert Gibbs, who used to be law partners with ex-Jackson Councilman Quentin Whitwell and was a member of the Farish Street Group that had the master lease.
Last fall, Smith, president and chief executive officer at LCS Land Development LLC, said he had investors ready to pump $100 million into the Farish Street Entertainment District. That deal fell through, and Smith has assembled a new team.
In addition to Freelon and Gibbs, Smith said he signed up Jay Carter of Arizona for his team. Carter specializes in attracting foreign investors to the U.S., including through the federal EB-5 visa program that allows foreign nationals to obtain a green card for investing $500,000 to $1 million in the United States. Records from the Arizona Corporations Commission also list Carter as a principal in several real-estate-related limited liability companies.
Another one of Smith's investment team members is Alex Headley, who owns Denver-based Cowboy Investments LLC and describes himself on his LinkedIn profile as "chief creative real-estate-investing and money-earning deal maker" who is "focusing on shale gas and oil development, drilling and exploration." Rounding out Smith's team is Molly McKinnon, president of Pensacola, Fla.-based P3 Connection Inc., which bills itself as offering "private-sector solutions to members of the public sector."
JRA's commissioners mostly just listened as Smith talked about his vision for Farish Street. Phase I of his plan focuses on one block of Farish and a commitment of redeveloping six buildings, including a blues cafe, a country music bar, a microbrewery and three unnamed restaurants. Smith believes his team can complete Phase I by September 2016—in time for holiday shopping—if JRA approves a memorandum of understanding within 30 days. Phase II includes a boutique hotel as well as an innovation and training center.
"The market is wide open for that kind of development," Smith said. "You need those bodies in places that are going to spend money locally downtown, and you don't have this big exit to the suburbs." Other plans call for a music hall, recording and film studio, radio station and "food cooking show."
Other firms that will be essential to Smith's construction plans are Marcus Wallace, owner of Jackson-based M.A.C. & Associates and mayor of Edwards. Wallace's firm has been a subcontractor on several high-profile jobs in Jackson including the installation of water meters for the Siemens contract, the Capitol Street two-way project and the Westin hotel, now under construction in downtown. Dale Partners is on Smith's design team. When JRA terminated the lease with Farish Street Group, Dale Partners, which developed a master plan for the entertainment district, sued JRA. Smith declined to speak with reporters afterward, saying that he wants to get an agreement with JRA in place before giving interviews. McKinley Alexander, president of the JRA board of commissioners, did not have a timeline on taking action on Smith's proposal.
Email R.L. Nave at [email protected] Read more about Farish Street development efforts and legal battles at jfp.ms/Watkins.
More stories by this author
Support our reporting -- Become a JFP VIP.
The news business has changed dramatically in the past year, and we need your help more than ever to keep bringing you important stories about Jackson and the Metro. Become a JFP VIP with an annual membership or you can Sign up as a monthly supporter. Thanks for anything you can do to empower our journalism!