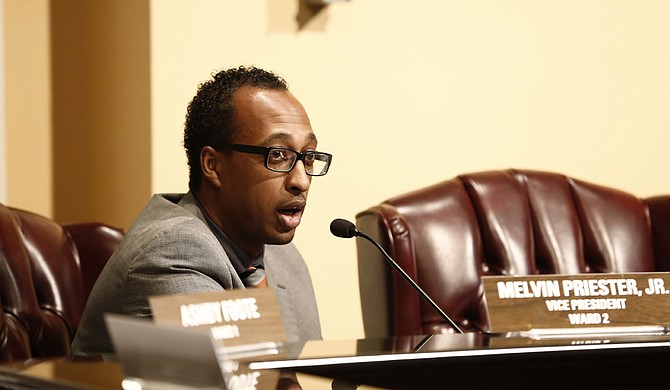 Some members of the Jackson City Council are gently pushing back on a proposal from Mayor Tony Yarber's administration to designate part of downtown as a "qualified resort area and entertainment district."
At an informal city council work session on Oct. 19, Mike Davis, of the planning department, told members that the move would allow the City to work with developers and state officials to explore possible incentives.
"It would most definitely make downtown Jackson a place to eat, work and play," Davis said, echoing one of Yarber's favorite lines for his economic-development strategy.
Under state law, certain establishments with resort status can remain open 24 hours a day. Davis said the proposed area would roughly encompass an east-to-west span from Mill Street to Lamar Street and Pearl Street to South Street. The plan, Davis said, would also pull in One Jackson Place, an office building on Capitol Street, as well as an area near East Silas Brown Street near The South, a popular event space downtown.
However, two members of the council asked why the resort designation could not include all of downtown Jackson. When Ward 4 Councilman De'Keither Stamps asked if Hal & Mal's would be included in the proposed area, Davis said it might be in the future.
"The future is now, brother," Stamps said. Council President Melvin Priester Jr., of Ward 2, echoed Stamps' concerns, agreeing that the plan should also help downtown businesses that are already up and running.
"Here we have something that businesses have been begging for for years. I think it would be a slap in the face to some of these folks to say we're going to let (some) people take advantage of this," and not existing businesses, Priester said.
Stamps pointed out that Johnny T's Bistro, which opened on the north end of Farish Street this summer, is located outside the Farish Street Entertainment District and, therefore, must close at 2 a.m., while F. Jones Corner, which falls inside the district, can remain open all night. Plans to develop Farish Street into an entertainment destination similar to Memphis' Beale Street have languished and stalled amid legal disputes.
Marshand Crisler, a deputy chief administrative officer for the City, said the administration wants "to be particular about how we're making these kinds of requests" and that having a more narrowly defined area would have a better chance of meeting approval from the Office of Alcoholic Beverage Control, a division of the Department of Revenue, which considers applications for resort status.
Jackie Anderson-Woods, Yarber's chief of staff, told council members that the idea behind Phase 1 of the plan is to create a synergy that could spark an environment similar to Beale Street or Bourbon Street in New Orleans as well as to help grow businesses near the convention center to give convention-goers something to do when they're in town.
The council will take up the matter at its regular council meeting Tuesday evening, Oct. 20, at 6 p.m.
More stories by this author
Support our reporting -- Follow the MFP.