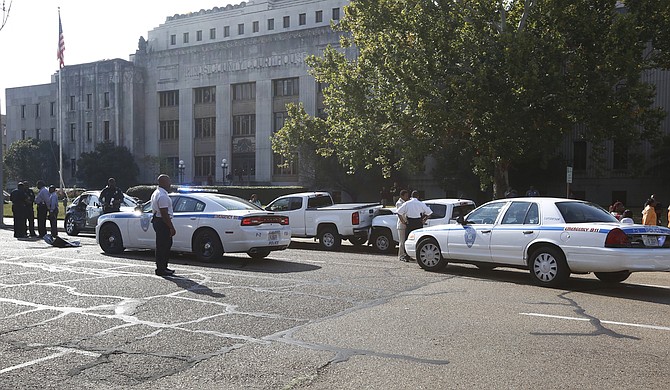 A suspected domestic-violence situation prompted a high-speed police chased that ended with a six-car collision in downtown Jackson today.
Lindsey Horton, chief of the Jackson State University Police Department, told reporters that the chase started on the west side of the Jackson State University campus with a suspected assault of a woman by her boyfriend.
Horton said the boyfriend took the woman's vehicle and attempted to evade JSU police officers. The woman is a student at the university; the man is not, Horton said.
The man allegedly ran several red lights and hit speeds as high as 60 miles per hour as he headed east on Pascagoula Street.
WLBT reports that the driver hit a car at the intersection of Pascagoula and Congress streets, near Jackson Police Department headquarters, spun around and hit two City of Jackson Community Improvement trucks parked in front of the Hinds County Courthouse.
Information from the California-based nonprofit PursuitSAFETY, which advocates for policies to reduce avoidable police chases, cites research that shows 35 to 40 percent of all vehicular police pursuits end in a collision.
"Officers have to make independent decisions," Horton told reporters of the JSU officer's pursuit of the vehicle.
The driver was taken to a local hospital, but there were no other reports of injuries. PursuitSAFETY estimates that one third of all police chases end in death.
Chief Horton said JSU officers took the man into custody. He will face charges related to the alleged assault and auto theft and, possibly, the collisions.
More stories by this author
Support our reporting -- Follow the MFP.