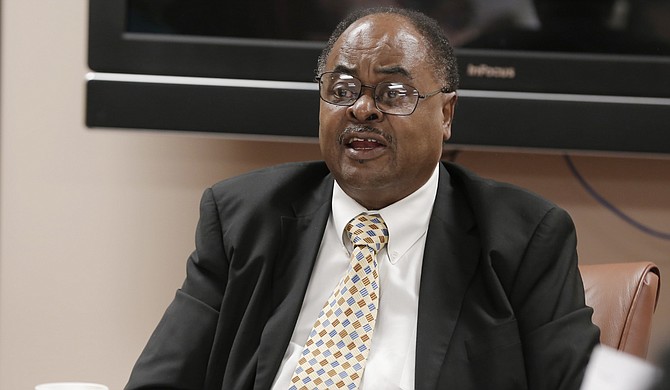 The people of Jackson have been here before: an out-of-towner breezes through trumpeting promises to restore the once-mighty Farish Street to its rightful place among the great entertainment districts of yore.
Leroy C. Smith is the latest of these—but who is he? Smith, president and chief executive officer at LCS Land Development LLC, said in a statement that he represents a group of Denver, Colo.-based investors ready to pump $100 million into the Farish Street Entertainment District; the group would inject $25 million of the overall investment in the first 18 months.
The offer came to light during recent court proceedings and through an order from Hinds County Chancellor Dewayne Thomas, who has been refereeing the circular firing squad of lawsuits between Jackson Redevelopment Authority and developer David Watkins. Thomas' order, issued Nov. 10, directs JRA to listen to what Watkins has to say.
"Being advised that the development plan represents a possible avenue of settlement of this complex and costly litigation, this Court finds that presentation to the (JRA) Board would be in the interest of justice and equity and would be in the best interests of the parties, the residents of the City of Jackson, and the general public," Thomas wrote.
Watkins referred questions to one of his attorneys, Lance Stevens, who expects to facilitate a meeting with JRA and called Smith's proposal a "no brainer." Stevens provided the Jackson Free Press with a statement from Smith, who did not respond to messages seeking comment:
"We believe that Jackson has enormous potential. We have carefully studied various projects and proposals in and around Jackson. Our study and selection process has led us to focus on the Farish Street Entertainment District as our first project. The Farish Street project will be a catalyst for a new wave of economic development for the city."
To sweeten the deal, Smith also offered to kick in $1.6 million for the City of Jackson to repay the U.S. Department of Housing and Urban Development. In 1997, under the mayoral administration of Kane Ditto, a memorandum-of-understanding between the City and JRA stated that the City intended to purchase 17 properties on Farish Street with HUD community-development block grant, or CDBG, funds to restore the historic street into an entertainment district.
The City then transferred ownership of those properties to the JRA, a quasi-independent arm of City government.
In September 2014, federal monitors demanded repayment of those funds, writing in a letter to Jackson officials: "It has been more than 16 years since the (City) began acquiring ... property, and it remains unclear whether or not the activity will ever meet a national objective." Additional plans include Smith acquiring the Atmos Building in west Jackson to help pay JRA's legal fees and as part of a longer-term strategy to develop west Jackson and parts of downtown.
On his LinkedIn profile, Smith touts 35 years of residential and commercial development experience, which includes working on the redevelopment of Denver's historic Five Points neighborhood. Once known as the "Harlem of the West," Five Points has long been a center of African American and Latino life in Colorado's capital city. Smith's LinkedIn resume lists him as the developer of a nine-townhouse development and a $25-million 122-home development, as well as being the financier of a $2.4-million mixed-use redevelopment project and numerous other projects.
A search of the Colorado secretary of state's website returns no results for LCS Land Development—the company name on Smith's LinkedIn account. Smith is listed as the registered agent for another Denver company, LCS Developers LLC, but records indicate the company has been delinquent since May 2006. The trade name for another company—LCS Communications, a division of LCS Developers—also expired as of October 2007. Colorado records do show Smith as the registered agent for LCSLAND Development LLC, formed Nov. 12, 2015—two days after Chancellor Thomas ordered the meeting between Watkins and JRA to hear Smith's proposal.
Leroy C. Smith, whose listed address is a Jackson office building at 932 North State St., is an officer for a company called Mississippi Interlock LLC. Other officers of the company include Robert C. Foxx of Fort Collins, Colo.; Money Powell Jr. of Utica, Miss.; and Marjorie D. Hunn, whose Jackson address matches Smith's. The exterior gate to the office building on North State Street, which also served as Mayor Tony Yarber's campaign headquarters during the 2014 special election, was padlocked last week.
JRA briefly discussed the judge's order during its regular meeting Nov. 18. Chairman McKinley Alexander, an associate professor of economics and finance at Jackson State, said he would follow the judge's order and schedule a time for Watkins to make a presentation. But Alexander refused to acknowledge the validity of a draft memorandum of understanding, or MOU, between JRA and Smith's LCS Land Development.
The MOU, which first surfaced on a local blog, is dated Sept. 22 and spells out Smith's offer. Under the terms, JRA would transfer the Farish Street properties it owns to Watkins Development, who would reconvey the property to LCS. LCS would provide Watkins Development $1.6 million to give to JRA to pay back HUD even though the responsibility for repaying the HUD grants is the City of Jackson's.
Earlier this year, after the City discussed a three-year payment plan to pay HUD, JRA offered to pay it so that Farish Street would not remain in limbo for another three years; the City has not responded to JRA's offer.
As part of the deal, LCS also asked JRA to dismiss its lawsuit to expunge liens Watkins placed on the Farish Street buildings for which he held the master lease until September 2013.
The MOU also asked JRA and the City to provide $25 million of the financing. "The financing provided by the JRA, including any benchmarks or timeless, shall be on terms and conditions at least as favorable as the financing provided for the development of the Iron Horse Grill and the Westin Hotel," the MOU states. In addition, LCS would ask JRA's help in applying for New Market Tax Credits, state historic tax credits, tourism tax rebates and other financing instruments.
Alexander, the JRA chairman, told the Jackson Free Press that, despite the court order, he had no timeline on scheduling the Watkins meeting.
Comment at www.jfp.ms. Email R.L. Nave at [email protected]
Read more about Farish Street drama at jfp.ms/watkins.
More stories by this author
Like independent media outlets around the world, the Jackson Free Press works hard to produce important content on a limited budget. We'd love your help! Become a JFP VIP member today and/or donate to our journalism fund. Thanks for considering a JFP VIP membership or one-time support.