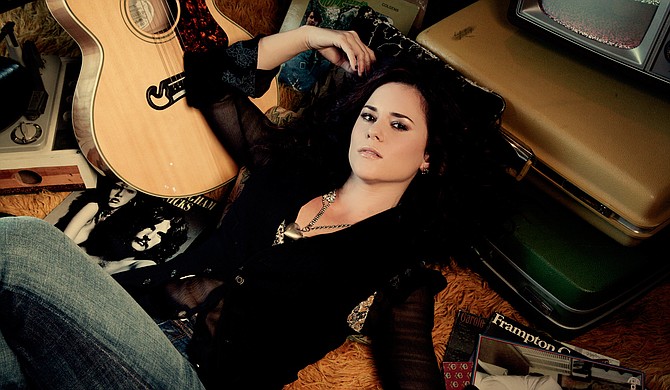 No doubt about it: Singer Shelly Fairchild is grounded in Nashville. Whether performing as a solo artist or as a background vocalist for artists such as Martina McBride, whom she's toured with since January 2014, Fairchild keeps a full schedule in the country-music capital. But the path to Fairchild's professional music career began in Mississippi.
Born in Jackson and raised in Clinton, Fairchild started making music when she was about 7 years old. As a child, she sang with her grandfather, learned to play Dolly Parton songs on the guitar from her aunt, and performed in church, which was her first experience singing in front of an audience. Fairchild joined Attache show choir while at Clinton High School, where she graduated in 1995.
Fairchild attended Mississippi College for two years while performing at New Stage Theatre. There, she acted in "Always ... Patsy Cline" in 1996, which was one of her first experiences performing country music for large audiences, having mostly sung show tunes, pop and gospel songs.
In August 1996, she left MC for Nashville to work with artist manager Rendy Lovelady, whom Fairchild met in Clinton years before. As Lovelady's assistant, Fairchild worked with clients such as Little Big Town, Jars of Clay and Plumb.
"It was kind of like home, honestly. Nashville is still the South, you know? People are really family-oriented, and the neighborhoods are the same as how I remember growing up," she says. "... At first, it was cool because I jumped into working with Randy, who I knew from home, and there were a few friends that I went to Clinton High School and Mississippi College with. So, it wasn't too bad to adjust."
In 1998, she joined the touring musical "Beehive," in which she impersonated 1960s singer-songwriters such as Brenda Lee and Connie Francis. It was the final step that led her to pursue a full-time career in music. She saved money throughout the musical's run, and when she returned to Nashville, she reached out to musician friends, including the members of Little Big Town, to see if anyone would share tracks they hadn't used on their records. That year, Fairchild became Lovelady's client, and he set up meetings for her with label executives.
"I took three or four songs, one of them being Fiona Apple's song 'Criminal,' and went in with a guitar player and sat down in offices," she says."
In 2003, Fairchild signed with Sony Music Nashville and Columbia Records. She released her debut album, "Ride," two years later. While on those labels, Fairchild released singles and music videos, opened for acts such as Blake Shelton, Rascal Flatts, Keith Urban, Tim McGraw and her current boss, Martina McBride. She even performed on the "Late Show with David Letterman" in May 2005. Ultimately, she decided to leave the labels, self-releasing her second album, "Ruby's Money," in 2011.
She also lent her voice to back up other artists. Even those who aren't familiar with Fairchild's music may have heard her voice on hit songs from artists such as Jason Aldean, Eric Church, Tanya Tucker and Trace Adkins. Fairchild says that her time in Attache and at New Stage taught her the group dynamic that producers expect from backup singers. Everyone does his or her part to reach a single goal.
"You do that as a solo artist, as well, but you're still the boss," she says. "You're calling the shots, so if you don't like the way somebody is playing or the way somebody is acting, you can get rid of them. ... But as a 'side ma'am,' as I tend to call it, you're supporting a greater picture that has zero to do with you. You're supporting the main act, and it's whatever they want."
Since she started calling the shots with her music, Fairchild says there's been plenty to learn. Her major label experience didn't give her an accurate picture of what a career in music would be.
"I didn't really do the slow start-up where you get on a van or a trailer, or you take your own car. I got right on a tour bus, and the record label put a lot of money into it. It was ... not posh by any means, but it was a little bit (unrealistic) for the normal beginning artist," she says.
"Then I left Sony and started doing my own thing, and I'm responsible to sort of book all the shows, take care of the band, and book the car and the van and the trailer. You work really, really, really hard and sometimes make baby steps."
Fairchild's next step is a much larger one. She is in the process of recording her next album, which she is crowd-funding through PledgeMusic. Fans who pre-order the album provide the funds to help her pay musicians, book studio time, support tours and create videos. Other offers include VIP passes, T-shirts and even a haircut from Fairchild. She says this new record is closer to her debut release—and to home—than her later albums.
"I feel like when I put my first record out, 'Ride,' it was me. It was kind of country, kind of bluesy, kind of soulful and kind of rock, That's me, and that was sort of my first venture into making any kind of music for me, recording-wise," she says.
"Most of my experience had been just live onstage. But I think I've grown so much from that. I've made some different kinds of music, but it's like I'm coming back around and coming back home. To describe me now, I'm very Mississippi. You know, Mississippi is home of the blues, so I have a lot of those elements that will never leave my voice. And I like that about myself."
The album is already in pre-production, but Fairchild says that a title is "looming in the distance," and will probably hit her once all the songs are completed.
"I love that part, but it also scares me to death because it stamps the timeline of your life to put a name on a record," she says. "But I think it'll show itself sooner than later."
Shelly Fairchild performs 9 p.m. Friday, May 8, at Duling Hall (622 Duling Ave., 601-292-7121). Doors open at 8 p.m. Tickets are $10 in advance at ardenland.net or $15 at the door. For more information, visit shellyfairchild.com.
More like this story
More stories by this author
Support our reporting -- Become a JFP VIP.
The news business has changed dramatically in the past year, and we need your help more than ever to keep bringing you important stories about Jackson and the Metro. Become a JFP VIP with an annual membership or you can Sign up as a monthly supporter. Thanks for anything you can do to empower our journalism!