Writing, recording and distributing an album is never an expedient process. For Jackson vocalist, songwriter and harmonica player Scott Albert Johnson's latest record, "Going Somewhere," that was especially true.
The road to "Going Somewhere," which came out on June 9, began shortly after the release of Johnson's debut full-length, "Umbrella Man," in 2007. Only a few months later, he began working on a follow-up record with the help of his then regular band, which featured drummer Kenny Graber, guitarist Chris Alford and bassist Travis Lamb.
"It was one of the few times I've had a full band that was gigging regularly as a full band," Johnson says. "... We were really tight as a unit, and I was coming up with some song ideas while we were getting ready to tour and promote that first album."
By fall of 2008, Johnson was ready to return to the studio with a few original tracks and a cover of Peter Gabriel's "I Don't Remember." After only one session, he had solid recordings of the rhythm tracks completed.
"I thought, 'Well, I've practically got four songs done. Gosh, I'm really along the way to an album now. That was quick,'" he says. "Well, it didn't quite work out that quickly."
Not long after that first day in the studio, the band splintered. Graber decided to step back from music and touring for a while; Alford moved to New Orleans; Lamb moved to Nashville to pursue a career as a singer-songwriter; and Johnson had his second child.
"It just became harder and harder to really focus on putting a new album out and recording and writing," he says. "I was gigging a lot, I was working a day job, and I was trying to raise children. So I said, 'That's OK. I don't really have a set time that is supposed to be out.' It was my deal since I'm an independent artist. We would get it done when we got it done."
For several years, Johnson continued fine-tuning those songs while writing new ones, but he struggled to come up with the necessary funds to record the album how he wanted. In spring 2012, he launched a Kickstarter campaign asking for $27,990 to complete the recordings. He ultimately fell short of his goal, raising only $14,810. After regrouping and reducing the amount, Johnson launched a "second chance campaign" for $16,175, which he exceeded by nearly $1,000.
Johnson returned to the studio that summer, but even with the help of the Kickstarter funds, recording became difficult. He had to balance playing about 100 gigs that year, his new job as the college admissions counselor for St. Andrew's Episcopal School and raising his third child. Then, in fall 2014, Johnson decided that it was finally the right time to finish "Going Somewhere."
"I said, 'OK. I'm just going to sprint. I'm going to finish this thing,'" he says. "I started setting tentative release dates, which I had to push back a couple times. But I was OK with it at that point because I could see that I was making progress. I was getting closer and closer."
Since the album's release, Johnson says fan response has been positive. With the extended time on the album, he was able to add flourishes that might not stand out on a first listen. There were also numerous concepts and themes that evolved and revealed themselves over time.
"Having said that, I wouldn't record an album this way again," Johnson says with a laugh. "I'd really much rather do it in a concise period of time, at least the recording part. But there's a lot of ways to skin a cat. With Peter Gabriel, who is one of my definite role models when it comes to not only songwriting but also how to conduct a career, his albums take years. Sometimes that's what it takes to get it right. I feel like this might have been that type of album."
One of the things that "Going Somewhere" allowed Johnson to do was emphasize his playing style on the harmonica. While many listeners think of him as a blues musician, that has never been how he identifies himself. He grew up on acts like The Police, Stevie Ray Vaughn, Led Zeppelin and, of course, Peter Gabriel. Even in the way he plays harmonica, Johnson looks to horn players and guitarists for inspiration. He says when fans listened to "Going Somewhere," he wanted them to hear the harmonica like a new instrument.
"I wanted to make that a big part of this record. I wanted to make the harmonica ... have a more personal sound to it and a sound that doesn't come from other people. I feel like I've accomplished that," he says.
While Johnson says he can imagine making a "harmonica record," a stripped-down rock album or something more akin to Beck's mix of traditional and synthetic sound, Johnson isn't rushing to plan his next step.
"One of the great things about being an independent artist is that it's all up to you," he says. "Whatever inspires you, you've got to put a direction to that eventually, but you can kind of figure it out as you go. ... In the end, as an artist, you have to do what you feel represents you and hope people like it."
Johnson and his wife, Susan Margaret Barrett, have three children, Charlie, 9, Benjamin, 8, and Lily Margaret, 5, who he says were just as excited as he was for "Going Somewhere" to be released.
"I know that not ever artist is that lucky. If you're called to do this, if you're called to make music, it is the biggest blessing to have people who understand that's who you are," he says.
Scott Albert Johnson performs 11:30 a.m. to 2:30 p.m., Saturday, June 20, at Hal & Mal's (200 S. Commerce St., 601-948-0888)."Going Somewhere" is available now on iTunes, Amazon, Bandcamp and CD Baby. For more information, visit scottalbertjohnson.com.
More like this story
More stories by this author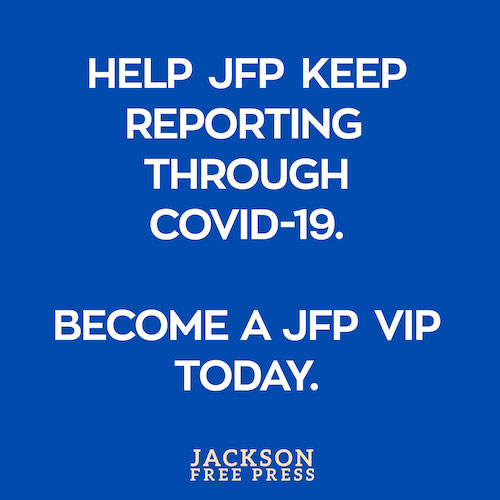 COVID-19 has closed down the main sources of the JFP's revenue -- concerts, festivals, fundraisers, restaurants and bars. If everyone reading this article gives $5 or more, we should be able to continue publishing through the crisis. Please pay what you can to keep us reporting and publishing.