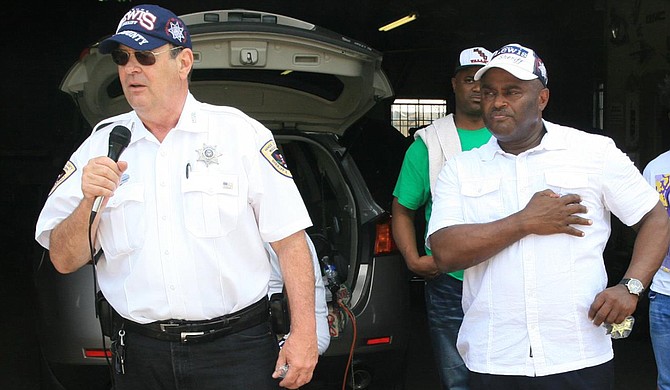 In "Godfather" parlance, Hinds County Sheriff Tyrone Lewis has gone to the mattresses. To aid in his re-election bid, Lewis, who is seeking a second term as sheriff, recently invited actor Dan Aykroyd, whom Lewis deputized into the reserves in 2014, to town to help him campaign. Lewis, who has been under fire for problems at the Hinds County jail, is fighting off claims of poor management made by his chief rival for the Democratic nomination, Victor Mason.
On June 9, Lewis invited the Jackson Free Press to his office to respond to Mason, explain his famous holiday-themed billboards and say why he deserves to remain the county's top law-enforcement officer.
What's your elevator pitch for a second term?
We want to finish what we started. I made some commitments, and we've been able to fill those commitments that we made in 2011. Of course, you can't complete everything in four years, so we want to be able to finish what we started. That's to be aggressive on crime. We think we've done a good job on that. I promised to be very visible in all four corners of Hinds County. I promised to be very transparent. We've done that.
We're committed to being good stewards of the taxpayers' dollars, and I've done that so well that when we first took office we took a $2 million budget cut. And in that budget cut, we didn't furlough. We didn't lay people off. As a matter of fact, we were able to give the lowest-paid employees, which are our detention officers, a salary increase.
Even with a budget cut, we were still able to bring the sheriff's office up to the 21st century with technology. We've implemented new computers throughout our agency. We have implemented body cams without taxpayer money. We've implemented 233 cameras in the jail. We've been able to purchase 70 new vehicles to replace our old fleet, which was costing the taxpayers for service and repairs. We've made relationships throughout this metro area that has never been formed. We have that relationship with the Rankin County sheriff's office, the Madison County sheriff's office and the Jackson Police Department. We thought that was important because crime has no boundaries.
What's the status of the BRAVE (crime-fighting) program?
Our program is called MACE. It's moving forward. We're waiting on some funding to continue to move forward. We have been allotted some $100,000 from the lieutenant governor's office to help fund the MACE project. We are working on some external funding to go along with that process.
Are your billboards a part of your visibility effort? And are they paid for by campaign funds or taxpayer funds?
Visibility means the visibility of the deputies patrolling Hinds County, patrolling areas of the county that they never patrolled before like the city of Jackson. Being the chief law enforcement officer (in the county), I have a responsibility to all the citizens of Hinds County. As far as my billboards, those are paid for by campaign funds and personal money.
You talked about the department being top-heavy, but I've also heard that there was a lot of institutional wisdom. When you streamlined the department, did you see any after-effects?
There was little very training prior to this administration coming in. I can't make anybody stay here, but I can advise people to the structures and the policies and procedures. There are people who just didn't want to adapt to change and follow the policies and procedures.
You said that the public perception of more problems is because you pulled the rug back on problems.
I'm still going to remain transparent. I think being transparent helped in being able to expose the entire jail system and what makes it works, as well as educate the public. So again we uncovered a lot of stuff that the public didn't know which we think was bad on one part and bad on the political part.
Chokwe Antar Lumumba is endorsing Victor Mason in part because of what he calls unfulfilled promises from your first campaign. Kamau Franklin, your former campaign manager, has made similar claims about your not fulfilling promises, such as forming a civilian review board. What's your response?
I didn't make that promise. There was no need for us to implement a civilian review board. We have an internal-affairs (department) that does all of our investigations when it comes to officer or deputy misconduct. We're very satisfied with where we are with our internal-affairs division. ... It's been mentioned over the years, even in my tenure as the police chief. Even then it was looked at. It was presented to me, but I never promised anybody that I would implement a civilian review board.
Are the stories we've seen in the news about detention officers' misconduct the result of internal-affairs investigations?
Yes. Internal Affairs investigates any misconduct or policies alleged to be broken by employees. They also do criminal investigations as well.
I've talked to a number of former jail employees who say, generally speaking, that you've fired a lot of people, which may be to blame for some of the problems we see at the jail. What's your response to that?
Here's what we did: Prior to taking office, we did an assessment of the entire sheriff's office. We wanted to know how many employees we had. We wanted to know what positions were being held. What rank was being utilized in the department and how was it being budgeted. Then, we wanted to know where our strengths and weakness were. It was our intent to balance the entire department based on the qualifications, the skill sets and experience. In doing that, we found that this department was top-heavy with about 30 captains that had nobody to answer to them and were making big salaries. That included jail personnel.
My thing was to streamline this department to make it more efficient budget-wise, and that caused us to ask for individuals to reapply. When it came to personnel, the first thing we wanted to do was find out who our people were so we could place them in the positions that were more adequate fits for them and the department. Of course, some did not reapply, and that gave us the assumption that they no longer wanted to be employed with the new administration.
That's where a lot of that comes from when you talk about people being fired. We didn't fire a whole lot of people; a lot of people just didn't reapply. When they didn't reapply, that means they gave up their jobs. And left us the accessibility to streamline the department and replace individuals.
I've heard—I don't know if this is something I've heard from you or others—is that you'd prefer to have nothing to do with the jail.
Not true. That's the sheriff's responsibility. When I say (the campaign platform) didn't include the jail, it didn't include that I could be the (only) person that can fix the jail. If anybody is saying that, they're not being truthful. I needed to get here first to do the overall assessment to see, number one, what were the issues in order to bring everyone to the table that makes that jail function.
Was there a sense that you needed to come in and change bad habits?
I've never said things weren't done the right way. I think there was a time for change to be able to build on what was already in place and take it to the next level. That's what we intended to do and that's what we're doing.
Did you feel like you needed to be hard on folks?
I don't necessarily think it's being hard on folks. I think any time you have policies and procedures in places, there are consequences in not abiding by them. When you say fire people, I don't fire people. People fire themselves by not following the policy.
Comment and read more election news at www.jfp.ms/2015elections.
More stories by this author
Support our reporting -- Follow the MFP.