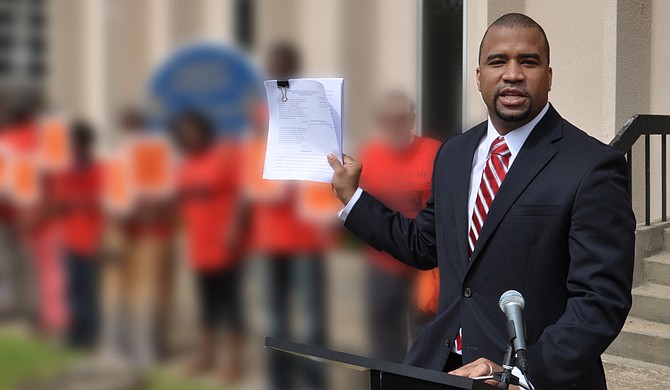 Jody E. Owens II never seems to slow down.
In court, he questions opposing witnesses with a quick pace that seems to keep them off balance. Outside court, the 33-year-old managing attorney of the Southern Poverty Law Center's Mississippi branch is a highly sought-after speaker on juvenile-justice issues around the country.
Hence, Owens, who has worked with the SPLC since January 2011, seems like a natural if not overdue choice to receive the Beth Arnovits Gutsy Advocate for Youth Award from the National Juvenile Justice Network.
In Owens' time running the office, the Mississippi SPLC has litigated cases against Jackson Public Schools' Capital City Alternative School, which the suit said involved students regularly being disciplined for minor infractions—such as not wearing a belt or for wearing mismatched shoelaces—by being shackled for hours at a time to a fixed object. These students were left unsupervised and denied access to classroom instruction.
SPLC, along with Disability Rights Mississippi, also sued Hinds County for conditions at the Henley-Young Juvenile Justice Center in Jackson, where the organizations allege children were "denied mental health services and subjected to verbal abuse and threats of physical harm by staff members." The lawsuit led to a settlement agreement against the county, which remains in effect.
The organization's work in the youth detention center in Lauderdale County helped bring forth a U.S. Department of Justice lawsuit, in which the DOJ cited the presence of a school-to-prison pipeline.
"For many children, adolescent misbehavior that once warranted a trip to the principal's office—and perhaps a stint in study hall—now results in jail time and a greater possibility of lifelong involvement with the criminal justice system," Owens penned in a March 2015 article for Politico Magazine. "It should surprise no one that the students pushed into this pipeline are disproportionately children of color, mostly impoverished, and those with learning disabilities,"
Owens grew up in Terry. His parents, Linda and Jody Owens, were both educators and emphasized high achievement. A graduate of Jackson State University and Howard University School of Law, Owens worked in private practice before joining the SPLC.
The NJJN will honor Owens at a reception Monday, July 20, at 5:30 p.m., at the NJJN's 10th Anniversary forum in Washington, D.C.
More stories by this author
Support our reporting -- Follow the MFP.