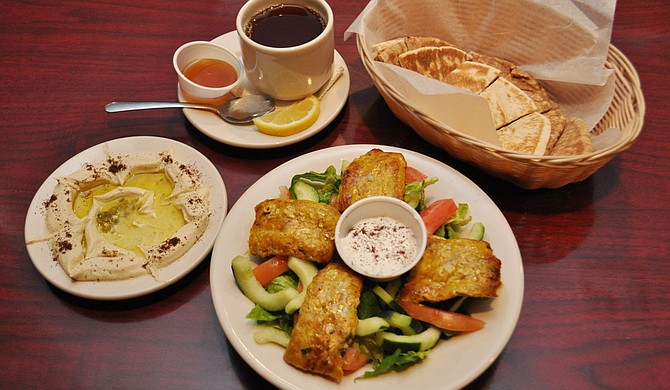 In Mississippi, some people may consider macaroni and cheese a vegetable, so it's no wonder why people think we're the most unhealthy of all the states. Jackson-area restaurants are trying to change this sentiment with healthy and appetizing alternatives. While residents voted Rainbow Co-op and High Noon Cafe as having the best healthy and vegetarian options in this year's Best of Jackson contest, a few other local restaurants made it as a finalist. Here they are.
At Aladdin Mediterranean Grill (730 Lakeland Drive, 601-366-6033), you can't go wrong with most anything on the menu, but some of the restaurant's healthiest options are the chicken tecka, which is a marinated chicken breast and leg, and the Lula kabab plate, which is chicken or lamb with spices, and both dishes are grilled. For seafood lovers, there's also the shrimp plate, which is shrimp sauteed in garlic and mixed with onions and bell peppers. All entrees get a green salad, basmati rice and hummus, and patrons can swap white pita bread for wheat on entrees served with dips. Aladdin also has an array of vegetarian options, including the vegetable dolmas plate, which can be ordered without beef, and the sauteed vegetables plate, a combination of squash, zucchini, carrots, celery, and mushrooms sauteed in olive oil and garlic with feta and served over a bed of basmati rice. And Aladdin also has mint Lebanese tea to compliment your healthy meal.
Broad Street Baking Company & Cafe (4465 Interstate 55 N., Suite 101, 601-362-2900) takes a different approach to the shrimp po'boy with the option of sauteed shrimp instead of fried. The restaurant's chicken-salad sandwich has all-white meat, basil pesto mayonnaise, and pine nuts instead of mayo, roasted peppers and Provolone cheese. For vegetable lovers, Broad Street has the Contadino—sauteed spinach, roasted Portobello mushrooms, sun-dried tomatoes, cheese and caramelized onions served on a warm flour tortilla—or Deb's salad, which is blueberries, strawberries and mozzarella over mixed greens sprinkled with house-made granola and a honey-lemon vinaigrette. The minted fresh-fruit salad is the healthiest side option, and you can swap white bread for multigrain or Sugar Busters whole wheat.
BRAVO! Italian Restaurant and Bar (4500 Interstate 55 N., Suite 244, 601-982-8111) has an entire menu dedicated to gluten-free dining and another with healthy options. Try the veal marsala with crispy red potatos and seasonal vegetables, or the foccacia gremolata-crusted salmon with Yukon Gold mashed potatoes and ratatouille. BRAVO!'s vegetable Napoleon salad, with eggplant, sun-dried tomato pesto, goat cheese, rosemary mushrooms, caramelized onions, roasted peppers and garlic croutons makes for a great vegetarian meal. BRAVO! also offers a range of gluten-sensitive pastas and has a vegan menu on Thursday nights.
The smoked tuna dip at The Manship Woodfired Kitchen (1200 N. State St., Suite 100, 601-398-4562) is a healthy option for an appetizer. For lunch, try something light and fresh, like the Greek salmon salad with baby kale, peppers, cucumbers, grilled onions and feta vinaigrette, or the tomato and avocado fatoush salad, which has sumac, pomegranate, feta, radishes, red onions and cucumbers. If you're hungrier, try the redfish "fisherman style," the spit-fired Greek chicken or the vegetable plate, all served with the option of a salad. For dinner, salmon, tuna, duck and quarter Greek chicken are served a la carte. Don't miss out on the Brussels sprouts with pancetta as a side.
Italian food may not ring high on your list of healthy cuisines, what with all the heavy pasta and other dishes. But Tom Ramsey's Italian restaurant, La Finestra (120 N. Congress St., Suite 3, 601-345-8735), is a pretty healthy place to go downtown. Besides the selection of salads (including the chef salad, which has seasonal greens, mozzarella cheese, tomatoes, marinated vegetables and cured meats), it also has many sandwiches that are on the healthier side, such as the Donnatodda, a veggie sandwich named for the JFP's owners, Donna Ladd and Todd Stauffer, and the cartenuto, which has roasted chicken, grilled onions, sweet peppers, arugula and provolone. The restaurant also has other dishes for dinner with lamb, calamari and scallops.
With all the nutritious selections available at Jackson's local eateries, there's no reason not to get out of the kitchen and enjoy a meal you won't feel guilty about.
CORRECTION: In this story, Jackson Free Press mentioned menu items for BRAVO! Cucina Italiana, not BRAVO! Italian Restaurant and Bar. CLARIFICATION: The basil pesto on Broad Street Baking Company's chicken salad sandwich is actually a basil-pesto mayonnaise. Jackson Free Press apologizes for these errors.
Support our reporting -- Follow the MFP.