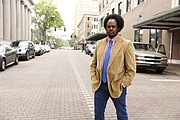 I've had more encounters with police in the three and a half years I've lived in Mississippi than ever before in my life.
There was the time that I'd neglected to affix my new Mississippi plates—excuse me, car tags—and was driving around with expired Colorado license plates. A Jackson cop trailed me as I traveled north on State Street and flashed his blue lights. He asked for my license and insurance card, but it happened so fast that I didn't have time to explain that my proper legal tags were right there in the front seat. When he returned to issue me a ticket, I showed him the tags. He barked at me for not stopping him before he started writing my citation, but let me off the hook.
There was another time when a Mississippi Highway Patrol officer stopped me one morning in Clinton for rolling a stop sign that I'd been through a hundred times before and had probably rolled through each time.
He asked if I was headed to work, and I answered in the affirmative. When he asked where I work, and I told him I was a newspaper reporter, he called off the license check and joked that he didn't want me to write something bad about him in the paper. I laughed, too, but it felt weird knowing that I got a pass when other folks who didn't work for news organizations probably got tickets that day for rolling through the stupid stop sign.
There were a handful of other times: going through roadblocks and not being able to find the piece of paper with my current insurance information on it or fumbling with the Geico app on my phone, for example. Or when I was covering a peaceful vigil at a Jackson apartment complex, and the police informed me that the owners didn't want any reporters or news cameras on the property, which, I pointed out to the officer, was absurd considering the number of cell-phone videos being taken.
Most absurd was that he immediately escalated to threatening to haul me to jail.
I realize this is not the dramatic stuff of "Law & Order." But then—and now—I was always thinking about ways the encounters could go badly for me, and whether whatever minor traffic violation I committed would be enough to make people shrug off what happened to me as comeuppance for being a law-breaker.
Certainly, on a dark night on one of the back roads I travel to get home, the metal water bottle that's always on the floor in my front seat could, in the heat of the moment, look like a 9mm that I'm going for as I reach for the documents in my glove box. Whenever there are police-involved shootings, I hear people talk about the victim making a sudden movement. Technically, aren't all movements sudden?
Also, I have a demeanor that could come off as less than respectful—I rarely do the whole "yes sir"/"no sir" bit with cops—and during any given encounter am probably seconds away from being pulled out of my car and beaten (or worse) for telling an impatient officer to hold his horses.
If you think I'm being ridiculous, you're probably white. When they encounter the police, white people have the privilege of assuming that something bad probably won't happen to them and, if something does happen, it probably won't be that bad.
During a visit to Montana a few years ago, some friends—they were white—wanted to stop in some kind of cowboy bar. More than half seriously, I asked whether they thought the place would be Negro-friendly, a question they all derided as preposterous. Being white affords you the luxury of more or less being able to go through life without your whiteness, at least on its own, inviting too much danger.
By contrast, black people are always conscious of those little moments when anything could happen.
A few weeks ago, I was in my former home of Springfield, Ill., visiting friends and paid a visit to a large sporting goods store that had a Ferris wheel inside of it. The gun department is on the second floor. As my former coworker and mentor, a white woman, walked the aisles, I was gripped by something that I wouldn't exactly call fear. I thought about John Crawford, 22, and Tamir Rice, who was a decade younger, both of whom were killed in Ohio last year after reports were called into the police; both, it turned out, were playing with toy guns.
The most terrifying and heartbreaking thing that occurred to me was not that something bad could happen to me, but that Crawford and Rice couldn't have possibly seen it coming. They went from playful to dead in a matter of seconds.
Jackson Free Press freelancer Zachary Smith, who is white, and I visited Stonewall to do some reporting on the case of Jonathan Sanders, who died in an encounter with a white police officer earlier this month. A source took us to a home that has become a community gathering place since Sanders' death. There, I spent most of my time listening to people, many of whom repeated information I'd heard before, who seemed to just need to get stuff off their chests, even if it was a couple of strangers from Jackson.
That trip provided a good case study in what happens in the little moments before tragedy strikes. Around dusk, a black pickup truck crept past, and the driver glowered at the crowd of mostly black men and women before speeding off down the road. Our hosts said he was the father of Kevin Herrington, so they called the police to file a report. They reasoned that if Herrington, for whatever reason, came back and started shooting, they wanted everything documented in case he claimed they shot first.
I thought the scenario sounded far-fetched, but I realized later that my assumption was steeped in my own privilege of being a journalist moving about in a world where political leaders have a vested interest in keeping me out of harm's way.
Eventually, the police chief rolled by and said he'd take care of the situation. But from that moment on, otherwise insignificant things took on new meaning. One man got a call from his wife saying that she received a call from a blocked number. Later, a brewing lightning storm in the distance temporarily knocked out the power, sending people ducking for cover. Through the darkness, I heard the chilling sound of a gun being cocked.
As I finished writing this column, I heard NPR reports on the deaths of three other people who died in police custody recently. Among them was that of Sandra Bland, a black woman from Chicago, who was found hanged to death in a Texas jail cell. Back here in Mississippi, a white husband and father named Troy Goode died after police in Southaven hogtied him, and he reportedly said he could not breathe.
We probably won't know for certain what exactly happened to any of them, at least no time soon. But just take a second to think what was going through their minds in their final moments, the time when we are at our most human, our most vulnerable. It's those little moments, when anything can happen and I am powerless, that scare me the most.
More like this story
More stories by this author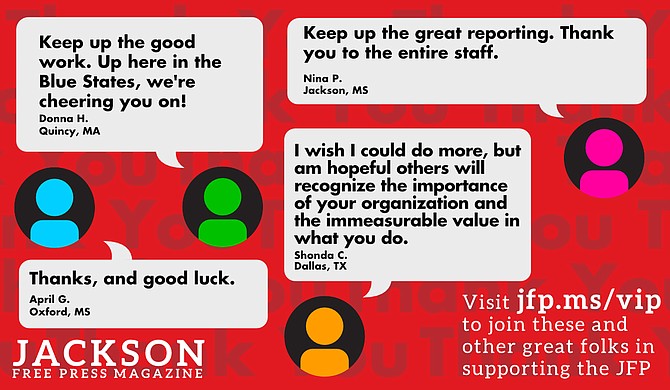 Thanks to all our new JFP VIPs!
COVID-19 has closed down the main sources of the JFP's revenue -- concerts, festivals, fundraisers, restaurants and bars. If everyone reading this article gives $5 or more, we should be able to continue publishing through the crisis. Please pay what you can to keep us reporting and publishing.