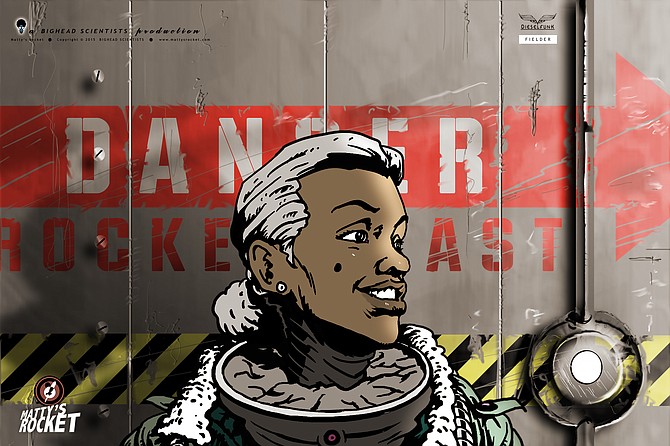 Matty Watty packs the last supplies into the storage area and wipes the sweat from her brow. She slides a hand through her hair, which is pulled back in a tight bun and has gone mostly gray, long before its time. As she closes the bay doors, an invisible wave pushes down on her like gravity—a rocket ship leaving Earth with tremendous speed from Joebob's Spaceport.
She looks back at her own spacecraft with pride. "That's going to be me," she says.
That's the world that New York City-based artist Tim Fielder created with his new comic series, "Matty's Rocket." Like his iron-willed protagonist, Fielder grew up in the Mississippi Delta, born in Tupelo and raised in Clarksdale. As a child, he was a fan of science-fiction staples such as "Star Wars" and "Star Trek," but he noticed that African Americans didn't have much representation in intergalactic travel.
"My mom and dad are both in their late 70s, early 80s, and they didn't have images of themselves—black kids or black people—in space," he says. "I wanted to do that for them before they leave the planet, while I still have them here."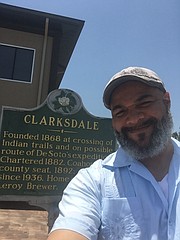 This was the initial inspiration for his "Afro-futurism" tale, which combines sci-fi and real-world elements, including World War II, the Harlem Renaissance, the Underground Railroad and Bessie Coleman, the first African American female pilot.
While the comic first launched in January, the series has been in Fielder's mind for more than two decades. After working for the now-defunct Eclipse Comics throughout the late '80s, Fielder pitched the concept for "Matty's Rocket" to a DC Comics editor in 1993, eliciting great interest, but the project stalled when the editor died of a brain aneurism.
At the time, Fielder worked as a freelance artist for Marvel Music, a division of Marvel Comics, where he completed a graphic novel called "Dr. Dre: Man with a Cold, Cold Heart" before the company declared bankruptcy in 1996.
"The book was never published," Fielder says. "But hey, we'll see, because it was about Dr. Dre, who is now the first billionaire rapper. It'd be interesting to see if that book ever comes to light."
In the early 2000s, Fielder focused his attention on animation and teaching courses at New York University and New York Film Academy, where he is a professor of animation and storyboarding. He returned to "Matty's Rocket" in 2008, this time approaching it as an animated feature. However, he soon realized that came with a new set of challenges.
"I had between 15 to 30 minutes of it done, but it was so hard because it was primarily a one-man project," he says. "I took all the technological knowledge that I had and poured it into making 'Matty's Rocket.' But you know, it was animation. How do you sell it? How do people view it?"
Then, in 2014, Fielder met Stacy Robinson and John Jennings of Afro-futurist art duo Black Kirby, and they encouraged him to return to comics. He followed their advice and found it immediately freeing. In the past, comic creators faced an uphill battle in trying to get work published, and most people thought less of self-publishing. Technology changed all that, Fielder says.
"What used to be like, 'Oh, you're just a self-publisher,' is now something that's incredibly viable because you can produce content that's just as good or better than the old, traditional modes of production," he says. "... I'm able to produce a book that has my specific interests at heart and get it out there, and no one can stop me. That's a wonderful thing."
Fielder says the series comes at the perfect time, too. Events such as Onyxcon, East Coast Black Age of Comics Convention and Black Comic Book Day, which takes place only a few blocks away from Fielder's home in Harlem, have raised public awareness of black comics. There's greater diversity in terms of gender, ethnicity and preferences, he says, and readers are ready to see that.
"That's not the world of tomorrow. That's the world we live in now and where we're going," he says. "... There's so much undiscovered material in those areas that hasn't been touched on because the gatekeepers wouldn't allow it to be touched upon. Now we can do that."
For more information, visit dieselfunk.com.
More stories by this author
Support our reporting -- Become a JFP VIP.
The news business has changed dramatically in the past year, and we need your help more than ever to keep bringing you important stories about Jackson and the Metro. Become a JFP VIP with an annual membership or you can Sign up as a monthly supporter. Thanks for anything you can do to empower our journalism!