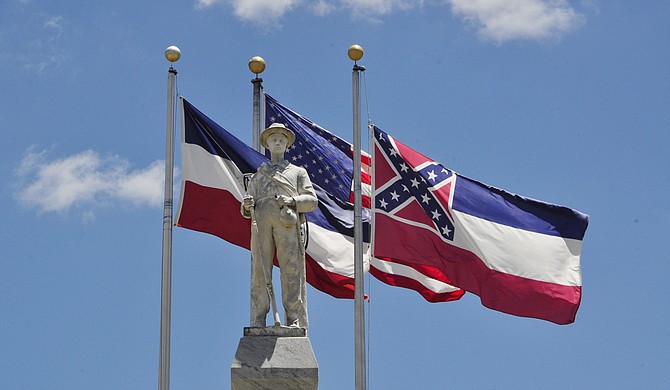 This is a probably incomplete list of metro-area memorials to the war for white supremacy, compiled at the Mississippi Department of Archives and History. Add others from around the state at jfp.ms/confeds.
Hinds County:
Jackson (1891) on Old Capitol grounds in front of Archives Building. An elaborate architectonic piece consisting of a soldier standing in a variant "at rest" posture, leaning on his rifle, atop a very tall obelisk, which rises above a mausoleum-like vault in an exaggerated Gothic styles.
Jackson, Women of the Confederacy Monument, on New Capitol grounds. An elegant bronze sculptural group consisting of two female figures in classical grab attending a wounded soldier, on a high carved stone base. The bronze is identical to the Tennessee monument to the Women of Confederacy in Nashville.
Jackson (1931), in the Confederate area at Greenwood Cemetery. An austere stone tablet on a base, encircled by a hedge.
Raymond (1908), located on Hinds County Courthouse grounds. A bronze soldier standing "at rest" atop a tall sculptured stone pedestal, on a stepped base.
Clinton (1928), in Clinton Cemetery. A rough-edged free-standing stone tablet.
Clinton (1926), Mississippi College Rifles Monument, on the campus of Mississippi College
Edwards, vicinity, Gen. Lloyed Tilghman monument on Champion Hill battlefield. A rough granite boulder to which a bronze tablet has been affixed, enclosed within a fence.
Madison County
Canton, Howcott Monument to Loyal Servants of the Harvey Scouts. An obelisk atop a pedestal on a stepped base.
Canton (1881), Monument to Confederate Dead, in City Cemetery. A broken column atop a pedestal, on a stepped base.
Canton (1894), Harvey Scouts Monument, in City Cemetery.


Rankin County
Downtown Brandon, (1907), at the intersection of Government and North streets, in front of the courthouse. A soldier standing "at rest" atop a tall sculptured obelisk-like shaft on a pedestal, on a stepped base.
Related Memorials
Forrest County (Hattiesburg) was split off from Perry County in 1908 and named in honor of Nathan B. Forrest, a Confederate general in the American Civil War and a leader of the original Ku Klux Klan.
Ross Barnett Reservoir is named for the segregationist governor who worked to block black-freedom activities, including the enrollment of James Meredith at Ole Miss, which turned into a deadly riot. He is known nationally for presiding over a state bent on armed insurrection against federal civil-rights laws.
Jefferson Davis County is named for Jefferson Davis, president of the Confederate States of America, who lambasted the South's opposition for describing "the institution of slavery as degrading to labor, as intolerant and inhuman" in a 1858 speech to the Mississippi Legislature.
Lee County is named for Confederate General Robert E. Lee. What is often not known is that Lee called for Confederate flags to be packed up after losing the war, and no Confederate flags or uniforms were displayed at his funeral. Union County is named for the reunion of the Confederacy
Mississippi U.S. Sen. James Eastland, a staunch Dixiecrat segregationist, has been a favorite honoree in the state—from Eastland Drive in Pearl to the James O. Eastland Federal Courthouse at 245 E. Capitol St. in Jackson to the James O. Eastland Law Library at Ole Miss. Since the old federal courthouse in Jackson closed, his name was removed.
Add others from around the state at jfp.ms/slavery.
More stories by this author
Support our reporting -- Follow the MFP.