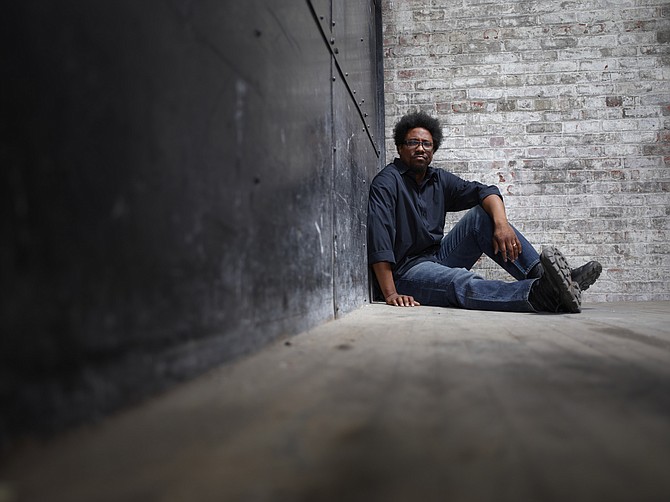 Poking fun at racial prejudice isn't the most obvious career choice, but comic W. Kamau Bell continues to do just that in his new tour, "Oh, Everything!", which makes a stop in Jackson on Thursday, Jan. 8, at Duling Hall.
Biting racism down to the funny bone is nothing new for the comedian, but it's the first time that Bell has hit the road since the cancellation of his FX TV series, "Totally Biased." While he was, of course, disappointed with the show's sudden end, it gave him a chance to return to his first love—stand-up comedy.
"After 'Totally Biased' was canceled, I realized I wanted to get back on the road, and also reintroduce myself to people who knew me from the show, but didn't know me from stand-up," he says. "It's an opportunity for me to do a lot of things I did on 'Totally Biased' without the screen, but also in a more personal, three-dimensional way."
Hosting a major television program was certainly a significant leap in status, but Bell prefers the up-close-and-personal aspect of stand-up.
"It's a lot more fun," he says. "I like the immediacy of hearing laughs right away and the immediacy of being with a crowd of people you can touch." Each episode was filmed with a studio audience, but there was always a disconnect between the comedy and the individual. Bell had to consider cameras, scripts and executives, which felt more obstructive than performing stand-up.
Despite his increased recognition, Bell worked with show promoters to ensure that each performance costs about $15, so that those who want to come can afford it.
"I think it's really easy to go, 'I've been on TV. Tickets are now $35.' I certainly see other acts selling tickets at a higher price, but at this point, I want to make it as accessible as possible," he says. "If you're a fan of mine, I want you to feel like you're invited to come in. I don't want you to feel like it's an obstacle."
While Bell is known for his intellectual, civic-minded comedy, his style has more in common with his former producer, Chris Rock, than with his political peers. He believes Stephen Colbert and Jon Stewart are immensely talented, but when he sits down to write, neither comedian comes to mind. Instead, Bell views some of the same global problems through his own lens.
"A lot of what I do isn't explicitly political in the way that people think about political comedy," he says. "I don't spend a lot of time talking about Congress or 'those idiots in the Senate.' I spend a lot of time talking about identity politics and sociopolitical issues that aren't necessarily about Washington. They just end up in Washington."
Discussing race through humor isn't an easy sell for every audience, and it can be especially difficult in the wrong context. Bell usually steers clear of the comedy-club circuit because there's a tendency to lump comedians together without regard for clashing styles. Ultimately, Bell says being deliberate in choosing where he performs and whom he performs for makes him a better comedian.
"I think (my) crowds are sort of eaters of culture. They read the news and pay attention to that, but they also watch movies or listen to music," Bell says. "I think the more diverse a crowd is, generally the smarter a crowd is. When a crowd is all one thing, they develop this groupthink, and it becomes like performing at a wedding reception, like, 'OK, let's talk about Uncle Jim.'"
Bell works to enact change off stage, as well. He is an ACLU Ambassador of Racial Justice, an advisory-board member for the racial-justice think tank Race Forward and a volunteer with Hollaback, a nonprofit organization that counters street harassment.
W. Kamau Bell performs at 7 p.m. Thursday, Jan. 8, at Duling Hall (622 Duling Ave., 601-292-7121). Tickets are $12 in advance or $15 at the door. For more information, visit ardenland.net.
More like this story
More stories by this author