Grady Champion has seen many musicians come and go over the course of his illustrious career, but the blues musician says his current backing musicians, though young, are some of the best band members he's ever had.
Here's what he had to say about them.
Markus Shell, guitar
While he has been with the band the least amount of time, Shell made an impression on Champion when he saw the 19-year-old perform at a club in Memphis last year.
"He just had an unbelievable feel for (blues music)," Champion says. "I said right then, 'That guy's got to be my guitar player.' Shell's combination of skill and soul makes him Champion's go-to guitarist, even if his age can occasionally be a barrier at some venues.
Calvin Jackson, drums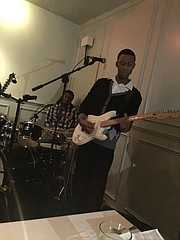 Champion's first cousin and longest-tenured band member (three years), Jackson, 22, isn't afraid to throw in modern ingenuity when it fits, but people know him best for his stalwart, classic drumming style.
"I call him because he plays to me just like Al Jackson from the old Stax Records. He's going to keep it solid for you. He isn't the type of drummer that says, 'Look at me! I'm over here!" Champion says. "... He's just like the offensive lineman in football. It ain't ever a pretty spot, but it's an important spot."
Ken Smith, bass
If Champion compares a bassist to Grammy Award-winner Victor Wooten, that person is gifted, indeed. Since Smith joined the band four months ago, his six-string bass and rare proficiency with playing chords have earned him praise among his peers. He also has the best quality in a musician: good judgment on when to use those skills.
"What I like about Ken is that he doesn't ever overplay," Champion says. "If you call him out, he'll knock you out the box, but he can sit there in the dugout and do his part."
Champion plans to record a full-length album with Smith later this year that will feature a number of modern and traditional covers with Smith's intricate bass lines providing the vocal melodies.
More stories by this author