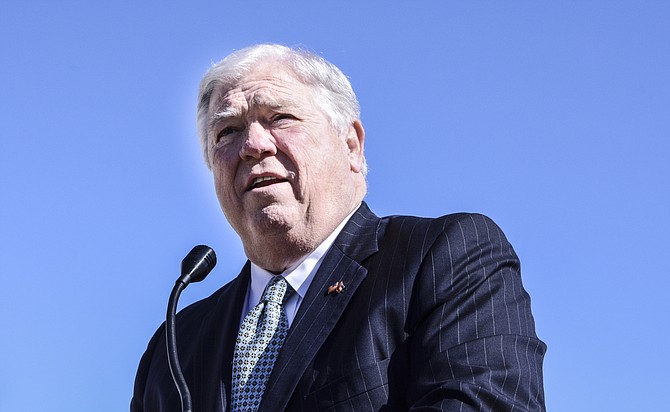 In former Gov. Haley Barbour's address Tuesday morning about the progress of the state's new civil rights museum, he stressed the importance of not only recognizing Mississippi's history, but improving the city of Jackson.
"It is in the best interest of all Mississippians that the capital city be a great city. We need to do what we can do to make Jackson a great city because many people only judge the state by Jackson; it's the only place they come," Barbour said.
The museum, Barbour said, will enhance Jackson greatly and teach Mississippians "about the things of which we ought to be very proud and the things that we need to learn about so we don't commit those sins again," he said. "And Mississippi is long past ready for that."
Barbour worked with the Legislature in 2011 to finance the Mississippi Civil Rights Museum, which they decided to build next to the Museum of Mississippi History, which was already in progress. The construction began in December 2013 on the site of what was once called LeFleur's Bluff in downtown Jackson and is on track to be completed for its opening in December 2017.
Former Gov. William Winter, who devoted much of his leadership to racial reconciliation, announced that the Foundation for Mississippi History and the Foundation for Mississippi Civil Rights Museum are on target to meet the goal of $16 million—$12 million for the exhibits plus a $2 million endowment for each museum. The project calls for privately donated funds to match the public funds being used for the museum.
On Tuesday morning, Winter honored those who made the construction possible, including two donors to the museum, Trustmark Bank and Butler Snow Law Firm. Jerry Host, Trustmark CEO and president, announced the bank's $500,000 donation to the project and Don Clark, chairman of Butler Snow, announced the firm's $350,000 donation.
The Mississippi Civil Rights Museum will be the only state-funded civil rights museum in the country, which Winter believes will help change outsiders' perception of Mississippi.
"Mississippi is still obliged to overcome those old unfair stereotypes that still exist in the minds of a lot of people outside of the state," Winter said.
More like this story
More stories by this author