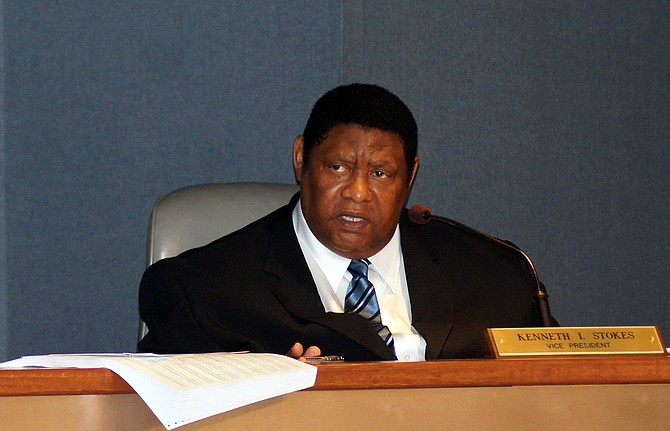 "He's back," a man shouted from the back corner of Jackson's crammed city council chamber this morning upon newly re-elected Ward 3 Councilman Kenneth Stokes's completion of the oath of office.
Few events generate as much interest from the public or the local news media than the presence of Stokes and his wife, LaRita Cooper-Stokes, who formerly held the Ward 3 council seat before she became a county judge.
Wearing a gray suit and lavender shirt with a purple-and-white diagonal-striped tie, Stokes stood at the end of a long receiving line of well-wishers of citizens, clergy and elected officials.
"The only promise I'm going to make is to work hard," Stokes said today in his brief remarks.
Specifically, Stokes said that he wants to work to make state officials give Jackson the respect it deserves as the capital city. He noted that state government's relationship to Jackson has cooled from when he first joined the city council in the 1980s, when the city had a white mayor.
Three members of the city council attended the swearing-in ceremony, which featured a rendition of "We Shall Overcome" performed by opera singer DeAnna Tisdale, and all gave Stokes a warm welcome of congratulations.
Ashby Foote, who was the newest council member, said he had not met Stokes but looked forward to working with him. Ward 6 Councilman Tyrone Hendrix called Stokes a "tireless advocate" for Jackson.
Mayor Tony Yarber credited Stokes for teaching him the meaning of fund balance, which is a percentage of a budget set aside for emergencies, and said he was happy to have Stokes back on the council.
Stokes, whose penchant for stirring controversy likely makes him one of the Mississippi's most recognizable locally elected officials, said that he did not rejoin the council to upstage Yarber or Stamps.
"I came here to work," Stokes said.
Yarber joked that Stokes' first official day would not be today because special meetings, which the Stokeses have a reputation for skipping, take place Mondays. Stokes said he would attend tomorrow's regular council meeting at 10 a.m.
More stories by this author
Support our reporting -- Follow the MFP.