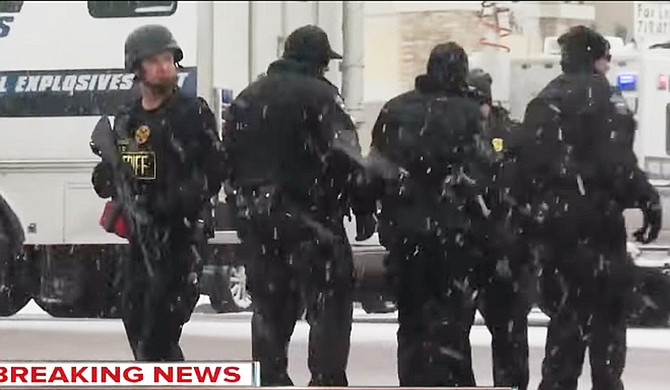 It happened as recently as Dec. 10 on the Arkansas State University campus, where police arrested a suspect after issuing an active-shooter alert.
No one was hurt, but deadlier active-shooter events at a Planned Parenthood in Colorado Springs on Nov. 29 and at a holiday party on Dec. 2 in San Bernardino County, Calif., has prompted the Jackson Police Department to seek training on how to respond to a gunman on the loose.
Chief Lee Vance said the department recently acquired riot-style helmets and long rifles for sniper shooting ahead of the departmental training drills. Vance said while reading up on the shooting, he learned that San Bernardino, population 213,708, is only slightly larger than Jackson.
"If something crazy can happen in San Bernardino, something crazy can happen here," Vance said.
Jackson has been without the kind of mass shooting that has gripped headlines in the past year, although some parts of the state have had some close calls. In September, a man named Shannon Lamb killed Delta State University professor Ethan Schmidt.
Active-shooter drills grew increasingly popular after the 2013 Sandy Hook Elementary killings of 20 children and six adults. Immediately after the massacre, five states passed or updated existing laws requiring school districts to conduct shooting simulations.
Both the U.S. Department of Homeland Security and U.S. Department of Justice expanded access to federal active-shooter training after Newtown as part of President Barack Obama's plan to reduce gun violence.
Then-U.S. Attorney General Eric Holder said at the time, speaking to the International Association of Chiefs of Police: "The reality is that police don't always have the luxury of time to get their most highly trained, best-equipped officers on the scene. To save lives, the first officers to arrive must sometimes be the ones to directly engage an active shooter. That's why all law enforcement officers must have the best equipment and most up-to-date training to confront these situations. We owe these officers nothing less."
Civil-liberties groups warn against racial profiling when ramping up emergency drills in the aftermath of mass shootings such as the one that happened in San Bernardino, where the shooters were Syed Rizwan Farook and Tashfeen Malik, a Muslim married couple, who killed 14 people during a rampage on Dec. 2.
The Washington, D.C.-based Leadership Conference on Civil and Human Rights published a report in 2013 that concludes: "The use of racial profiling in the counterterrorism context—as in the immigration context—alienates the very people that federal authorities have deemed instrumental in the anti-terrorism fight. ... The singling out of Arabs and Muslims for investigation regardless of whether any credible evidence links them to terrorism simply alienates these individuals and compromises the anti-terrorism effort.
"In particular, to the extent that federal authorities use the anti-terrorism effort as a pretext for detaining or deporting immigration law violators, individuals who might have information that is useful in the fight against terrorism may be reluctant to come forward."
Mike Maldonado, who owns a local company that offers firearm training to law enforcement agencies, said requests for homeland-security training has spiked in the past month after several high-profile mass shootings. Because the U.S. is a melting pot of diverse cultures, Maldonado said it's important for training to focus on behaviors rather than the suspects' appearances.
"Draw me a picture of a terrorist. A terrorist could be from Ireland," Maldonado said.
"We're trying to (train officers) to pay attention, teaching people to be observant."
Chief Vance said JPD officers will undergo active-shooter training between Dec. 14 and 16. Mayor Tony Yarber's office has requested an active-shooter drill for city hall as well, Vance said.
Comment at www.jfp.ms. Email R.L. Nave at [email protected].
More stories by this author
Support our reporting -- Follow the MFP.