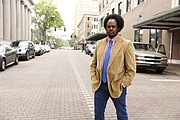 In the final weeks of my 11th-grade year, all students taking Karen Massie's AP English class in the fall got a thick packet that included a summer reading list and instructions about an essay that was due on the first day of class, three months away.
I read in my spare time riding the bus to my movie-theater job, between shifts or whenever I wasn't exchanging pager numbers with girls I met in the food court. I certainly didn't read every word of every book assigned to me, but I gave it as much of the college try as anyone could reasonably expect from a 17-year-old boy on summer break with a pocketful of cute girls' pager numbers.
Then there were Mrs. Massie's instructions for formatting submitted essays: The pieces had to be handwritten on one side of loose-leaf notebook paper. She asked that everyone choose a pseudonym, presumably so she could eviscerate everyone's essay equally and without bias. When we got our papers back, they would be covered with red proofreading marks. On the backs of each page, she used every available inch of space for her comments. She mercilessly corrected her students' grammar, punctuation and speech. She challenged our ideas, pushed us to make better arguments.
She was tough but never malicious. Really, she was just doing her job. Before taking her class, other teachers complimented my writing, but Mrs. Massie was the first person to say that I possessed the talent to be a writer.
For all I know, she scribbled similar words of encouragement on the backs of everybody's essays but she, more than any other person who is neither my mom or dad, put me on the path I'm on today. In practical terms, by the time I got to college, I could BS an essay even when I half-ass studied for the test. When I wanted to, I could get busy on a research paper.
Somehow, I got involved with a student-run magazine called The Voice and its publisher, an English grad student named Derrick Kyle. He also took me on as a protege and introduced me to Dr. Elaine Hocks, the director of the campus writing center, who gave me a job as a tutor. I joke that I stole a Mizzou journalism education (I studied political science) because after a couple semesters reading the term papers of J-school students, I could have taught Principles of American Journalism.
My connection to the campus journalism world helped forge my relationship with Monique Hairston, then a journalism major and friend I eventually fell in love with (long story). After we graduated, Monique interned for Lizz Brown, a progressive activist and attorney who had a daily morning radio show. I didn't have a steady job, so I started showing up to the station and helping Monique with the show—writing scripts, doing promos and booking guests.
One of Lizz's regular guests was a man named Sylvester Brown (no relation to Lizz), the publisher of a now-defunct but then-well-respected magazine. One day, Lizz told Sylvester that I wanted to write, so he started giving me assignments. I used these clips to get on with the Riverfront Times, the alternative newsweekly in St. Louis, where I got more clips and the support from music writer Randall Roberts and editor Tom Finkel, who now helms the Village Voice.
Those led to my getting a fellowship designed to increase diversity at alt-weeklies, many of which are just as stubbornly white and male as daily newspapers. Under the direction of Northwestern University professor Charles Whitaker, who oversaw the program, I received my first formal journalism training. As fate would have it, my connection to that program is also how I came to meet Donna and Todd, years before they hired me to work at the Jackson Free Press.
A few months later, when a job opened up at the alt-weekly in Springfield, Ill., I figured I had a pretty good shot. Roland Klose, the editor, had been a top editor at the Riverfront Times and knew everyone I'd worked for. He took a chance on me despite the fact that my formal journalism education consisted of one summer writing about strip clubs, and I had just a handful of what could be considered serious news clips.
Working there, I listened to my coworker Dusty Rhodes, whose gossipy reporting style I learned to mimic.
I could go on and on about all loving teachers, mentors, brilliant colleagues, patient significant others and supportive friends who helped me along the way.
The bottom line is this: I owe them. It's not just because it's the holidays, when we're supposed to think about the things for which we're grateful. The fact is, I think about these people all the time and what might have become of me without their influences.
So I find myself still scratching my head over the latest U.S. Supreme Court case over so-called race-based college admissions. Lawyers for Abigail Fisher, a white woman denied admission to the University of Texas law school, argue that Fisher was rejected even as less-qualified nonwhites got into the school, which isn't even accurate, we now know.
Ilya Somin, a law professor and blogger for The Washington Post, wrote the other day of the Fisher case: "It is not about how strong her application was, but about whether the University of Texas was justified in judging it by different standards than those used to evaluate black and Hispanic applicants." Of course, the stupidity of that statement is in ignoring all the benefits that accrued Fisher as a white American. I've never understood people who are incapable of seeing that, to paraphrase President Obama, they—even with their skills, intelligence and persistence—aren't wholly responsible for their destinies.
Eula Biss addressed this sort of obtuseness in an essay in The New York Times Magazine titled "White Debt," writing of her 5-year-old son: "I knew that he would be encouraged, at every juncture in his life, to believe wholeheartedly in the power of his own hard work and deservedness, to ignore inequity, to accept that his sense of security mattered more than other people's freedom and to agree, against all evidence, that a system that afforded him better housing, better education, better work and better pay than other people was inherently fair."
People who know me know I'm not exactly short on self-confidence. I consider myself to be a brilliant, hard-working, excellent black man. I'm also aware of how little any of that would mean hadn't also been for Derrick, Dr. Hocks, Monique, Lizz, Sylvester, Randall, Tom, Charles, Roland, Dusty and Mrs. Massie, who I recently learned passed away in November.
In the final line of the essay "Notes of a Native Son," James Baldwin, someone else to whom I owe a lot, wrote: "I have many responsibilities, but none greater than this: to last, as Hemingway says, and get my work done. I want to be an honest man and a good writer."
This is how I repay my debts. Even still, I wonder if it's enough.
More like this story
More stories by this author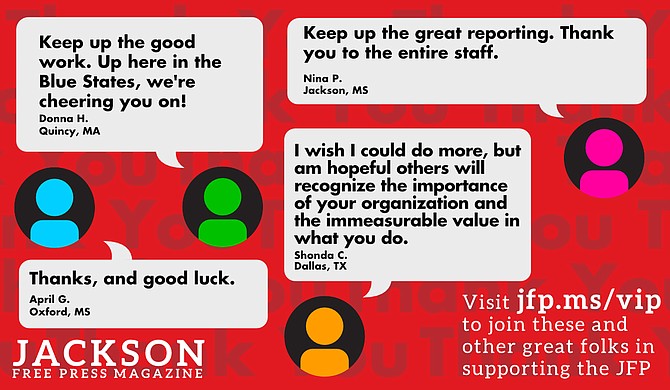 Thanks to all our new JFP VIPs!
COVID-19 has closed down the main sources of the JFP's revenue -- concerts, festivals, fundraisers, restaurants and bars. If everyone reading this article gives $5 or more, we should be able to continue publishing through the crisis. Please pay what you can to keep us reporting and publishing.