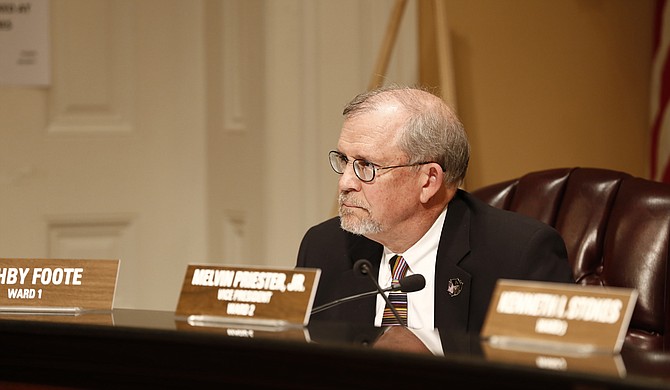 The losing bidder for a multimillion-dollar sludge-hauling contract may get an up or down vote at Tuesday's city council meeting.
Ward 1 Councilman Ashby Foote is asking the council to award a contract to haul 305,000 tons of wet biosolids from a wastewater-treatment facility to a joint venture of Baltimore-based Synagro-WWT Inc., and Fisher Construction and Transportation.
On Sept. 17 and Nov. 3, the council voted against awarding the contract to the firm Mayor Tony Yarber's public-works department evaluation committee recommended. That firm is a venture of Russellville, Ark.-based Denali Water Solutions and Socrates Garrett Enterprises.
Both firms claim to have the lowest and best offer, between $13 million and $15 million.
Foote told the Jackson Free Press that he is asking for the vote because of the deadlines that the U.S. Environmental Protection Agency consent decree imposes on the City.
The settlement states that the material must be removed by the end of 2017, or the City could face penalties of at least $1,000 for every day the work remains incomplete.
The public-works department's recommendation to award the contract to Denali-Garrett came amid a cloud of controversy, as news stories in the Northside Sun and other media outlets insinuated Mayor Tony Yarber's administration wanted to steer the contract to Garrett, a close ally of Yarber during his 2014 election bid. Yarber has repeatedly said that his administration does not give preferential treatment to any contractor.
Dorsey Carson, an attorney for Denali-Garrett, believes the City would be in murky legal territory in awarding a contract to a firm that the evaluation team or Yarber's office did not recommend.
"It's unprecedented that the legislative body would attempt to take over the executive functions (of city government)," Carson told the Jackson Free Press this morning.
In the meantime, the City has issued another request for proposals with a deadline of Jan. 12. Wilson Carroll, an attorney for Synagro-Fisher, said going through another RFP process would make it more difficult for crews to meet the consent decree deadline and escape fines.
"My client has a good (chance) of avoiding that by starting right away," Carroll said.
Carson said he does not know if his clients will resubmit a proposal for the hauling job.
More like this story
More stories by this author