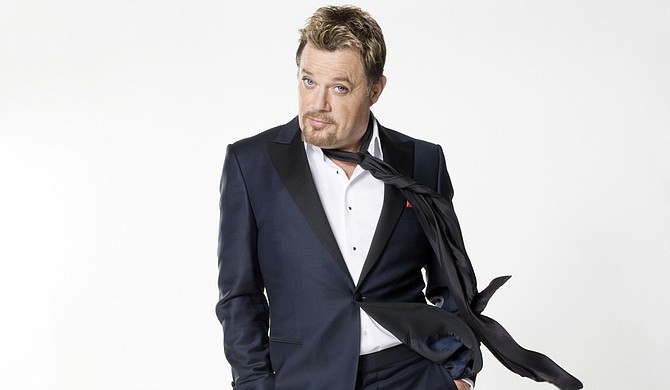 Eddie Izzard considers himself a "British European." Like many of his countrymen, the internationally known comedian, actor and writer is embroiled in a deep sense of history—not all of it good. However, the current Europe is much more united than the constantly warring continent of the past, he said. So why not promote that idea through his comedy?
"We said: 'Enough is enough. Can we not try to link together and work together in some way, shape or form?' I believe in that idea," Izzard said in a phone interview.
"It's the only way the world is going to make it, and we have to make it work in Europe. I thought, 'Well, what can I do?' And I came up with, 'Why don't I try doing performances in other languages?'"
Launched in April 2013, Izzard's current stand-up tour, "Force Majeure," includes performances on five continents, and in 28 countries and every U.S. state, including a stop in Meridian, Miss., on Dec. 7.
It's the shows overseas that have garnered the most attention, though. In order to perform in the native language of the countries he travels to, Izzard learned his entire show in French and German with plans to add Russian, Arabic and Spanish, as well. But he said one thing has helped him while performing for these different audiences: They aren't that different at all.
"What I've discovered is there's no national sense of humor," Izzard said. "One would assume, 'OK, there's an American sense of humor, so American comedians play well in America,' but in fact, there isn't. It's like there's no American sense of music. There are different types of music, but if you're a great American jazz player, you could also be a great Chinese jazz player. You can do that. You can be from anywhere."
The trick is to avoid references to "very British things," he said. Instead, he begins his show with an unfortunately universal topic: human sacrifice.
"Why did anyone ever say, 'Hey, the weather is bad, the crops have failed, so we're going to kill Steve because the gods are pissed off'? That's crazy," Izzard said. "Why did we ever kill Steve? That's an insane idea, but we did it for hundreds upon thousands of years. ... All blood sacrifice, there should've been someone standing next to the obvious religious person saying, 'We're gonna kill Steve,' to say, 'Hang on. The gods must've created Steve. They're going to be furious.' But no one ever seemed to put that idea forward, probably because the religious guy had a certain amount of charisma and a big hat."
Izzard describes his surreal stand-up comedy as a blend of Richard Pryor and the Monty Python troupe, though in recent years, he's put more effort into adding layers. As an analogy, he pointed to two classic Python entries: the silliness of the "Fish Slapping Dance" skit and the more nuanced social commentary of the feature film, "The Life of Brian."
"It was trying to hold a mirror to a whole lot of aspects of life, particularly in religion," Izzard said of the latter. "So that's a much more layered approach. That's what you do as you get older. You sort of want to put the layers in because it's much more difficult, and if you get it right, it can be very intriguing."
Another difficult area that Izzard has explored recently is subverting his naturally funny persona in various acting projects, including recent turns as the criminally insane Dr. Abel Gideon on NBC's "Hannibal" and as the villain Wolfe on PlayStation Network's "Powers." Izzard said that acting and comedy are almost opposites. In comedy, he's playing the biggest version of himself, so the focus is on reworking the material, but in acting, the material is provided, and his task is to create the character and determine what drives him.
"It's odd," he said. "I've compartmentalized them. If you learn to ride a bicycle and then learn to drive a car, which a lot of us do in life, we've had to compartmentalize things. The leaning-over thing that you do when you go around a corner on a bicycle, you don't need to do in a car, so you just don't bother doing it. And yet, you can quite happily go from one to the other because you trained yourself that way."
Eddie Izzard performs at 8 p.m., Monday, Dec. 7, at Temple Theater for the Performing Arts (2320 8th St., Meridian, 601-693-5353). Tickets are $30 to $40 through ticketmaster.com. For more information, visit eddieizzard.com.
More like this story
More stories by this author
Like independent media outlets around the world, the Jackson Free Press works hard to produce important content on a limited budget. We'd love your help! Become a JFP VIP member today and/or donate to our journalism fund. Thanks for considering a JFP VIP membership or one-time support.