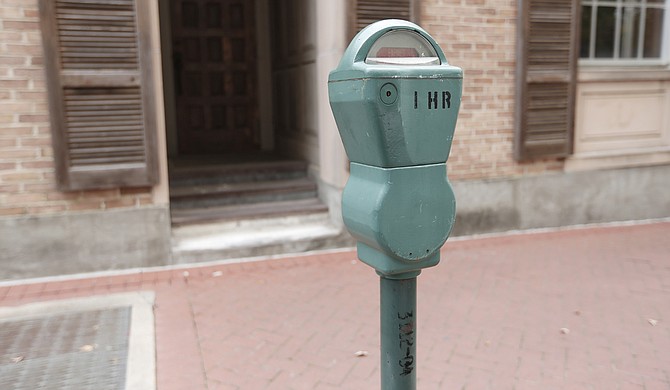 Parking in downtown Jackson is like a perverse kind of casino. Instead of the odds being in favor of the house—in this case, the City—the players are more likely to get lucky in finding a broken meter or getting away unscathed by the ticket books of meter readers.
In the end, even though individuals often win this game, the City and its treasury have been the big losers—to the tune of tens of thousands of dollars in lost revenues every year.
Recent action from the Jackson City Council could represent a correction, putting the odds back in the City's favor. On Nov. 19, the council voted 4-to-1 in favor of a resolution asking Mayor Tony Yarber to solicit proposals for firms to operate more than 1,000 parking meters, all of which are in the downtown business district.
Ward 6 Councilman Tyrone Hendrix, who co-sponsored the resolution seeking RFPs, cites the loss of revenue from poorly maintained meters as well as the loss of potential cash because the ubiquity of debit cards these days. Hendrix said the possibility exists to also install meters outside downtown, such as near Jackson State University and Fondren.
"The City positively, absolutely needs to increase revenue," Hendrix told the Jackson Free Press.
Intense Backlash
For many cities, outsourcing parking meters has provided a quick injection of badly needed funds; in some of those cities, these privatization deals met with intense backlash from residents and fiscal watchdogs. The poster child for dubious parking-meter deals is the City of Chicago. In December 2008, the city council and then-Mayor Richard Daley approved a deal to lease 36,000 parking meters in the Windy City for 75 years for $1.15 billion.
Despite an analysis from Chicago Alderman Scott Waguespack showing the meters could have been worth $4 billion and the proposal for some rates in the City to go from $3 per hour to $6.50 an hour within five years, aldermen overwhelmingly approved the contract. In August 2009, a taxpayer group sued, arguing that Chicago's leaders misled residents and officials about the deal and that governments could not legally lease public assets.
Subsequently, New York City and Los Angeles briefly considered similar proposals but eventually backed off partly due to Chicago's experience. A watchdog lawsuit also followed a 2014 parking-meter privatization deal worth $92 million in Cincinnati.
"Chicago would not be the model," Hendrix said. Instead, he points to cities he believes did it well. In 2006, Houston approved a $15-million proposal from Affiliated Computer Services of Dallas, now a division of Xerox Corp., to install and manage 1,500 meters that enabled parkers to use coins, credit, and debit cards or their smartphones; Houston and Indianapolis have also privatized their parking meters in the past decade.
When the Indianapolis City Council privatized meters there, officials cited Chicago's controversial deal in crafting a contract. That deal included $20-million upfront payment and an estimated $300-million to $600-million revenue split for the term of the 50-year lease. Under that deal, Indianapolis receives 30 percent of the revenues up to a certain dollar amount and then 60 percent of the revenues after that, providing a big incentive for the City to aggressively monitor the meters and issue tickets.
Ward 4 Councilman De'Keither Stamps agrees that parking meters remain an untapped source of revenue for the City, but was the lone vote against Hendrix's resolution because he would prefer the City go it alone. By contracting with a private firm, Jackson would have to share the revenue, parking rates could soar, and the City could be locked into a long-term lease agreement.
Stamps would prefer that the City buy a couple of multi-space meters, then use the revenues to purchase more to install throughout Jackson.
"Personally, I don't see a loss. How is that you don't have money to buy something that makes you money? To me, that's a justifiable expense," Stamps said.
Good or Bad for Business?
Parking revenue in Jackson has dropped precipitously over time. Fifteen years ago, the City collected $466,205 from the meters, a 2009 study from Downtown Jackson Partners Inc. shows; through September of this year, collections were just above $136,000 with budget writers forecasting $150,000 in revenue for the 2016 fiscal year.
Five days a week, between the hours of 8 a.m. and 5 p.m., drivers pay 25 cents to park at one of Jackson's 1,191 meters for a half-hour (for quicker trips, the machines also accept dimes for 12 minutes and nickels for just six minutes of parking fun). Mike Peters, owner of the Fondren Corner Building and other properties around the city, said he would oppose a parking plan that includes installing meters in Fondren unless the revenues go back into infrastructure or public safety in the arts district.
"What are you going to do with the new revenue, because if you're taking it from people who are buying things and paying sales tax and you run them off, then what are you going to do?" Peters said.
Hendrix said the potential that more meters would represent an economic-development disincentive initially gave him pause until he came across studies that conclude more parking meters have a positive impact on the local economy. After Seattle's parking-meter overhaul led to griping from business owners and residents, the Seattle-based Sightline Institute analyzed gross receipts by ZIP code and found nearly across-the-board increases.
"It may sound counter-intuitive at first, but on inspection it turns about to be totally sensible. By increasing turnover in on-street parking and ensuring that spaces are available for customers, well-calibrated parking policies really can increase patronage. After all, would you rather grind through congested downtown streets in the rain while hunting for a parking space or pay a few bucks to stash the car curbside until 8 (p.m.)? In fact, boosting business is exactly what Seattle set out to do when officials adjusted meter rates and extended paid hours downtown," the Institute's Eric de Place wrote in March 2012.
Unlike Stamps, who wants the City to go it alone, Hendrix does not believe the City has the wherewithal to replace all the meters at once or the workforce to aggressively monitor the machines.
Hendrix also proposes a series of public hearings for citizens and business owners before any firm decisions are made.
"I just don't see how we leave that revenue on the table if we're furloughing employees and talking about cutting services," Hendrix said.
Marshand Crisler, a top Yarber deputy, told members of the council on Nov. 17 that the administration has "a significant amount of interest" in a parking-meter arrangement and that a request-for-proposals would be finalized in December.
Comment at www.jfp.ms. Email R.L. Nave at [email protected]
More stories by this author
Support our reporting -- Follow the MFP.