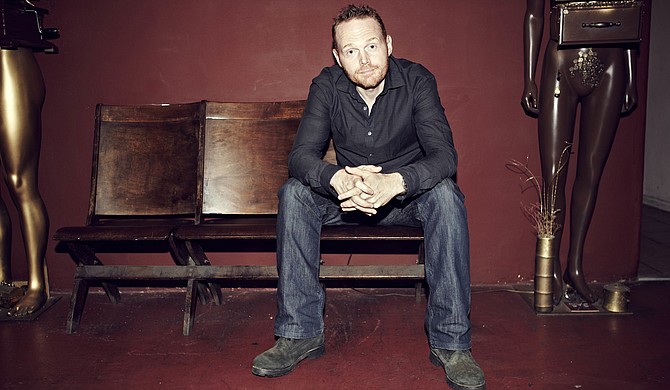 Comedian Bill Burr is easy to find. From his appearances on hit television series, such as "Breaking Bad," to major motion pictures, including the Kevin Costner-led "Black or White" and "The Heat," starring Sandra Bullock and Melissa McCarthy, the Boston-born comic's star has risen on just about every front.
Burr is even working on his own animated series for Netflix, "F Is for Family," which he is co-writing with Emmy Award-winner Michael Price of "The Simpsons" fame. Burr will voice Frank, the main character of show, which is loosely based on his own life and stand-up material. Justin Long and Laura Dern will voice Frank's son, Kevin, and wife, Sue.
Burr has been just about everywhere. Everywhere except for Mississippi, that is. He's looking to correct that on "The Billy Bible Belt Tour" with a performance Monday, April 27, at Thalia Mara Hall.
The JFP had a chance to speak with Burr about stand-up comedy, cop chases, why he hates Mondays and everything in between.
Will this be your first time performing in this state?
Yeah, it's great. I'm finally doing stand-up, after 23 years, in Mississippi, and after Mississippi, I'll only have one more stand to do stand-up in, which would be Wyoming. ... Why did they end up being the last two? Probably because I'm an East Coast guy from Boston, and people heard my accent and didn't want to book me.
What's it like transitioning from stand-up to TV and movie acting?
All I ever wanted to do was be a stand-up comedian, so any acting work I get I just look at as a bonus. ... You know, stand-up is so much working by yourself, it's really fun when you get an acting gig to actually get to work with other people and feed off of what there doing, just more of the group dynamic, as they say. I really like it.
You played a recurring role on "Breaking Bad." Are there plans for you to join the spin-off series, "Better Call Saul"?
All I know is that if people keep watching, the chances of me getting on it get better with each episode because eventually it'll start getting back towards the beginning of "Breaking Bad." I don't know the backstory of Patrick Kuby.
You know, what was such a funny moment for me was (that) I was as big a fan as anybody else watching that show, so when I had done my final episode, I was watching it, trying to figure out what's going to be happening. Watching it on TV, when Dean Norris' character was filling in my backstory, that's how I learned my first name was Patrick. I never knew.
They were like, 'Yeah, that carrot-top guy from Boston, Patrick Kuby," and I stood up at home by myself, and I was like: "Oh my god, he's talking about Kuby! He's talking about me! Give me more information about this guy." It's such a cool way to find out information about the guy that you're playing, just listening to another character talking about it in a future episode. You had no idea even what your first name was.
I hope I get on, but either way, you know, I'm going to watch every episode of "Better Call Saul" just like everybody else.
Your new animated show, "F Is for Family," is coming to Netflix soon. How did that project come about?
Well, the first thing that happened was that I took a meeting with Wild West Productions, which is Vince Vaughn's company. They just took a general meeting with me, and I threw out this idea for this cartoon that I had, and they wanted to do one, so they jumped at the idea.
You know, I was just going to make little five-minute vignettes about my childhood and just exaggerate them through animation. We (started to) flesh it out into a show, ... and then we just started meeting show runners. I guess Vince Vaughn and those guys set up the meeting (writer Michael Price).
I immediately liked Mike. ... You know, a lot of writers are very introverted, and he's not. He's got this great personality. He's really just a naturally funny guy and a great storyteller. He came onboard, and it just really changed the whole dynamic because he's an absolute force of nature, that guy. His work ethic is incredible. I really lucked out with those guys, Vince Vaughn and (Executive Producer) Peter Billingsley, getting Mike on this project.
What has it been like working on a show for Netflix?
Writing an animated show for Netflix is as free as writing stand-up comedy. ... I never thought I'd be able to get that level of freedom where it's like, "Hey, do whatever you want." Like, Netflix is actually saying, "Push it further, push it further." ... Artists are always looking at them like, "Aw man, they're always choking off our ideas," and (Netflix) is the exact opposite. They've been just unbelievably great to work for.
Is there anything you haven't done in TV or movies that you'd like to do?
Yeah, I want to do that scene where you get chased down the alley by a cop, and you're throwing down the trashcans, and he leaps over them, and then you get to a chain-link fence, and you crawl halfway up, and then he grabs you and pulls you down. You get to do that horrific yell like you've lost your freedom. I want to do that.
Yeah, and then maybe (I'll) do an alien movie and be that guy that gets killed in the first five minutes. (I'd) be the guy that dies and lets everyone know that there's something horrific on the spaceship.
How did you get your start as a stand-up comedian?
Well, I got started in stand-up, I guess, (when) I did this talent contest that Nick's Comedy (Stop) had, "Find Boston's Funniest College Student," which was just a great plan to get a bunch of drunk college kids in there, drinking beer and watching their friends go up and bomb.
I just always loved stand-up comedy. It was such a natural attraction to it that I can't even tell you why I liked it. It just fits. It's just one of those things. How ever I'm wired, I just connected with it. It's funny (because) no one's ever really asked me that before. It's almost like, "Why wouldn't I have become a comedian?" I sucked at everything else, so I don't know what else I would've done.
How do you go about writing new stand-up material?
I try to live a life outside of comedy, which involves me trying new things, and I fail a lot. I end up feeling foolish or humiliated or just plain stupid, and that always turns into some sort of a story.
You know, if I see things, if something bugs me, if I find something funny or whatever, what I do is I just write down one word, or I just write the subject, like "gorilla sign language" or "Kanye West" or whatever. Then, I just go onstage and talk about it.
I used to write everything out, but now I don't. I would equate it to if something funny happened at work and you were going to go meet your friends at a bar and couldn't wait to tell your friends this story, you wouldn't write it all down and memorize it and rehearse it in your bathroom mirror. You'd just walk in and tell it to them, and you'd act it out, do all the characters, but that's because you're comfortable around them. What you work at as a comedian is getting that same level of comfort with a crowd like you're walking into a bar, talking to your friends.
How did you first get started creating "The Monday Morning Podcast"?
I didn't even know what podcasting was, and I was over at this other comic's ... apartment, Robert Kelly, and he always knows the latest technology stuff. He was going, "Dude, you ought to try this. You ought to do one of these." I didn't even know what it was, and I did one that was maybe like 90 seconds long. And once again, it was just one of those things that just appealed to the way I was wired, and I just started doing one once a week.
I just started thinking about, you know, back in the day when I had a day job, Mondays stunk. The weekend's over. "Here we go. I gotta start this job again." I was thinking ... if I make people laugh on Monday, it gives them something to look forward to at the beginning of the week, and it's also a great way to whore out whatever project I'm trying to get people to know about or, you know, whatever show I'm doing. So, it works.
Why do you think making podcasts appeals to comedians?
We do a lot of radio on the way up, I think. ... The best kind of radio is you just pop in, and they just kind of let you riff. The worst is when you come in (and they say), "He wants to know three subjects to ask you about." Then, it's like you go into robot mode.
But, you know, a lot of comics end up in radio, and they're phenomenal at it. I just think it's something about going up and talking to a crowd every night, performing in front of a live crowd, really makes comics good at radio. And podcasting is really just doing a radio show on the Internet, so it's really cool.
How would you describe your style of comedy?
I'm like that loud guy in the bar that sort of makes sense, and then you realize that I flunked everything in high school, and then you sort of just laugh at me.
Bill Burr performs 7 p.m. Monday, April 27, at Thalia Mara Hall (255 E. Pascagoula St., 601-960-1537). Doors open at 6 p.m. Tickets are $47.30 through Ticketmaster. For more information, visit billburr.com.
More stories by this author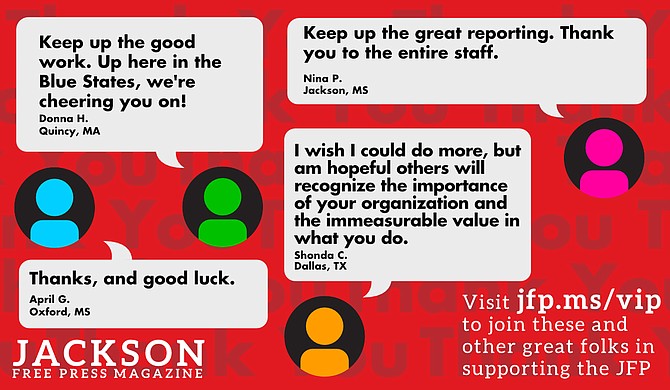 Thanks to all our new JFP VIPs!
COVID-19 has closed down the main sources of the JFP's revenue -- concerts, festivals, fundraisers, restaurants and bars. If everyone reading this article gives $5 or more, we should be able to continue publishing through the crisis. Please pay what you can to keep us reporting and publishing.