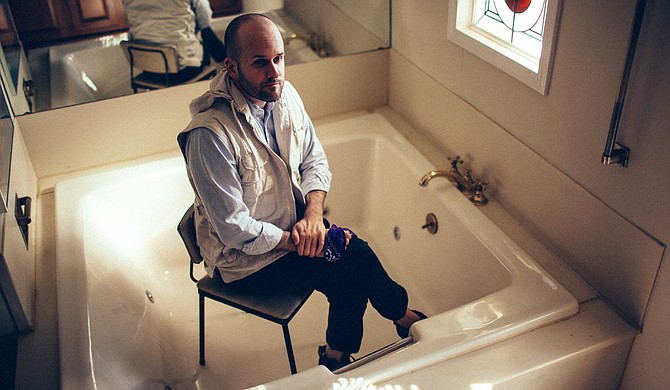 A few names come up whenever Jacksonians discuss local filmmakers, but few are as common as James Alexander Warren. Whether he's creating commercial content for McDonald's, Red Bull and Humana, or music videos for Doldrums, Pell and Bass Drum of Death, the writer-director has quickly become one of Jackson's most impressive exports. With his latest short-film project, "Sequence," Warren is one step closer to his goal: creating a full-length movie.
"My goal has always been to try to make a feature at 30," he said. "I'm 28. So, I'm starting to write two scripts, and we'll see what the f* happens."
For a while, Warren followed that objective to New York City, where he worked with commercial and documentary director Andrew Hunt in 2010, assisting with everything from shooting to editing.
"I was trying to decide if I wanted to go to film school," Warren said. "The guy I was working with was like, 'Bro, don't go to film school. Move back to Mississippi and just start making s*.'"
Warren returned to Jackson in 2010. With the equipment he borrowed from his father, filmmaker Don Warren, he began working on his own short films, releasing his first, "Young Bros," in 2011 and his second, "RAUT," in 2012. Warren earned plenty of attention at the Crossroads Film Festival with the projects, which both scored Ruma Awards. The films also put a finer point on Warren's film-industry aspirations.
"I really wanted to be in charge. I didn't want to be a crew guy," he said. "I'm not interesting in working on, like, the crew of 'The Hollars.' I want to direct and write. I don't want to be a grip."
After wrapping production on "RAUT," though, Warren was exhausted. He decided to take a short break from filmmaking. Jackson-born singer-songwriter Dent May invited Warren to play drums for his European tour. When Warren returned, he had written six short films.
The stories, four of which would become "Sequence," take inspiration from writer-director Eric Rohmer's "Six Moral Tales" and author Raymond Carver's "This Is What We Talk About When We Talk About Love." Warren became interested with the idea of creating a series of short films, each containing simplistic tales with complex characters. As for the other two stories he wrote while in Europe, they ultimately didn't make the cut.
"It just seemed like four was more digestible," Warren said. "... I think the biggest thing is that I didn't want this series, when you see it all together, to be confused for my first feature film. I still have grandiose ideas. I think I'm going to work with ... known actors."
At the time, though, he needed a collaborator. Producer Robbie Fisher, who knew Warren through his father and his previous films, had been emailing him about working together on a project. Warren decided to pitch his ideas to her.
"I showed her four of the six film (ideas), and I kind of made it up as I went along as I was meeting her. I said, 'This is what I want to do.' I was kind of just firing off the hip, and before I could even finish, she said, 'Let's do it,'" Warren said. "We started casting in November 2012, planned filming in December, and shot the first film in January 2013. That was the beginning of 'Sequence.'"
Now, more than two years later, Warren has screened "Sequence" in cities across the nation, including New York City, Portland, Ore., Seattle and Los Angeles, where he now lives. As he begins talking to actors and working on the script for his first feature film, Warren is still drawing lessons from his work on "Sequence."
"I learned more about time management," he said. "I learned more about how to be a good director on the front end so that I can be a great director when we're shooting. ... I think I've had a lot of freedom making four films back to back to back, to sort of continually improvise on my ideas and grow them. So, moving into the feature-film world, I don't quite know what to expect because I've never done that before. But I want to try to retain that freedom and that elasticity."
"Sequence" shows on Screen A at 1:10 p.m. Saturday, April 11, in the "Sequence/Hunting" block at Crossroads Film Festival (April 9-12), hosted at Malco Grandview Cinema (221 Grandview Blvd., Madison, 601-898-7819). For more information, visit crossroadsfilmfestival.com.
More stories by this author
Support our reporting -- Become a JFP VIP.
The news business has changed dramatically in the past year, and we need your help more than ever to keep bringing you important stories about Jackson and the Metro. Become a JFP VIP with an annual membership or you can Sign up as a monthly supporter. Thanks for anything you can do to empower our journalism!