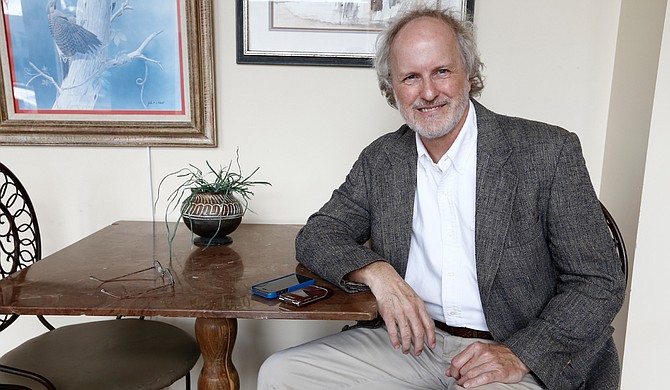 As Ward Emling walks through downtown Jackson, his daydreams transport him to 1840. The "Old" Capitol Museum on State Street is still brand new, and politicians clamor inside about the future of antebellum Mississippi. Sometimes, his time jump isn't so extreme. Maybe it's the 1950s, and Capitol Street is just Main Street, U.S.A. He passes local shops bustling with the vibrant life of the American Golden Age.
As the director of the Mississippi Film Office, such musings are a regular occurrence for Emling. Blame his career choice or just his general love of movies, but nearly every moment Emling is away from the office, he's scouting for locations. He sees potential shooting spots for filmmakers around every Jackson corner. His job is to have those filmmakers, many of whom know little about Mississippi, see them, too.
"You know, movies are movies," Emling says. "Movies can be made anywhere. I think one of things we knew, even when film commissions first started being created back in the late '60s, is that a movie can move."
He points out that a number of dramatically different regions are within easy reach from Jackson—from the pre-Civil War homes in Holly Springs to the acres of cotton in Clarksdale. But Mississippi has more to offer than its oft-shown historical elements. Part of Emling's job is to show filmmakers the many options the state can provide, and Jackson is a major selling point.
"You tend to look at a city concentrically," he says. "You radiate from a base where your crew can stay. Depending on if you're in downtown Jackson or Ridgeland, you're talking about reaching Vicksburg to Morton and Forest, Yazoo City, and down to Crystal Springs and Magee. You've got a big area of really fabulous locations, and we know the industry will move. The industry will go and shoot on real locations."
Emling's knowledge of the film industry comes from years of on-set and behind-the-scenes experience. The first movie he worked on was "The Musical Adventures of Huckleberry Finn," which filmed in Natchez in 1973. Emling was attending Millsaps College at the time and took a summer job working on the film as both an extra and a production assistant in the wardrobe department. He credits the experience for being a catalyst for his role in the film industry. Before that, he had only worked in theatrical productions.
After graduating from Millsaps with a bachelor's degree in English in 1976, Emling continued to work in the film industry in whatever positions he could find. From 1980 to 1983, Emling was the director of the Mississippi Film Commission, which was later renamed as the Mississippi Film Office.
"I was an actor, and I would just stay in touch with the film office because I wanted acting jobs with movies that came in. But I had worked on films in the production office and on production," he says.
"They needed a three-month replacement because the director, (Walterine Odom), was going on maternity leave. That three months turned into over three years."
Emling moved to Los Angeles in 1984, where he worked as an actor and a location manager. He had small roles in the 1990 comedy "Problem Child" and in several television series, including "Matlock" and "St. Elsewhere." But when the Mississippi Film Office was once again in need of a director, he returned for what was to be a seven-month stint. He's been there now for 24 years.
"It's funny because the challenge now was not the challenge then in the '80s and early '90s," Emling says. "In those days, it was really about the location. Now, the first two questions are about incentives, and (then) workforce and available crew."
If You Incentivize, They Will Come
The first version of the Mississippi Film Office's film-incentive program passed the state legislature in 2004. Since then, Emling and Deputy Director Nina Parikh have introduced major improvements to streamline the process for filmmakers. Today the program, which rebates 25 percent to 35 percent of the money a production spends in Mississippi, takes about five steps.
First, a filmmaker interested in producing his or her project in Mississippi completes a two-page online application. Then, the filmmaker submits a budget and a script for the project to the Mississippi Film Office. If it looks like a good fit, the office replies with a letter of commitment, which includes an estimate of the rebate amount. This part of the process, which once took about 30 days, can now takes less than 24 hours.
Once the producers guarantee that the project is filming here, the Mississippi Film Office creates a certificate of incentive for the filmmaker that "puts them into the financial queue for the funds," Emling says. He adds that plenty of films have made it up to this point in the process, only to fall through.
After a movie finishes shooting, filmmakers submit their expenses to the Department of Revenue for auditing. If everything is in order, the production receives its rebate check in about 90 business days.
"It's a very straightforward process," Emling says. "I said to the Tax Commission on day one, 'You know what? We have to make this as easy as possible. I don't want more work, you don't want more work, and (filmmakers) don't want more work.'"
Even with its sleek, five-step incentive plan, Emling says the Film Office has plenty of challenges.
"Every film has a question that we've never had," he says. "... It's maddening to people who don't expect that. I expect that. You know that there are so many components. Every film is a collection of anywhere from 50 to 250 new people, so there's always something different. There's always some variable in the make-up of a film."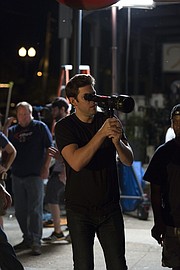 The promise of lowering their costs has proven to be a draw for filmmakers, whether their projects were large or small. Last year, 19 major film productions were made in Mississippi, including director and star John Krasinski's "The Hollars," the James Brown biopic "Get On Up," starring Chadwick Boseman, and "Same Kind of Different As Me" with Renee Zellweger.
Unfortunately, the upsurge of movies made in Mississippi also drew attention to one of the state's greatest deficiencies for the film industry: an under-developed crew base. It's a challenge that producer Jen Gatien, production supervisor Lisa Riley and production accountant Jay Cannold face with their indie feature, "The Neighbor," which is now in production.
"It's a real issue trying to find crew when you're staffing a film," Riley says. "The experienced crew here is used to making commercial rates, which are highly paid positions, so when an independent film comes in, they turn it down. They don't want to tie up weeks of their time when they could make the same amount of money with a three- to four-day commercial shoot."
As a Jackson native, Riley has seen the potential and the problems of the state's burgeoning movie business. Riley, who moved to Chicago after graduating from the University of Southern Mississippi in 1984, has worked on a number of films and television series. When her family left Chicago for Madison in 2002, Riley got involved with the local film industry and began volunteering with the Crossroads Film Festival. Short local films, such as those shown at Crossroads, are a great way for aspiring crewmembers to get their feet wet, she says, but that can't fill every filmmaker's needs.
"There's lots of room for (inexperienced workers), but a minimum crew is 40 people," Riley says of feature-length productions. Early on, Riley says, she was willing to work for film credits instead of focusing on the money. Once a crew member has more experience, then he or she can start working on films for better rates and better film credits.
Cannold, who lives in New York City, believes one solution would be for a network or cable TV series to take occupancy in Jackson. Regular employment opportunities open the door for a regular crew base, which can't exist without long-term projects and permanent fixtures. This would also pave the way for local production and equipment-rental companies to add value to Mississippi's production scene. Most projects filmed in the Jackson area rent equipment from New Orleans, which is costly to filmmakers and sends potential revenue out of the state.
"If you have a regular TV series that does 26 episodes a year, then when indie films come in, there's a crew base," Cannold says. "Usually, off-season, they could pick up the whole crew and go shoot movies."
Riley worked with a producer on the film "Life at These Speeds" who told her about the effect that a major TV series had on Miami's South Beach neighborhood. Before "Miami Vice" began filming there in 1984, the area had a relatively low profile, and its real estate wasn't in high demand. As the show became a long-running hit, property values and tourism skyrocketed.
"The Gulf Coast needs a 'Miami Vice.' It makes it sexy. It makes it desirable, and everyone starts buying there," Riley says. "Then, you've got a TV show, you've got a crew base, and you've got real estate that totally lifts up the economy."
Mississippi's Dynamism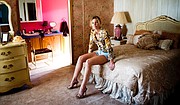 Thankfully, Mississippi's benefits outweighed its drawbacks for Gatien, who also hails from New York City. Gatien met Emling last year while producing the film "Dixieland," which wrapped shooting in Jackson last October. Emling took Gatien and company across the state, scouting in cities such as Tupelo and Southaven. They ultimately chose the Jackson area as their base of operations for "Dixieland" and decided to return here for "The Neighbor."
"It's been refreshing to film here because people are so willing to support independent films and projects here, and a lot of other cities are jaded about films," Gatien says. "It was important to (Emling and I) on our first film we did together ... to train as many Mississippians as we could, so the next go-round, we'd have a deeper crew base, which has been the case."
In fact, about 70 percent of the film's cast and crew is Mississippi-based, including actor Marco St. John, who had roles in "Thelma & Louise," "The Punisher" and "Bad Lieutenant: Port of Call New Orleans," among other major projects. For many years, St. John sought work in New York City and Los Angeles. The acting veteran has lived in Biloxi for the last few decades, though, and he finds work in New Orleans, Atlanta and across Mississippi.
Gatien echoes Emling in praising the state's many locations.
"What's interesting about Mississippi is that it hasn't been seen a lot in cinema, so there are a lot of undiscovered gems here," she says. "The state is so vast in different (types) of architecture, or ... rural versus city, industrial versus suburban. I think you could pretty much source any look you want for film here."
Whereas "Dixieland" embraced the typical southern landscape and culture of Mississippi, Gatien says "The Neighbor" doesn't require that kind of specific locale.
"It's Anywhere, USA," she says of the film's setting. "It's not Deep South, and Jackson worked to sort of play that. ... It could be Middle America, it could be the Midwest, or it could be virtually anywhere."
At the same time, Gatien's first Mississippi project holds more personal meaning, in part due to the film's usage of the state's natural character. She hopes that "Dixieland," which premieres April 19 at the Tribeca Film Festival in New York City, draws other filmmakers to the magnolia state.
Producer Robbie Fisher has also carved out a film career in Mississippi. Fisher has worked on a number of independent short films and has served as president of the Crossroads Film Society board of directors since August 2014. Her involvement started with her first Crossroads' submission in 2013: "Delta 180: Changing Lives in the Mississippi Delta." The film won awards that year for best short documentary at Crossroads, the Northern California Film Festival and the Madrid International Film Festival.
Volunteering with Crossroads heightened Fisher's involvement with Mississippi's film industry. She commends the film office's work with the incentive program, which some forget isn't just for filmmakers coming here from out of state. Local producers and directors can also take advantage of the program's benefits.
"If it helps a film be made financially, then that's good for the filmmaker. If it, in turn, provides jobs and money being spent in Mississippi, then that's good for the taxpayer and for the state" Fisher says. "I think it's a win-win from all perspectives.
She adds that Mississippi's lack of a large crew base has come up more than a few times within her circle of friends and peers, but Fisher is quick to point out the progress being made to address the problem. Several colleges, including the University of Southern Mississippi Gulf Coast, Pearl River Community College and Hinds Community College, have film-related programs.
"It's just going to take time to build up," she says. "It doesn't happen instantly, but it is in the works."
In the meantime, Fisher and the Crossroads crew continue to support the local film community. The 16th annual Crossroads Film Festival is April 9 through April 12 at the Malco Grandview Cinema (221 Grandview Blvd., Madison, 601-898-7819).
This year, the festival received submissions from far-flung international locations, including Poland, Kazakhstan and Iran; however, Mississippi remains a strong presence in the 90 films on the schedule, says festival coordinator Michele Baker. On Saturday, April 11, the festival has eight Mississippi-based film blocks.
"If you're going to be the capital city, you need to have high-quality film festivals. We're doing that. We have the Mississippi International Film Festival and the Jewish Film Festival (and several others). I also think film festivals are important because they give those shorter formats an outlet to be seen. You're not (normally) going to see a four-minute film at Malco or at Parkway (Place Theater in Flowood). It's just not going to happen," Baker says.
"... Mississippians tell great stories, and we need a place to tell (them)."
For more information about the Mississippi Film Office, visit filmmississippi.org. For more information about the Crossroads Film Festival, visit crossroadsfilmfestival.com.
More stories by this author
Support our reporting -- Become a JFP VIP.
The news business has changed dramatically in the past year, and we need your help more than ever to keep bringing you important stories about Jackson and the Metro. Become a JFP VIP with an annual membership or you can Sign up as a monthly supporter. Thanks for anything you can do to empower our journalism!