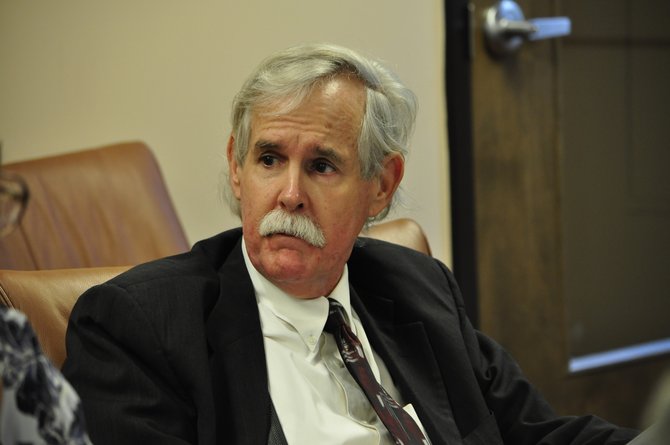 With a federal agency rapping local developers and government officials on the knuckles recently over the apparent misuse of $1.5 million on the Farish Street revitalization project, several new additions to the Jackson Redevelopment Authority board could add a whole new layer of complexity to the problem.
On Tuesday Sept. 23, three of Mayor Tony Yarber's nominees to JRA went before the city council for confirmation. Those hearings took place after the Jackson Free Press went to press, but if confirmed, the new commissioners will be able to swing the balance of power on JRA.
Last month, in a surprise move, JRA replaced Bishop Ronnie Crudup as chairman and Jones Walker and Zach Taylor as board attorney. Along with Crudup, who endorsed Yarber in this year's mayoral race, nominees Andria Jones, Christopher Bell and LeAlex Martin would give Yarber's administration a working majority on JRA, which can issue bonds for economic-development projects that the city backs up.
HUD Headache
The composition of JRA will also be crucial in the midst of a headache brewing for local leaders over the sputtering Farish Street project. That headache grew more intense last when the U.S. Department of Housing and Urban Development sent a letter to city officials saying the agency has lost faith that any progress will be made with the Farish Street project and asked the city to repay $1.5 million used on the project. Furthermore, several key players, including JRA, have been suspended from participating in federal housing programs until further notice.
From July 28 to Aug. 5, HUD performed a monitoring review of the Farish Street project dating back to 1997. In April of that year, under the mayoral administration of Kane Ditto, a memorandum-of-understanding between the city and Jackson Redevelopment Authority stated that the city intended to purchase 17 properties on Farish Street with HUD community-development block grant (CDBG) funds to restore the historic street into an entertainment district. The city then transferred ownership of those properties to the JRA.
But HUD's review of the end use of the properties finds that the project failed to meet its stated national goal, the monitoring report states. "It has been more than 16 years since the (city) began acquiring ... property, and it remains unclear whether or not the activity will ever meet a national objective," monitors wrote.
As a result, the city administration and HUD worked out a deal to pay $503,603 each year over three years, starting in December 2016. Part of HUD's difficulty in determining what if any national objectives the Farish Street project met comes from the lack of adequate documentation the city and the JRA kept to ensure the project complied with federal guidelines.
That MOU states that the city would oversee JRA in spending the funds, but documentation of such oversight is inadequate, HUD monitors observed.
Tangled History
In 1995, the Washington, D.C.-based nonprofit National Trust for Historic Preservation designated the Farish Street Historic District as one of the most endangered historic places in the nation.
The City of Jackson entered into an agreement with JRA to purchase 17 buildings along Farish Street in April 1997. In March 2002, JRA hired Performa Mississippi LLC—a division of Memphis-based Beale Street developer Performa Entertainment Real Estate Inc.—for the Farish project. Six years later, in October 2008, Performa and a local group called Farish Street Group LLC (FSG), which developer David Watkins led, entered into an agreement in which FSG would take over the mortgages, up to $160,000 in debts that Performa incurred plus $425,000 in cash.
The project failed to hit its expected stride, and Watkins eventually fell out of favor with JRA, which yanked the master lease from Watkins' control in fall 2013, touching off a chain reaction of lawsuits, countersuits and finger-pointing. Monitors from HUD highlighted some of the apparent conflicts of interest with Watkins and his employees, including Jason Goree, who now serves as interim economic-development director in Mayor Tony Yarber's administration. The report notes that Goree, who didn't return calls for this story, established a business known as Zac Harmon's Club LLC, which intended to enter into a lease with FSG to run a blues venue on Farish Street.
Records from the Mississippi secretary of state show that Goree is listed as the registered agent for the club and that the address listed for Goree, 300 W. Capitol St., is the same as FSG and Watkins Development LLC. As a result, federal officials have asked the city to suspend Goree, FSG, Watkins Development, and JRA from all HUD-funded programs. Goree attends all JRA meetings on the city's behalf. Responding to the HUD review through a press statement, Watkins said he was unaware that HUD was looking at his businesses until the monitoring report became public last week.
"Our lease with the JRA on Farish Street is over 90 pages long, (was) drafted by JRA's lawyers, and sets out all our legal obligations on the property in detail, including payment of rent and a large portion of future profits," Watkins wrote. "We are stunned to learn that any HUD regulations even applied to our business venture."
Law Firm in the Middle
Watkins also points out that he and his companies were not a part of the Farish project at the time the Jackson officials used the CDBG funds in question. In his statement, Watkins goes on to say that HUD's failure to mention former JRA board attorney Jones Walker and their attorney, Zach Taylor, in its monitoring review letter is "puzzling."
"One constant, responsible party for ensuring compliance of all entities, public and private, even going back to 1999, was Zach Taylor, a Jones Walker lawyer that has acted as counsel for the JRA for over 20 years, before being abruptly fired from the JRA last month. These are the same lawyers that advised the JRA to terminate FSG's lease," Watkins wrote.
Commissioners voting in favor of the changes said during the meeting that they believe the board had received bad legal advice from Taylor. Jones Walker is also central in the legal dispute over Farish between Watkins and JRA. Legal documents Watkins attorneys filed last year state that Jones Walker serving as JRA's legal counsel represents a conflict of interest because the firm also represents a company called Retro Metro LLC—and its principals Socrates Garrett and LeRoy Walker—in four suits, including at least one against Watkins.
Reached by phone Monday morning, Taylor said it is his firm's policy not to discuss clients or former clients with news media.
More stories by this author
Support our reporting -- Become a JFP VIP.
The news business has changed dramatically in the past year, and we need your help more than ever to keep bringing you important stories about Jackson and the Metro. Become a JFP VIP with an annual membership or you can Sign up as a monthly supporter. Thanks for anything you can do to empower our journalism!